Mackenzie Lueck investigation 'complex and very active,' authorities say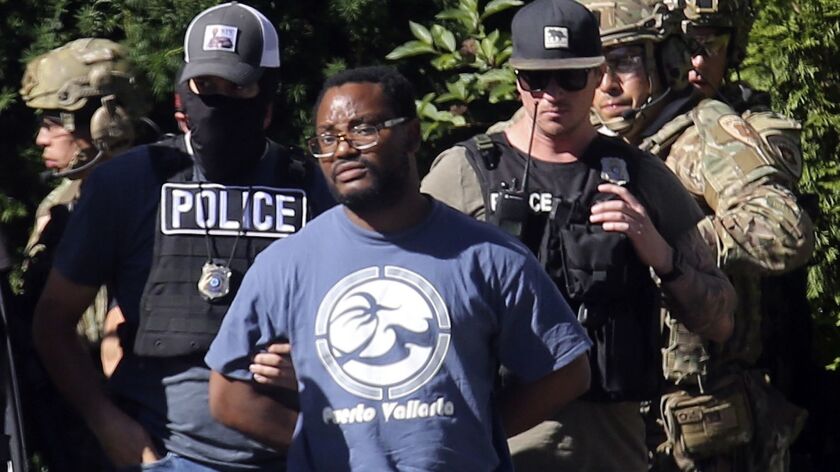 Salt Lake County prosecutors will have until next week to file charges against a man who police say kidnapped and killed 23-year-old Mackenzie Lueck and then burned her body in his backyard.
Utah's 3rd District Court granted a motion, filed by prosecutors Tuesday, to extend Ayoola Ajayi's jail hold while they continue to review evidence in the case.
Typically, charges are filed against a defendant in a criminal case within 72 hours of an arrest. However, in some instances — often involving complex cases — Salt Lake County prosecutors have asked for additional time, Dist. Atty. Sim Gill said.
"This was a complex and very active investigation," he said. "We want as much complete information as we can get before we file."
Ajayi, 31, was booked into the Salt Lake County Jail on suspicion of aggravated murder, kidnapping, obstruction of justice and desecration of a body after a SWAT team took him into custody Friday morning. He remains behind bars without bail, according to jail records.
Ajayi appeared to live a life of contradictions and unfinished business prior to his arrest. He was kind to visitors and those who stayed in his home, which he rented as an Airbnb, according to his roommate. But other times, his temper would flare over small things, like the positioning of furniture.
He joined the Army National Guard but never attended training, a military spokesman said. He had begun studying computer science at Utah State University but never graduated, college records show.
In 2014, he became the suspect in a rape investigation, but the case wasn't pursued after the woman decided not to press charges, according to the North Park Police Department.
According to a police report in that case obtained by the Salt Lake Tribune, a woman who worked with him at a financial company reported that Ajayi had nonconsensual sex with her while they were at his home. She told police she didn't want charges filed but wanted the incident reported "in case he did the same thing to someone else."
Then, late last month, authorities began closing in on him as a "person of interest" in Lueck's disappearance. Lueck, a pre-nursing student studying kinesiology at the University of Utah, was last seen June 17 when the El Segundo resident arrived at the Salt Lake City airport from visiting Los Angeles for her grandmother's funeral.
Lueck took a Lyft to a park in North Salt Lake where authorities say she met with Ajayi. After more than a week of searching for Lueck, investigators determined that she had been killed.
When authorities searched Ajayi's home, they found a freshly dug area, human tissue belonging to a woman and some of Lueck's personal items that had been charred. Neighbors told authorities they saw him burning something using gasoline in his backyard on June 17 and 18, police said.
Records show that the last person Lueck communicated with using her cellphone was Ajayi, authorities said, although in an interview with detectives, the man denied having any contact with her. He also told authorities he didn't know what Lueck looked like and hadn't seen photos of her online, despite having at least one photo of her in his possession, Salt Lake City Police Chief Mike Brown said.
Utah construction contractor Brian Wolf said Ajayi wanted him to build a secret, soundproof room underneath his porch, with hooks mounted high on a concrete wall and a "fingerprint thumb lock." The man said Ajayi told him in April he wanted to hide alcohol from his Mormon girlfriend.
Wolf said he declined the job and, when he saw news reports of Ajayi's arrest, called police to report the encounter.
Ajayi's ex-wife, Tenisha Ajayi, told KUTV that she hasn't spoken to her estranged husband in years and was shocked by the allegations against him. However, she said there were also signs of violence in their relationship and she stopped talking to him because she feared for her life.
"If I wouldn't do what he told me to do, he got real aggressive," she told the station. "He was like, I'll have someone come kidnap you and kill you."
In the days before authorities determined Lueck had been killed, speculation about what happened to her and the motivation behind her disappearance was pervasive online. Some mocked Lueck's disappearance and later blamed her for her death.
Just before police announced she had been killed, a now-former writer from Barstool Sports wrote a post that focused on Lueck's reported use of dating apps. The writer was fired and apologized on Twitter, saying that his decision to publish was a "horrific mistake."
Lueck's friends Kennedy Stoner, Ashley Fine and Katie Kvam said they believe Ajayi was "hunting women" and pushed back in an interview with Fox News on those who criticized Lueck for her dating life.
"No person regardless of their gender or dating life deserves to die," Fine told Fox News. "Mackenzie is not responsible for the death and murder of Mackenzie. There's only one person responsible for that, and we're here to hold him responsible and we're going to keep holding him responsible."
Times staff writer Alejandra Reyes-Velarde contributed to this report.
Twitter: @Hannahnfry
---
For reporting and exclusive analysis from bureau chief John Myers, get our California Politics newsletter.
You may occasionally receive promotional content from the Los Angeles Times.