'Devastating and soul killing': L.A.-area Jewish leaders respond to Pittsburgh synagogue shooting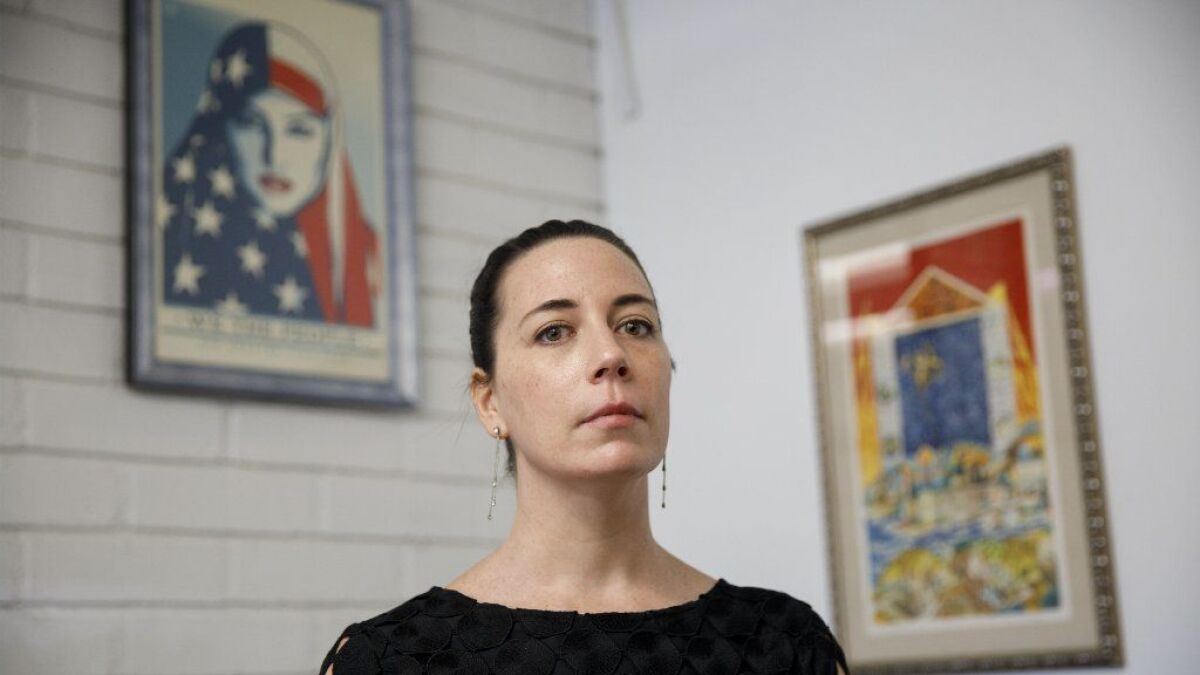 After word spread about the mass shooting at a Pittsburgh synagogue Saturday morning, Rabbi Sarah Bassin of Beverly Hills quickly changed her planned sermon.
Eleven people were killed and six injured in the shooting at the Tree of Life Synagogue in Pittsburgh's Squirrel Hill neighborhood, the hub of the Jewish community, police said. Four police officers were among the wounded.
The suspected gunman was arrested at the scene and identified as Robert Bowers, 46, authorities said. He has a history of making anti-Semitic and anti-immigrant social media posts.
Bassin found a July blog post written by Tree of Life Rabbi Jeffrey Myers about gun violence, titled "We deserve better." In the post, Myers lamented that tragic events lead to thoughts and prayers by elected officials but little else before the nation's collective conscience moves on.
"Unless there is a dramatic turnaround in the mid-term elections, I fear that that the status quo will remain unchanged, and school shootings will resume," he said.
Bassin read the post to her congregation at Temple Emanuel.
"It's an innate cycle of these mass shootings — they are devastating and soul killing each time, and then they fade from memory," she said after Saturday's service. "I can't imagine that he thought it would actually come to his community."
Temple Emanuel senior Rabbi Jonathan Aaron sent an email to congregants saying that Beverly Hills police had increased patrols in the neighborhood, just as Los Angeles police and sheriff's departments also stepped up patrols around places of worship throughout the region.
"Our synagogue is being watched closely, and we have taken measures to bolster our security," he said. "We are on high alert in the synagogue and are prepared to protect ourselves from anyone that would do us harm."
Los Angeles Mayor Eric Garcetti tweeted a similar message of caution, saying he had reached out to Jewish community leaders. "We mourn with #TreeOfLife community today," he said.
Atty. Gen. Jeff Sessions said federal prosecutors are investigating the killings as a hate crime and could seek the death penalty against the suspected shooter. The gunman, who was armed with an assault rifle and three handguns, yelled, "All Jews must die!" as he walked into the synagogue, police told local television reporters.
The shooting, which began shortly before 10 a.m. Eastern time, was likely "the deadliest attack on the Jewish community in the history of the United States," according to the Anti-Defamation League, which has monitored anti-Semitism in the U.S. for more than a century.
Amanda Susskind, Los Angeles regional director of the Anti-Defamation League, said anti-Semitic incidents were up by 57% nationwide in 2016-17.
Susskind recalled the 1999 shooting at a Jewish Community Center in Granada Hills by a self-professed white supremacist. Armed with a 9-millimeter semiautomatic pistol, Buford O. Furrow Jr. shot and wounded five people — including three children ages 5 and 6 — before he left the center and killed a mail carrier in Chatsworth. Furrow is serving a life sentence.
Fortunately, Susskind said, there have been no similar incidences in the Los Angeles area since.
Speaking to reporters on Saturday, President Trump suggested that if the Pittsburgh synagogue had armed security, "maybe it could have been a very much different situation."
Susskind said security can be helpful but isn't the only way to protect places of worship from harm.
"Frankly, if someone is coming in with guns blazing, it's hard to say whether that would make a difference," she said. "Synagogues struggle with balancing wanting to be open to the community and protecting congregants. It's a tough, conflicting thing."
In Pico-Robertson, one of L.A.'s prominent Jewish communities, Stefani Sherwin, 69, said she was devastated to learn about the mass shooting in Pittsburgh, especially after the spate of suspicious, potentially explosive devices sent in recent days to prominent critics or political rivals of Trump. The targets included former President Obama and former Secretary of State and Democratic presidential candidate Hillary Clinton.
"At some point I believe we get desensitized to it," Sherwin said. "I don't cry about it anymore — it's almost expected."
Even so, Sherwin, who grew up in Pico-Robertson and now lives in the Pacific Palisades, said she feels scared about the increase in xenophobia that she's noticed since Trump took office.
"I don't think I look Jewish, so maybe that serves me," she said. "But I think the Jewish community is always looking over their shoulders."
Bassin, of Temple Emanuel, said she hopes to see an increased focus within the Jewish community on gun reform that can outlast the news cycle.
"We all know that thoughts and prayers alone are insufficient," she said.
The Interfaith Solidarity Network, a group of L.A.-area interfaith leaders, issued a statement Saturday calling on faith leaders across the country to step up efforts of unity and tolerance.
"The ISN condemns the shooting as a xenophobic act of violence stemming from ongoing national divisive rhetoric and policies, and stands in solidarity with the victims of this heinous and racist act," the organization said.
The ISN plans to hold an Interfaith Solidarity March on Sunday from 2 to 5 p.m. The milelong walk will begin at Temple Aliyah, 6025 Valley Circle Blvd., in Woodland Hills.
Twitter: @andreamcastillo
---
The stories shaping California
Get up to speed with our Essential California newsletter, sent six days a week.
You may occasionally receive promotional content from the Los Angeles Times.