Officials offer reward for tips leading to suspect in vandalism of Irvine synagogue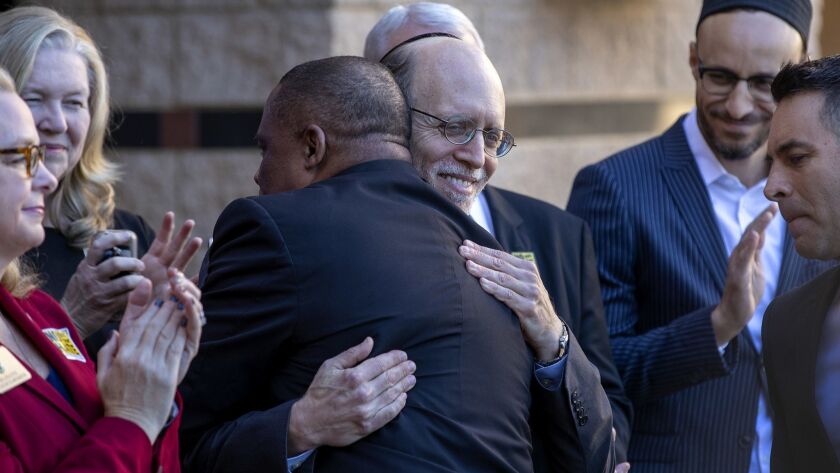 Officials announced a $5,000 reward Friday for tips leading to the arrest and conviction of the suspect behind anti-Semitic graffiti at an Irvine synagogue.
At a news conference, a cluster of civic and interfaith supporters united outside Irvine's City Hall to condemn intolerance.

For the record:
9:45 PM, Nov. 02, 2018A previous version of this article misspelled the name of the regional director of the Anti-Defamation League as Peter Levy. The spelling of his name is Peter Levi. The name of the president of Irvine Valley College was misspelled as Glen Roquemore. His name is Glenn Roquemore.
In the aftermath, the "raw hatred" shown by the hooded intruder at Beth Jacob Congregation, who spray-painted an obscenity-laced message at 1:30 a.m. Thursday, is "overwhelmed by concern, solidarity and true friendship" from countless individuals and institutions, said Rabbi Yisroel Ciner, leader of the synagogue founded 34 years ago.
"We not only stand in support — we're on this journey together," said Peter Levi, regional director at the Anti-Defamation League, whose organization donated the reward money.
While this incident, which is being investigated as a hate crime, "just started with the Jews," he warned that its perpetrator would likely target other communities, including blacks and Latinos.
"Our job is to never let that be normalized," Levi said. "No one should ever feel marginalized."
Chief Mike Hamel of the Irvine Police Department said that so far, investigators have no leads on the suspect, who fled on a bicycle, according to surveillance video.
Those assembled preached a message of compassion toward each other.
"Hate does not wait — but let us not wait also to love one another and let us love our neighbor as ourselves," said Pastor Mark Whitlock of Christ Our Redeemer Church in Irvine, urging the crowd to not hesitate in reporting hate crimes.
Irvine Mayor Don Wagner led the gathering in calling out "hate for the evil it is," adding: "No community is exempt."
He said vandalism at Beth Jacob "pales in comparison to the horrors" at the Tree of Life synagogue just last weekend in his hometown of Pittsburgh — the deadliest shooting against Jewish people in the U.S. — and he continued to urge residents to stay vigilant.
"While the words were written on your building, this is an attack on all of us," he told congregants in the audience.
Glenn Roquemore, president of Irvine Valley College, promised to stay vocal against hate and violence across the country, adding that school officials recently discovered swastikas defacing restrooms on campus.
Alison Edwards, CEO of OC Human Relations, shared statistics from Orange County's most recent report on hate crimes, documenting a jump of nearly 30% over the previous two years, with Jews making up 9% of the victims. She echoed others who pushed the public to increase reporting of such crimes, saying that step-by-step instructions are listed on the group's website.
Orange County Supervisor Todd Spitzer said data show that among the top targets of hate crimes in the county are people of Jewish descent and members of the LGBTQ population. "The only way to reduce this is to raise prosecutions. We must keep at it," he added.
Sheikh Atef Mahgoub, religious leader of the Islamic Center of Irvine, said he served in the same role at the Islamic Center of Pittsburgh for eight years. He said the mass shooting left him "heartbroken," and he felt outrage at what happened at Beth Jacob.
"Over the last few years, we have witnessed people in power trying to awaken evil," he said, trying to persuade listeners to demand that their elected officials lobby against intolerance. "We'll mourn with you today, but we'll fight with you for a safer community, a safer America."
Anyone with information for law enforcement is asked to call the department at (949) 724-7200 or to leave anonymous tips at the Orange County Crime Stoppers hotline at (855) TIP-OCCS.
Twitter: @newsterrier
---
UPDATES:
3:05 p.m.: This article was updated with additional comments from speakers at the news conference.
This article was originally published at 1:30 p.m.
---
The perils of parenting through a pandemic
What's going on with school? What do kids need? Get 8 to 3, a newsletter dedicated to the questions that keep California families up at night.
You may occasionally receive promotional content from the Los Angeles Times.