Teacher removed for 'dangerous' science projects; supporters rally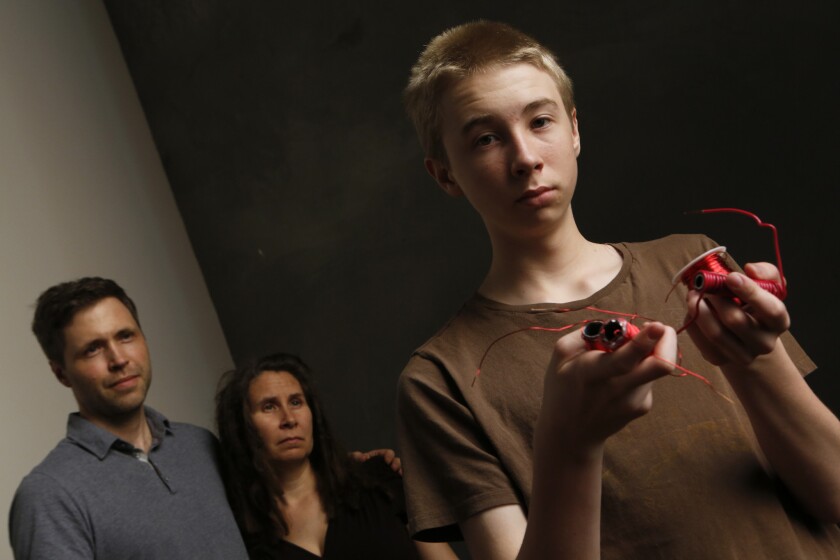 A popular Los Angeles high school science teacher has been suspended after students turned in projects that appeared dangerous to administrators, spurring a campaign calling for his return to the classroom.
Students and parents have rallied around Greg Schiller after his suspension in February from the downtown Cortines School of Visual & Performing Arts. Supporters have organized a rally on his behalf at the campus scheduled for Thursday, gathered hundreds of signatures on a petition calling for his reinstatement and set up a social media page.
Schiller was ordered to report daily to a district administrative office pending an investigation after two students turned in science projects that were designed to shoot small projectiles.
One project used compressed air to propel a small object, but it was not connected to a source of air pressure, so it could not have been fired. (In 2012, President Obama tried out a more powerful air-pressure device at a White House Science Fair that could launch a marshmallow 175 feet.)
Another project used the power from an AA battery to charge a tube surrounded by a coil. When the ninth-grader proposed it, Schiller told him to be more scientific, to construct and test different coils and to draw graphs and conduct additional analysis, said the student's parents, who also are Los Angeles teachers.
A school employee saw the air-pressure project and raised concerns about what looked to her like a weapon, according to the teachers union and supporters. Schiller, who said he never saw either completed project except in photos, was summoned and sent home.
Both projects were confiscated as "evidence," said Susan Ferguson, whose son did the coil-gun project.
L.A. Unified School District administrators have told Schiller that he was removed from his classroom six weeks ago for "supervising the building, research and development of imitation weapons," said union representative Roger Scott.
School administrators did not respond to inquiries. District officials said they could not comment on an ongoing probe.
"As far as we can tell, he's being punished for teaching science," said Warren Fletcher, president of United Teachers Los Angeles.
Schiller teaches Advanced Placement biology and psychology, as well as regular and honors biology.
Students in Schiller's classes are concerned about Advanced Placement exams for college credit in May.
"The class is now essentially a free period," said 17-year-old psychology student Liana Kleinman. "The sub does not have a psych background and can't help us with the work."
Schiller initially prepared lesson plans for the substitute, but the district in an email directed him to stop.
"This is really hurting my students more than anything else," Schiller said in an interview. "I would never do anything to set up a situation where a student could be harmed."
He also coaches the school's fencing team, and administrators have determined the team cannot compete safely without Schiller in charge.
Schiller, 43, also was the teachers union representative on the campus and had been dealing with disagreements with administrators over updating the employment agreement under which the faculty works. His suspension, with pay, removed him from those discussions.
The expensive Grand Avenue arts high school has a troubled brief history, including repeated administrative and staff turnover.
howard.blume@latimes.com
Twitter: @howardblume
---
Get breaking news, investigations, analysis and more signature journalism from the Los Angeles Times in your inbox.
You may occasionally receive promotional content from the Los Angeles Times.