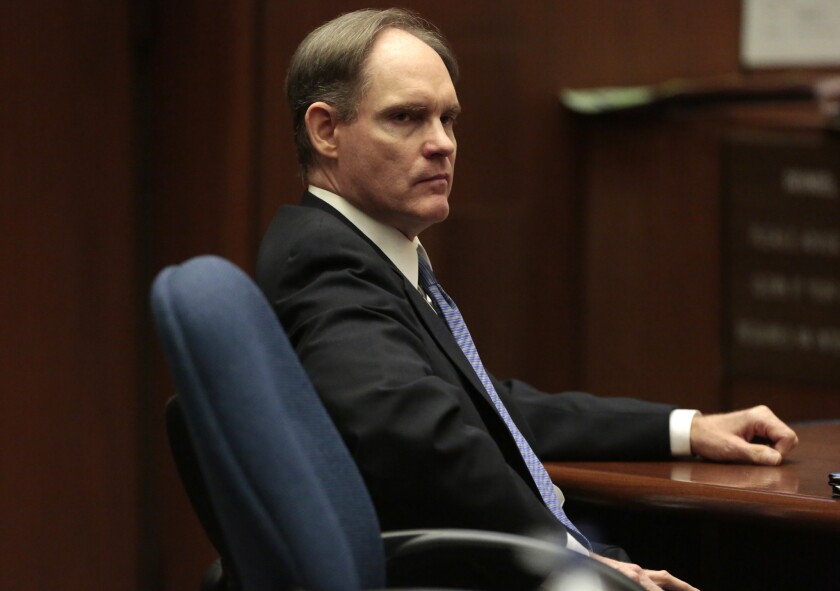 A third trial began Wednesday in the case of Cameron Brown, who prosecutors say led his young daughter on a "dangerous hike" in Rancho Palos Verdes 15 years ago and then flung her off a steep, jagged cliff and into the ocean.
Two previous juries deadlocked over whether Brown, 53, intentionally threw his 4-year-old daughter, Lauren, over the cliff on Nov. 8, 2000.
In a downtown L.A. courtroom Wednesday, Brown furrowed his brow and blinked, occasionally whispering to his attorney. When a prosecutor projected a picture of the cliff during opening statements, Brown stared at the screen for several seconds.
Assistant Head Deputy Dist. Atty. Craig Hum told jurors that Brown killed his daughter to avoid paying child support and to hurt the victim's mother. The two had been embroiled in a bitter custody battle, Hum said.
"Lauren didn't slip and fall," he said. "This man hurled the child he never wanted off that cliff and to her death."
Aron Laub, Brown's attorney, said the girl's death was the result of a tragic accident, saying that his client did care about his daughter. He carried a picture of her in his wallet, Laub said, and gave her dolls from his grandmother's prized collection.
"Two tragedies are about to unfold before you," Laub told jurors. The first is the little girl's death – an accident, he said. The second, he said, is the prosecution of Brown and the unfair portrayal of him as a murderer.
Brown's first trial ended in 2006 with two jurors voting to convict Brown of first-degree murder, eight voting for second-degree murder and two favoring manslaughter. In 2009, the jury split evenly between finding Brown guilty of second-degree murder and involuntary manslaughter.
For more news from the Los Angeles County criminal courts, follow @marisagerber
---