Lightning has already struck 2,100 times in Southern California this week. More is coming
Los Angeles has been uncharacteristically muggy this week. (Aug. 4, 2017)
Southern California will see more thunderstorms and muggy weather Thursday — the final day of a storm system that the National Weather Service said has already caused 2,100 lightning strikes and prompted numerous flash flood warnings.
The thunderstorms will be limited mostly to deserts in the Inland Empire and surrounding mountains, said meteorologist Mark Moede.
"The flash flood risk will certainly remain a concern today with the potential for flash flooding with any of the heavier and more persistent thunderstorm cells" in Riverside, San Bernardino and San Diego counties, the Weather Service said.
The chance of rain in Los Angeles and Ventura counties on Thursday will only be about 10%, said meteorologist Tom Fisher.
Friday should bring relief from humid conditions, according to forecasters. Weekend temperatures are expected to hover around the 70s along the coast; the 80s in downtown Los Angeles; and possibly the 90s farther inland, Fisher said.
In the meantime, the storm system has generated an phenomenal number of lightening strikes.
Wednesday
There were 723 lightning strikes across Southern California on Wednesday, Moede said. "Pretty impressive numbers there," he said.
The majority of the lightning occurred within a few dense pockets of storm cells that pounded the San Diego County foothills and the Big Bear area in San Bernardino County.
But the smattering of thunderstorms that arrived from the north ignited a pair of wildfires near San Luis Obispo, according to the California Department of Forestry and Fire Protection.
A lightning strike off Highway 58 and Red Hill Road sparked the Red fire Wednesday morning, Cal Fire said. The fire had scorched 460 acres and was 50% contained Thursday morning.
Not far away, also off Highway 58, the Camatta fire was also caused by lightning and was 71 acres and 80% contained Thursday, Cal Fire said.
Tuesday
On Tuesday, the storm's busiest day, observers recorded 1,478 lightning strikes in Southern California, the National Weather Service said.
"The last couple of days have been our time, I guess," Moede said.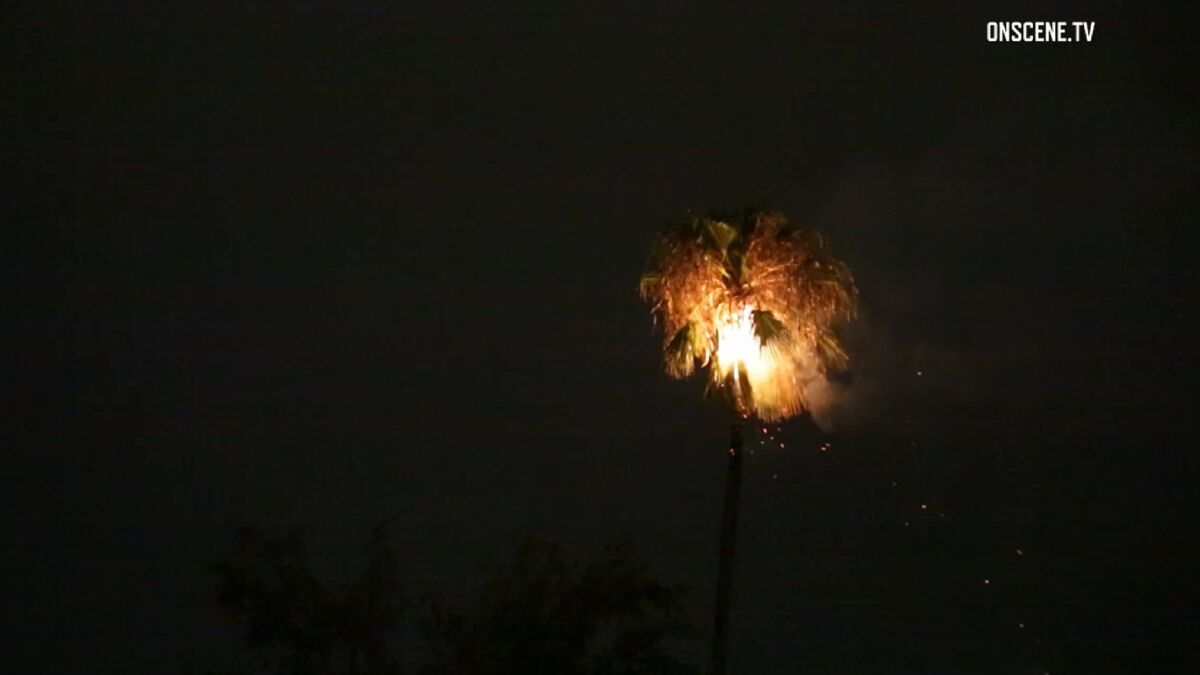 Heavy rain and powerful winds blasted across Temecula on Tuesday afternoon while a flash flood warning was issued for the Moreno Valley.
Big Bear and the San Bernardino Mountains also saw heavy thunderstorms and rain.
ALSO
What's behind Southern California's summer rain and thunderstorms?
Congress takes aim at the Clean Air Act, putting the limits of California's power to the test
A wet winter makes some California hikes more treacherous than usual
---
The stories shaping California
Get up to speed with our Essential California newsletter, sent six days a week.
You may occasionally receive promotional content from the Los Angeles Times.