Metro wants to end free rides for clean-air vehicles in toll lanes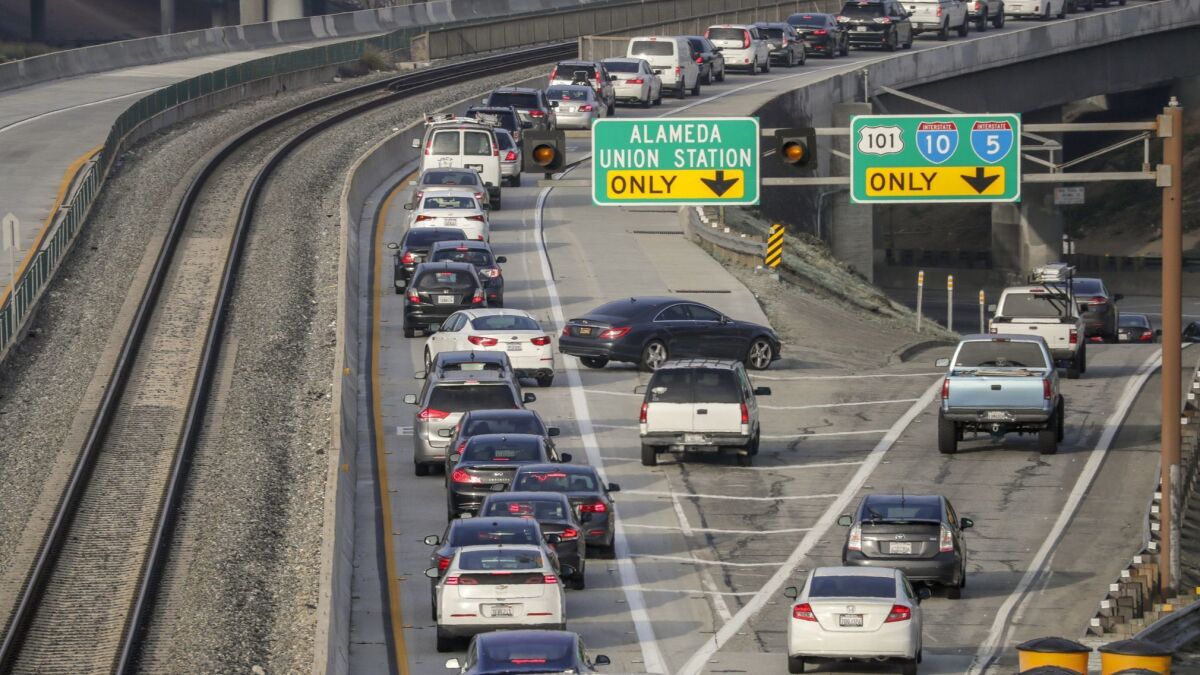 Facing rising congestion in the 110 Freeway and 10 Freeway toll lanes, the Metropolitan Transportation Authority on Thursday will consider ending free rides for commuters who drive alone in zero-emission vehicles.
The proposal could place Metro on a collision course with environmental advocates, who say saving time and money on Los Angeles County's toll lanes is a major reason that Angelenos buy zero-emission cars. Reducing emissions from transportation is critical to meeting the state's air quality and climate goals.
But when it comes to taming traffic jams, a zero-emission car with one occupant is no different from a gas-guzzler, Metro officials say. The policy is one of several that Metro is pursuing to keep speeds in the lanes above the federally mandated minimum of 45 mph during rush hour.
Tolls on the Harbor Freeway and the San Bernardino Freeway fluctuate between 35 cents to $2 per mile during rush hour, based on how many drivers are in the paid lanes. In theory, a higher toll discourages some drivers from using the lanes, freeing up space and speeds for those who remain. But drivers of zero-emission vehicles are immune to the price hikes.
"It limits our ability to manage the congestion," executive officer Shahrzad Amiri said. "And it leads to a less predictable and pleasant trip."
The share of zero-emission vehicles in the lanes has doubled to 6% in the last year and a half, Metro said. And the number of clean-air decals issued statewide by the Department of Motor Vehicles grew 44% between the end of 2016 and March 1, to more than 320,000.
Under the proposed Metro policy, drivers with clean-air stickers would receive a 15% discount per trip on the ExpressLanes toll, which can reach $22 on the Harbor Freeway. The stickers would grant drivers access to carpool lanes across the state through 2025.
Metro's board of directors is scheduled to decide on a toll policy for clean-air vehicles at its monthly meeting Thursday morning.
The proposal will not be popular with drivers who invested in zero-emission cars to take advantage of the cost and time savings. That includes Steve Lee, 47, of Pasadena, who bought a second car — a Prius plug-in — to qualify for the carpool lane and toll lane carve-outs on his commutes to Harbor Gateway.
"It's a silly policy change when you think about the number of people they're talking about," Lee said. "The number of cars with the sticker is so minimal compared to some of the other behavior you see out there that causes the lanes to slow down."
Last year, Metro officials said they were surprised to learn that up to 30% of morning drivers in the 110 ExpressLanes were cheating the system by driving alone and switching their transponder to the carpool setting to avoid the toll.
Catching toll-lane scofflaws is labor-intensive and rarely fruitful. California Highway Patrol officers, paid to oversee Metro's lanes, must verify whether a driver's transponder setting matches the vehicle occupancy, then pull the driver over to write a $238 ticket if it doesn't.
Metro has spent a year developing an automated system designed to count the number of occupants in a car and issue a ticket if the transponder setting does not match. The system should be installed on both toll lanes by the summer so testing can begin, Amiri said.
Separately, Metro is also pushing to raise the carpool requirement to three people per vehicle in Los Angeles County lanes. That decision lies with Caltrans, which expects to make a recommendation this fall. Electric vehicles would not be affected by that change.
Environmental advocates say the benefit of allowing electric vehicles in toll lanes far outweighs the congestion they cause, considering they make up just 5% of car sales in the state.
"Most of the population doesn't know anything about electric vehicles," said J.R. DeShazo, director of UCLA's Luskin Center for Innovation. "For them to see signs in the toll lanes that allow these cars, or even to see vehicles in the lane, is beneficial for the state."
DeShazo found in a recent study that the ability to drive alone in a carpool lane or a toll lane is the "single biggest incentive" for Californians to buy a zero-emission vehicle if they live within 10 miles of such a lane. Access to carpool and toll lanes prompted the purchase of more than 24,000 plug-in electric cars and hybrids in L.A., Sacramento, San Diego and San Francisco from 2010 to 2013, his study found.
Owners of low-emission vehicles would continue to receive a host of other benefits, Metro officials say, including federal income tax credits, access to carpool lanes and reduced utility rates for refueling electric or natural gas vehicles overnight.
Ramie Milo, 28, bought a Prius plug-in hybrid last year to reduce her carbon footprint and speed her commute. For a while, she drove for free in the ExpressLanes almost daily on her way to work as a technical project manager in Playa del Rey.
"It's one of the reasons that driving in L.A. isn't terrible for me," Milo said. Losing free access to toll lanes will be "one less incentive" for people like her to purchase electric cars, she said.
If she were charged a toll, she said, she would think more carefully about whether using the lanes was worth the cost.
That's exactly the message Metro wants to hear. The agency doesn't expect most zero-emission drivers to leave the lanes, but some will — enough, officials hope, to ease congestion during rush hour.
Fees are still waived for many drivers alone in zero-emission cars on many toll routes in California, including Interstates 15, 580, 680 and 880. Several Bay Area bridges, including the Oakland Bay Bridge, charge those cars a half-price toll during peak periods.
Carpool lanes and toll lanes that receive federal funds must maintain an average speed of 45 mph 90% of the time during peak periods. More than two-thirds of California's lanes fell short of that goal in the second half of 2016, according to the most recent data available from Caltrans.
On one stretch of the southbound 110, traffic speeds are below 45 mph 75% of the time during rush hour, Caltrans said in the analysis. Carpooling on the route has fallen by two-thirds since the toll lane opened, Caltrans said, and drivers are swerving in and out of the paid lanes — behavior that Metro has tried to address by installing lightweight poles to separate the lanes from the rest of the freeway.
Many zero-emission drivers will start paying, Metro director John Fasana said, but Metro will still contend with a potentially high percentage of drivers who "take their chances" and try to cheat.
"Their odds," he said, "aren't all bad."
Zero-emission vehicle drivers are accustomed to setting their transponders to indicate a carpool of three or more, and then leaving them alone, said Los Angeles County supervisor Janice Hahn at a recent Metro committee meeting. She questioned whether there would be a grace period as drivers adjusted to the change and to the loss of their discount.
"The discount is nice, but that's not how they're going to think about it," Hahn said. "They're going to be thinking, 'This is the first time I've ever had to pay.'"
For more transportation news, follow @laura_nelson on Twitter.
---
The stories shaping California
Get up to speed with our Essential California newsletter, sent six days a week.
You may occasionally receive promotional content from the Los Angeles Times.