Tree-trimming guidelines in Edison wildfire plan may go too far, arborist says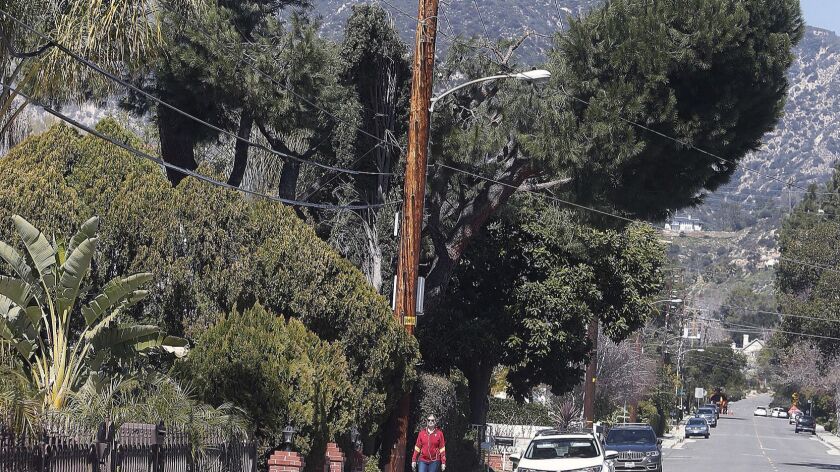 Southern California Edison is making big plans to reduce the chances of fire ignition in high-risk areas such as La Cañada Flintridge, proposing to spend more than $118 million throughout its service area on enhanced vegetation management between now and 2020.
As part of a 119-page Wildfire Mitigation Plan, required by state law and submitted to the California Public Utilities Commission on Feb. 6, the utility aims to reduce threats posed by falling trees and hanging limbs near power lines by removing at least 7,500 trees (with funding being sought for the removal of up to 15,000) in 2019 and maintaining a 12-foot clearance around all electrical wires.
Contracted work crews have been busy on the streets of La Cañada and neighboring Altadena in recent months, trimming or topping trees to accommodate the new radial requirement, far greater than the 4 feet standard previously imposed.
The results of their labor — visible on several La Cañada residential streets north of Foothill Boulevard — is causing concern among at least one arborist and residents who fear such extreme pruning could imperil the health of certain tree species.
"They're topping trees, which are going to go into a permanent state of decline," said Rebecca Latta, a longtime arborist who has clients in La Cañada. "They need to do a better job of explaining to us why they need to go to 12 feet."
Vegetation poses a threat
At a wildfire town hall last week at Pasadena High School, officials from Edison International and the CPUC explained maintaining vegetation was a chief concern.
"We collect statistics on ignitions," said Elizaveta Malashenko, deputy executive director for CPUC's Office of Safety and Enforcement. "At 25%, the top No. 1 cause is vegetation contact with power lines."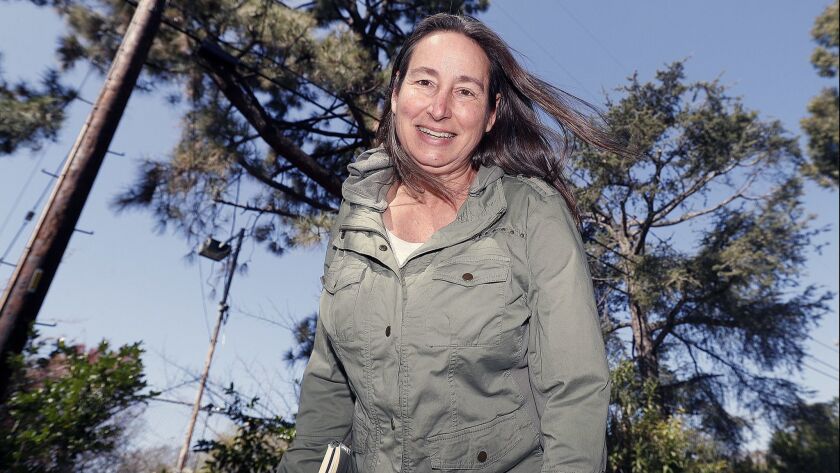 Between 2015 and 2017, 132 ignitions occurred in the distribution voltage infrastructure that carries power from substations to customers in Edison's high-risk fire areas, the utility's mitigation plan indicates. Of those, contact from vegetation accounted for 22 fires, or 17%.
Vegetation-related ignitions in higher voltage transmission infrastructure, which carries power from power plants to substations, was lower, with only one instance during the same two-year period, accounting for 5% of fires.
Pedro Pizarro, president and chief executive of Edison International, told the town hall audience that his utility inspects and trims more than 400,000 trees in high-risk fire areas each year.
"We know that homeowners care deeply for their surrounding environment and foliage, and we want to respect that," he said. "However, we will prioritize safety of your home and our communities first and foremost, so we will trim trees when needed."
Crews on the march
Following orders to maintain adequate clearance, some 400 contractor work crews consisting of at least one groundsman and one foreman are inspecting private trees on residential streets throughout Edison's territory and notifying customers when work is needed.
La Cañada is an area of high concern, according to David Guzman, who oversees Edison's vegetation management program.
"There are a lot of trees in that area, it has a dense population, and it's at an interface with the [Angeles National] Forest, so it's definitely something we look at closely," he said.
In the past, branches were trimmed back to a 4-foot radius around trees, with fast-growing species receiving at least 6 more feet of pruning, Guzman said. But since the CPUC passed a new regulation in December 2017 recommending a 12-foot clearance for all vegetation in high-fire-risk areas — even when lines are covered or insulated — the particular species of a tree no longer factors into the pruning.
"We have a basic, across-the-board trim area of 12 feet," Guzman said, adding arborists pre-inspect trees.
Latta worries over-trimmed trees may suffer and become even greater fire hazards.
"If you top the tree, you expose the whole upper canopy to sunburn. And if you have any other issues going on, root rot or other health problems, the tree doesn't have enough resources to defend itself," she said, naming deodar cedars and some pines as particularly vulnerable.
The arborist also claimed some homeowners were not receiving proper notice before trim work was done on their property.
Guzman said customers receive door hanger notifications from inspectors at least 30 days in advance and a second notice days before trimming is scheduled. If people cannot reach the number provided, Guzman recommended calling Edison at (800) 655-4555 and asking for a vegetation management manager who can look up properties and report details.
Despite the established notification process, Pizarro warned residents at the Feb. 21 town hall that public safety trumps standard operating procedures.
"Of course we want to give advance notice, but if we see something we think is a hazard, we'll take it on the spot," he said.
Locals want more input
Edison's enhanced vegetation management plan just doesn't sit right with La Cañada resident Taylor Carbonetti, who had a crew perform some trimming at her Hill Street home, but was shocked to see what she considers over-pruning in several other parts of town.
"It looks like if you were making paper trees and you just took scissors and took all the tops off — it's intense," said Carbonetti, who went on Facebook to inform neighbors. "You're walking around and start noticing all these trees are chopped. And we're seeing the trucks everywhere."
Meanwhile, Latta said she appreciates Edison's efforts to keep at-risk foothill communities safe, but wishes they would have developed a more collaborative approach, with input from stakeholders. She's currently trying to raise awareness in local arborist circles.
"It's not my intention to do anything other than get their attention and get them to develop some options," she said. "Why is it we're not being allowed to be part of the conversation?"
Caradine writes for Times Community News.
---
The perils of parenting through a pandemic
What's going on with school? What do kids need? Get 8 to 3, a newsletter dedicated to the questions that keep California families up at night.
You may occasionally receive promotional content from the Los Angeles Times.