Fans, friends, family bid farewell to 'Rembrandt' of cars George Barris
Pallbearers set George Barris' custom-painted casket down at Forest Lawn Glendale on Saturday. Barris died Nov. 5 at his Encino home.
(Christina House / For The Times)
Pallbearers carry the custom casket of car builder George Barris at Forest Lawn in Glendale. Barris designed special vehicles for many of the biggest names in Hollywood, including Frank Sinatra, Sammy Davis Jr., Elvis Presley, Michael Jackson and John Wayne.
(Christina House / For The Times)
A parade of classic cars joined George Barris' funeral procession Saturday.
(Christina House / For The Times)
Vintage cars line the street at Forest Lawn in Glendale. "George Barris could take a vehicle and with a minimum of modifications turn it from something ordinary to something grand and exciting," said Leslie Kendall, chief curator of the Petersen Automotive Museum in Los Angeles.
(Christina House / For The Times)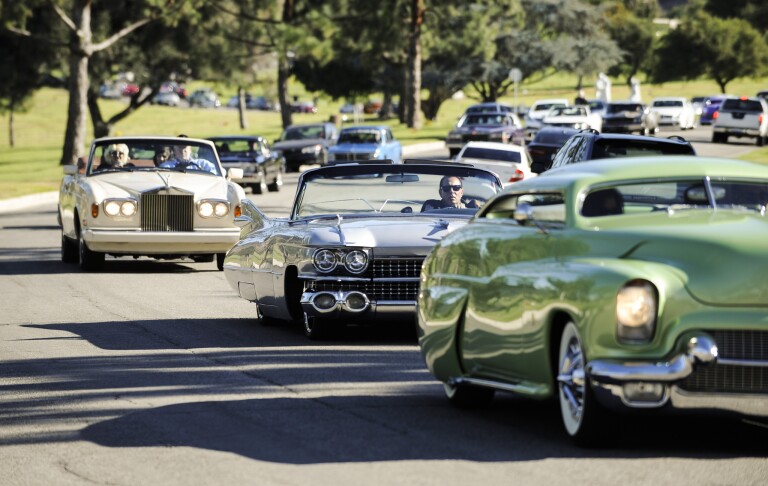 The procession to George Barris' funeral at Forest Lawn Glendale included a vintage Mercury, Cadillac and Rolls-Royce.
(Christina House / For The Times)
A miniature Mini Cooper with a life-sized replica of Marge Simpson heads into Saturday's funeral procession.
(David Zahniser/ Los Angeles Times)
It was one part funeral procession, one part classic car show – a gleaming parade of vintage, frequently tricked out automobiles with standout paint jobs and painstaking detail work.
Family members, friends and devoted fans gathered Saturday outside the Forest Lawn Hall of Liberty to remember custom car legend George Barris in the only way that made sense: by arriving in their own amazing vehicles, or posing for photographs next to the ones they admired.
Barris, who died Nov. 5 at the age of 89, made his name in Hollywood designing and building vehicles for an array of major features – the Batmobile for the 1960s superhero television show, the "Munster Koach" for the sitcom "The Munsters," and many others. His pioneering work in the field of car customization also made him an influential figure for car clubs and hot rod enthusiasts.
See the most-read stories this hour >>
Inside Forest Lawn's Hall of Liberty, Barris could be seen – decked out in shades – resting in a casket decorated with pinstripes, plastic fins and a Spanish Gold paint job.
Outside the service, the people whom he inspired wandered through the parking lot, marveling at the array of roadsters and muscle cars.
"It's amazing," said Long Beach resident Rosie Arias, who belongs to the car club SoCal Challengers. "It just makes me feel like he was loved by so many."
Daniel Cook, 38, paid his respects by arriving in his grandfather's souped up 1929 Model A, rendered in "88 Corvette yellow" with a hand-painted Tweety Bird on the back. Barris, he said, showed L.A. you can make a car "completely your own" – one that will stand out in a sea of Ford Focuses.
"He really built those cars that said, 'Hey look at this. This has got personality,'" said the North Hollywood resident. "And he encouraged the town to do it."
Throughout the day, mourners touched on 20th century cultural touchstones: drive-in movie theaters and Hot Rod magazine, Hot Wheels and the van used in the 1980s show The A-Team. One attendee at the service resembled Marilyn Monroe. Several others had hair slicked back in a way that recalled "Rebel Without a Cause."
Once the service ended, mourners got into their vehicles and proceeded to the burial at Forest Lawn Glendale. There were elegant cars, like the turquoise and white Chevrolet Bel Air, and he-man cars, like the red engine red Impala. One took the wheel of a Mini Cooper convertible, with a life-sized replica of Marge Simpson in the passenger seat.
The procession of custom cars – or Kustom Kars, as Barris would have put it – grabbed the attention of Torrance resident Mirae Lee, who had come to Forest Lawn to visit the graves of her parents and grandparents.
"It's gorgeous. It's fantastic," said the 62-year-old, recording the slow-moving parade of cars with her camera. "Usually you see only three or four."
Before the parking lot cleared out, special effects makeup artist Cleve Hall posed for photographs in front of Kargoyle, a souped-up hearse that had been designed by Barris. Hall, who has appeared in the Syfy Channel reality show "Monster Man," said Barris' death was like "losing a Rembrandt."
"This man and his style influenced my art, my look," said the Encino resident and self-described goth. "Just seeing the Batmobile ... gives me a clench in the stomach, because it's the most perfect design ever."
ALSO
Newborn girl found buried alive near Compton riverbed
California freeze: Minus-11 degrees in Sierra amid snow and ice
Coyote enters Laguna Beach home and snatches pet Chihuahua, owners say
---
Life is stressful. Our weekly mental wellness newsletter can help.
You may occasionally receive promotional content from the Los Angeles Times.