Trump's star on Hollywood Walk of Fame is defaced by a vandal — again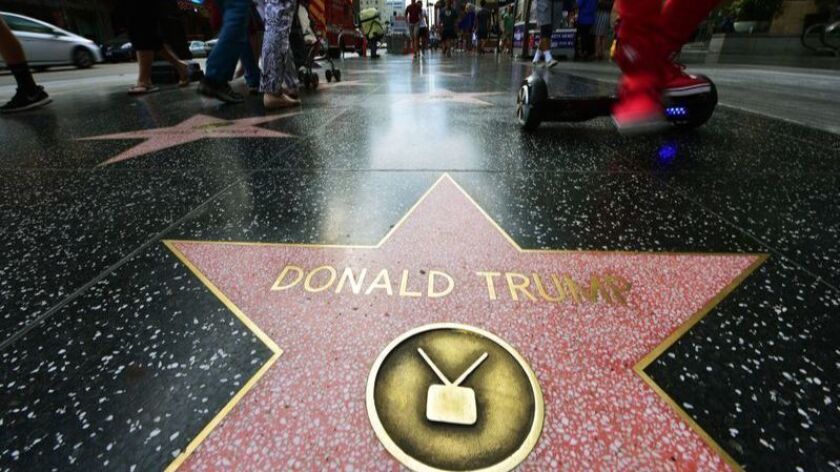 President Trump's star on the Hollywood Walk of Fame, which has cemented itself as a battleground for political debate in Los Angeles, was vandalized again early Wednesday.
The vandal strode up to Trump's star off Hollywood Boulevard and Highland Avenue about 3:40 a.m., knelt down and applied a coat of black paint to the star before scrawling "Putins Bitch" across it in white spray paint.
Another person appeared to be shooting photos or video of the incident, which was captured on video obtained by TMZ.
The vandalism, which alludes to Trump's alleged cozy relationship with the Russian leader, comes days after a redacted version of special counsel Robert S. Mueller III's report on interference in the 2016 presidential election was released.
The Hollywood Historic Trust, which maintains and repairs the stars on the Walk, sent out crews early Wednesday to remove the paint, said Ana Martinez, spokeswoman for the Hollywood Walk of Fame. She said the organization plans to file a police report.
A Los Angeles Police Department spokesperson said Wednesday authorities were not investigating because they had not received a report of the incident.
Since the 2016 presidential campaign, Trump's star has endured several publicized episodes of vandalism, including a spray-painted swastika and a "mute" icon. People have stomped on it and spit on it as they walked by; others have written on it.
Some have been even more destructive.
In October 2016, a man who was later charged with felony vandalism was caught on video bashing the star with a sledgehammer. In July 2018, a man took a pickax to the star. He pleaded no contest to felony vandalism and was sentenced to probation.
Trump's star isn't the only one that's been vandalized in recent years. Singer Mariah Carey and disgraced comedian Bill Cosby's stars have also been targeted.
Despite repeated attacks on certain stars, Walk of Fame officials have not wavered in their pledge to keep them publicly displayed.
"Once a star has been added to the Walk, it is considered a part of the historic fabric of the Hollywood Walk of Fame," Leron Gubler, former Hollywood Chamber of Commerce president and chief executive, said in 2015. "Because of this, we have never removed a star from the Walk."
Twitter: @Hannahnfry
---
The perils of parenting through a pandemic
What's going on with school? What do kids need? Get 8 to 3, a newsletter dedicated to the questions that keep California families up at night.
You may occasionally receive promotional content from the Los Angeles Times.