I spent the night in the same hotel as Donald Trump. It felt presidential, even though I never saw the president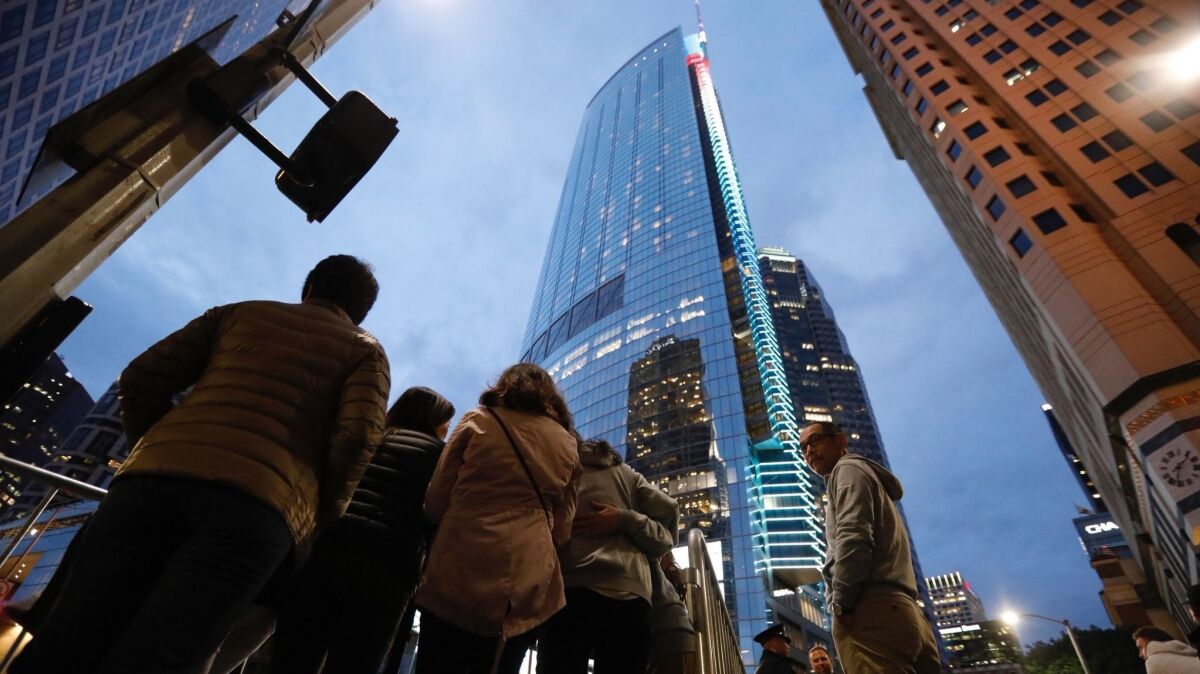 As an overcast day ended in the heart of "the resistance," President Trump's motorcade tucked into the Francisco Street entrance of the Wilshire Grand skyscraper.
There was no grand entry, or at least I missed it, standing behind Secret Service agents awaiting his arrival. Still, the hotel inside — the InterContinental Los Angeles Downtown — had all the charming excesses that our 45th president might desire.

For the record:
12:55 p.m. March 14, 2018An earlier version of this story stated that President Trump entered the Wilshire Grand on 7th Street. He actually used the Francisco Street entrance.
The building's interior decorator told this to my colleague Thomas Curwen about his inspiration for the steakhouse: "We wanted French opulence and good taste to meet with a gritty California scene." That same spot — La Boucherie — has a bar in the shape of Marie Antoinette's slipper.
But as I set out to spend a night with Donald, I wanted to dig deeper. Trump isn't just the leader of the free world. He's a hotelier connoisseur — infamous for dwelling over the smallest details at his properties.
So why, I wondered, of all the hotels in our fair city did he decide on this one? It was neither convenient nor a place he had stayed before. The president once wined and dined porn actress Stormy Daniels in a bungalow at the Beverly Hills Hotel, according to Daniels. And, in choosing this fine establishment, he also exposed himself to a rush-hour commute from Beverly Hills — where he had been raising big bucks Tuesday evening. (Yes, this journey is made easier when streets can be closed on his account.)
A phalanx of Secret Service and LAPD officers surrounded the building with gates and checkpoints transforming this tower into a fortress. They scanned my bags and hustled me through a metal detector.
But when I checked in around 3:30 p.m. in the 70th-floor hotel lobby, high in the clouds, there was no outward indication that this day was any different.
I stared out the floor-to-ceiling windows alongside Paul Saxton — a retired New Yorker who was tagging along on his wife's business trip. A dense fog gave way to an angelic sunset and a picturesque view of the Hollywood sign.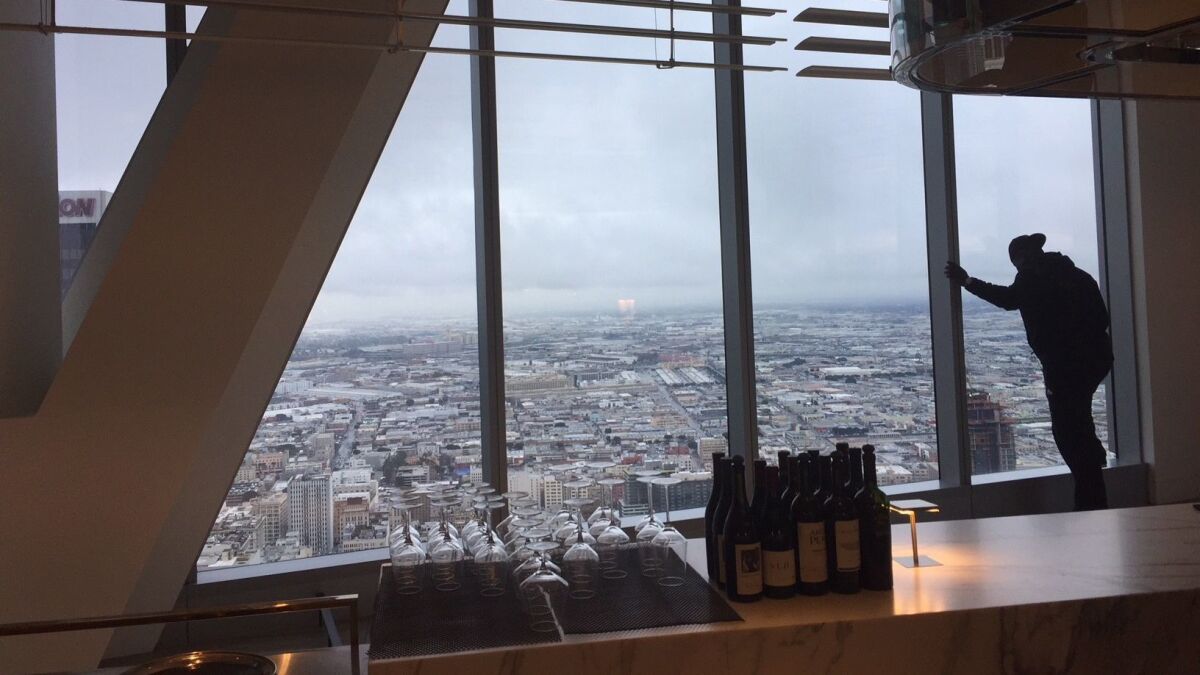 "It's the highest hotel on the West Coast," Saxton told me. "He must like that."
Then, as Trump hobnobbed in Beverly Hills and snarled traffic, I wandered this recently opened colossus.
On the seventh floor, I met Davis, 13, and Mila, 9, who had the pool to themselves and were unfazed by the crush of sirens and helicopters overhead.
They didn't care about the rain either — even if it made the pool kind of cold.
Their father, Moses Luevano, sat in the hot tub nearby, on his phone as the kids splashed each other and swam laps. Luevano told me he voted for Trump and was pleased with the tax cut the president enacted, but was turned off by the "personal stuff."
He also told me his InterContinental rewards card meant the family always gets upgraded to a suite when they travel. This one was on the 64th floor, he said, and the views were great. So it made sense to him that Trump would want to stay here as well.
"He's staying in the newest, biggest, tallest hotel in Los Angeles. He has to sit on the top of the tower."
Later in the evening, business executives mingled at the Lobby Lounge, where a burger costs $29. Out the windows, the city had taken on a "Blade Runner" vibe and was really glowing. A convention about intellectual property was taking place in the hotel, and attendees relaxed with adult beverages.
I overheard excited conversations about Trump and how his stay affected the days of hotelgoers. Still, I never caught a glimpse of El Jefe or any of his recognizable cadre — just a multitude of armed suits ambling around outside the building.
At the bar, Giuseppe Van Oordt nursed a $17 old-fashioned. The 32-year-old had only recently moved to downtown Los Angeles, and his friend had snuck him in that evening. He marveled at the vibrancy of the area and said Trump must have felt that energy as well.
"It's the tallest building," Van Oordt told me. "He's not going to stay at some second-tallest building."
The hotel's 2,500-square-foot presidential suite sits on the 66th floor, and the "sweeping views of the Los Angeles skyline serve as the backdrop to a relaxing lounge complete with a piano," according to the hotel's website.
I'm not sure if Trump stayed in that suite — or if he can tickle the ivories. But with its LED light shows and a display resembling a curved sail affixed to the top, the building is as Trumpian as you can get in this city — albeit with less gold and more glass.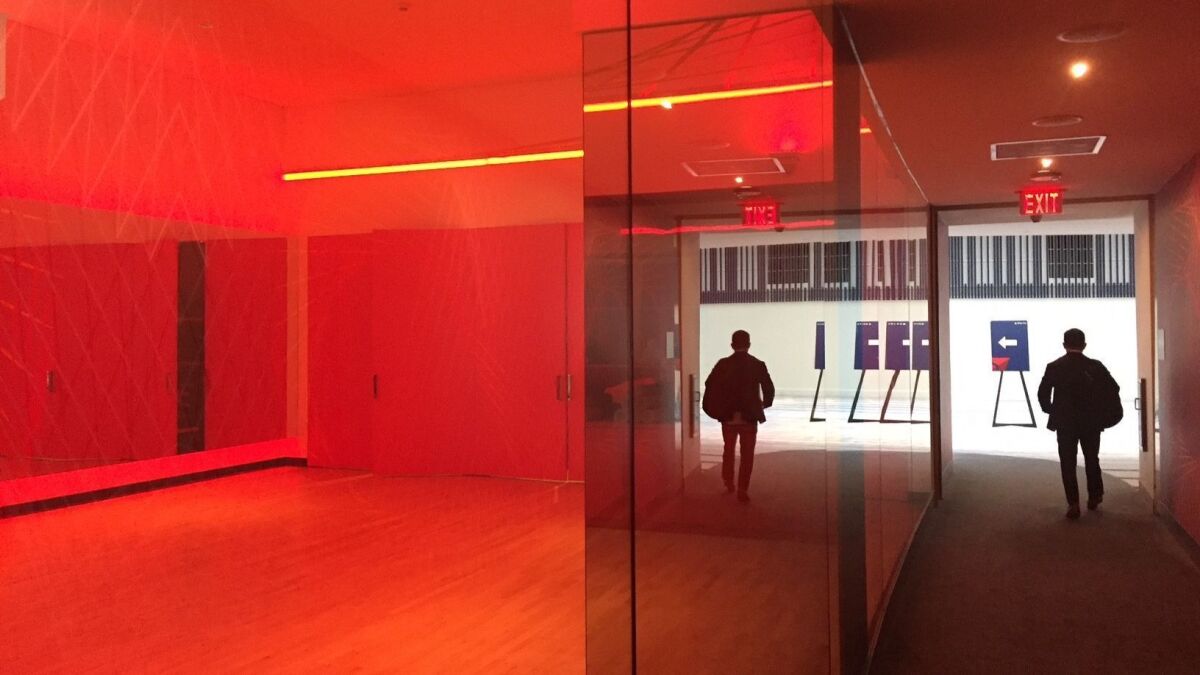 Tammy Jow of AC Martin architects was one of the lead designers of the building. She worked for years with its owner, Yang Ho Cho, the chairman of Hanjin International Corp. and Korean Air, and his daughter Heather Cho to create something special.
"I think it's an honor," Jow told me upon hearing Trump would be staying here.
"I think it fulfills a vision that the chairman had from the beginning — that we would provide a hotel of a caliber that would be able to host dignitaries, even presidents."
She demurred when I was asked whether it was ironic that Trump was staying at this beacon of Korean wealth in one the country's most diverse cities even as he spent Tuesday marveling at prototypes for his "big beautiful wall" and spent last week promoting trade tariffs.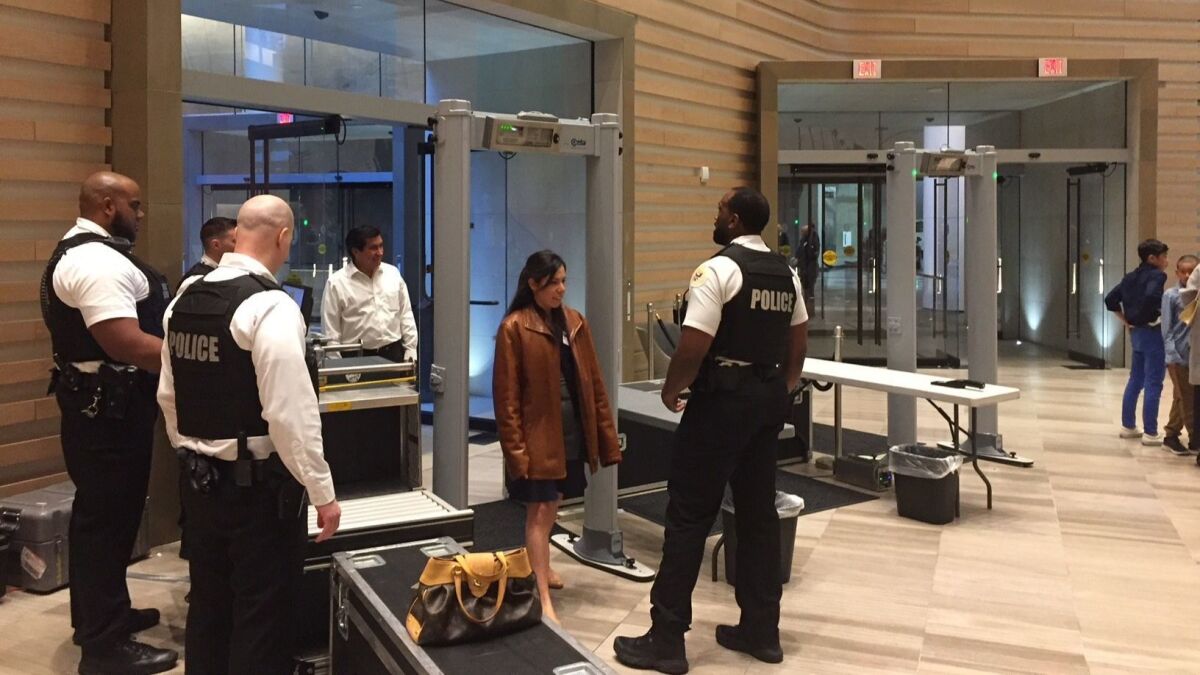 But Jow's mention of Yang Ho Cho led me to an equally intriguing theory for why Trump chose this hotel — one that several guests posited to me as well.
"It's the newest five-star hotel or maybe it's because of the business interests. That Korean money," said a woman I met who was wearing a black hat with the Jaguar car logo on it and carrying a small terrier.
Trump staying here would certainly be a feather in Cho's cap, said Richard Gowan, a foreign policy expert who has been closely following the crisis on the Korean peninsula. Maybe it will help Trump endear himself to a country whose help he'll need in any number of upcoming geopolitical crises.
"So Trump's team have to be aware that he can't lay his head on a pillow anywhere without sending a political message," Gowan said in an email.
"It is rather like the King in some medieval realm announcing that he is coming to stay in some remote baron's castle. It is a signal of friendship to the host. But the host had better get the details right."
Overwhelmed by the days events, I forgot to close the shades in my room on the 45th floor. So I was roused bright and early by a clear sunrise. The highlight of the room was the softest terrycloth robe I ever did wear.
I heard from my colleagues in the office that the president would be leaving around 8:30 a.m. So I stood with my nose pressed against the glass hoping to see the motorcade while contemplating whether to order a $28 omelette. But there was no sign of the motorcade — just a clear view of the parking lot that was the 110 Freeway.
Dejected, I trekked back to the 70th-floor lobby, my ears popping as I rode the elevator upward.
After checking out, I got one of the few signs that Trump had even been in Los Angeles. From the resplendent lobby, I watched the president's fleet of helicopters take off from the Dodger Stadium parking lot and make the crosstown journey to LAX.
Then Trump was off to Missouri.
Twitter: @boreskes
---
UPDATES:
4:50 p.m.: This article was updated with quotes from other hotel guests and additional details.
This article was originally published at 8:25 a.m.
The stories shaping California
Get up to speed with our Essential California newsletter, sent six days a week.
You may occasionally receive promotional content from the Los Angeles Times.