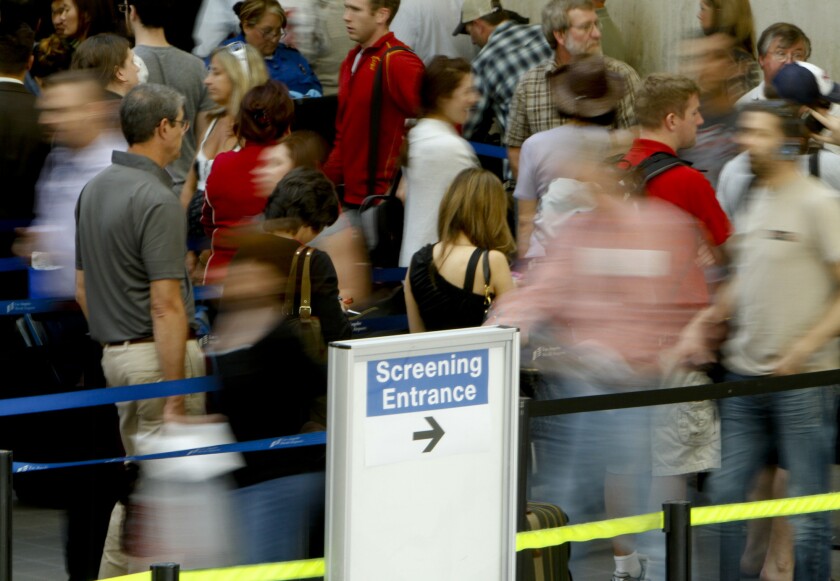 A former TSA screener who was convicted for his role in a drug smuggling operation at LAX screening checkpoints was sentenced Monday to 80 months in prison, federal prosecutors said.
Naral Richardson, 32, of South Los Angeles, pleaded guilty in March to a drug-trafficking conspiracy count, admitting that he used his contacts at LAX to facilitate and profit from five "pass-throughs" of drugs at the airport. He facilitated the movement of about 45 kilograms of cocaine, 4 kilograms of methamphetamine and 22 kilograms of marijuana through security screening checkpoints over a six-month period in 2011, according to prosecutors.
Richardson "routinely allowed high-volume drug traffickers to pass drugs through his security screening lane for as much as $1,000 per pass-through," prosecutors wrote in a sentencing memo.
He was the last of seven defendants in this case to be sentenced to federal prison, the United States attorney's office said in a statement.
Richardson arranged for TSA screeners to look the other way as couriers carried suitcases containing the drugs through the airport that would later be distributed throughout the nation, federal prosecutors said.
A 40-page indictment outlined five such incidents. In one, screeners schemed to allow for about eight pounds of methamphetamine to pass through security, then went to an airport restroom where Richardson was handed $600, the second half of the payment for that delivery, according to prosecutors.
Richardson was terminated by the TSA in February 2011.
Other former TSA screeners who have been sentenced to prison include John Brandon Whitfield, 25, of Los Angeles; Joy Lenisha White, 29, of Compton, and Capeline Sheri McKinney, 27, of Los Angeles. Non-TSA co-defendants Duane Lewis Eleby, 30, of Downey, Terry Dean Cunningham, 30, of Los Angeles, and Stephen Anthony Bayliss, 30, of Los Angeles, were convicted of charges related to their roles as couriers.
For breaking news, follow @AdolfoFlores3.
---