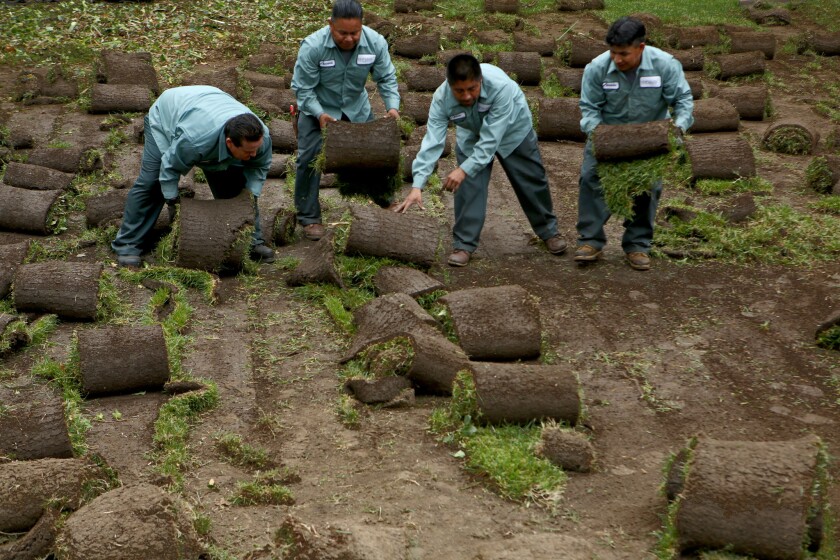 After a seven-month legal battle, the Metropolitan Water District of Southern California on Friday released the names and addresses of thousands of Los Angeles residents who received cash rebates for replacing their lawns.
Nearly three dozen Angelenos received rebates of $10,000 or more, the data show. The largest single rebate among the nearly 3,400 Los Angeles residents who received a payout was $25,000 for the owner of a single-family home in Brentwood.
The Los Angeles Department of Water and Power and three other agencies had sued to keep the water district from disclosing the information to the San Diego Union-Tribune, a sister publication of the Los Angeles Times, citing privacy concerns.
L.A. County Superior Court Judge James Chalfant sided with the Union-Tribune last month, saying the public interest "clearly outweighs" the case for keeping it confidential, and signed his judgment Friday afternoon.
Union-Tribune attorney Kelly Aviles had argued that the public had a right to know how millions of dollars in public funds were spent, especially in order to examine the program for inefficiency and corruption.
"I'm happy that after a long, hard battle that we were finally able to get this information for the public," Aviles said.
The MWD has said in court papers that it always intended to release the information about L.A. rebate recipients, and had already made public such information for recipients served by dozens of other member agencies.
The rebates were part of an unprecedented effort to encourage water conservation amid the historic drought. The agency set aside more than $300 million to fund rebates for customers who replaced their lawns with drought-tolerant landscaping.
The program proved to be hugely popular. Early applicants with massive lawns in communities such as Rancho Santa Fe received rebates as high as $70,000 before caps were put in place. With the funds now exhausted, MWD officials so far say they have no plans to fund a new round of turf rebates.
On Thursday, Chalfant agreed not to enforce his disclosure order for 10 days so more than two dozen police officers and prosecutors can decide whether to pursue legal efforts to keep certain information from becoming public.
If the 29 Los Angeles police officers, two Los Angeles deputy city attorneys and one L.A. County deputy district attorney do not intervene in the case, their addresses will be subject to release.
The Union-Tribune agreed to allow 11 Superior Court judges' addresses to be withheld, upon their request, to expedite the release of the records, though Aviles emphasized that she still believes the addresses are public record.
------------
FOR THE RECORD
Feb. 27, 10:54 a.m.: An earlier version of this article said the names and addresses of judges, police officers and prosecutors who received turf rebates were being withheld. Only the addresses were withheld.
------------
In recent weeks, the Los Angeles Police Protective League, the union that represents rank-and-file police officers, warned about the release of the DWP's turf rebate information, saying it does not want officers' home addresses published on the Internet.
Chalfant said the officers will have to show they have a specific threat or safety concern, rather than just a "generalized fear of harm."
"The California Supreme Court has said there must be a particularized showing of a safety need," he said. "It's not good enough to say, 'I'm a police officer, I work with gangs all the time, I wouldn't want the gang members to know where I live.' That's not good enough."
Chalfant added that there was "a major issue here of if they cared enough they would have intervened."
Lou Turriaga, a director with the Police Protective League, said the group is reviewing its options.
DWP attorney Tina Shim had told the judge that she needed time to notify elected and appointed officials that their names might be disclosed to give them time to respond.
"I'm not aware of any case where, at the trial court level, the agency had an obligation to contact everybody involved to see if they had a concern about their privacy," Chalfant said, adding that it was too late regardless. "What have you been waiting for? This lawsuit was filed last summer."
Shim declined to comment after court.
Twitter: @taygoldenstein
---