Perris couple plead guilty to torturing their 13 children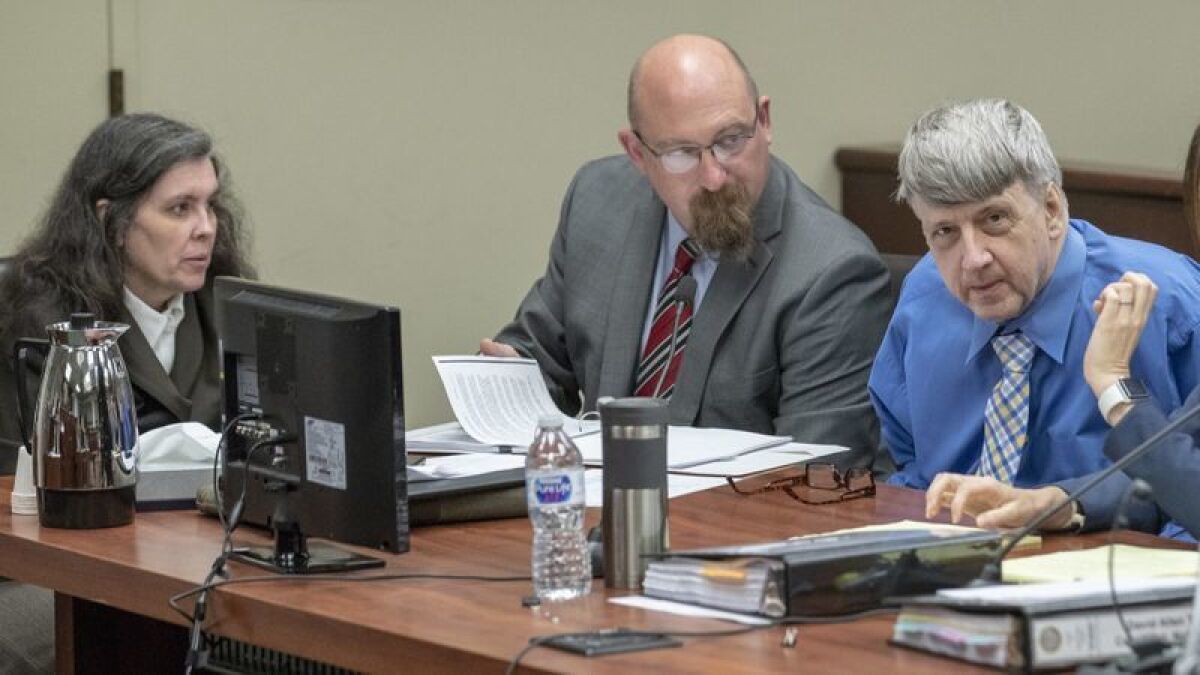 The Turpin siblings were tortured and abused by their parents for years in ways so extreme, prosecutors said, it appeared to have caused malnutrition, cognitive impairment and nerve damage in some of them.
Since being freed last year from a Perris home, the 13 siblings have had to rebuild their lives.
All that time, they have also had to contend with the prospect of a trial — of being called to testify and having to relive, in front of their parents and the public, the horrific treatment they suffered, said Jack Osborn, an attorney who represents the adult children.
"The issue of their parents' trial has always been weighing heavy with them," Osborn said.
So the siblings were relieved to learn earlier this month that their parents, David and Louise Turpin, had each agreed to plead guilty to 14 felony charges, ending the prospect of a trial, Osborn said.
The Turpins entered those pleas Friday during a short hearing in Riverside County Superior Court. They are expected to be sentenced in April to 25 years to life in prison, Riverside County Dist. Atty. Mike Hestrin said.
The charges include one count of torture, four of false imprisonment, six of cruelty to adult dependents and three of willful child cruelty.
They have a zest for life and huge smiles. I'm optimistic for them.
— Riverside County Dist. Atty. Mike Hestrin on the 13 Turpin siblings
Hestrin told the siblings, now ages 3 to 30, about the plea agreement during a meeting this month at his Riverside offices.
"It was a very good day for them to be all together," Hestrin said, recalling the meeting during a news conference Friday.
The story of the abuse the Turpin children suffered made headlines around the world and left their neighbors struggling to understand how the cruelty could have gone unnoticed for so long.
Prosecutors have said the couple subjected their children to abuse and neglect for years, dating back to when the family lived in Texas in the 1990s and continuing after they moved to California several years ago.
It was brought to an end by the brave act of their then-17-year-old daughter who, early one morning in January 2018, summoned the courage to climb out a window and call 911 to ask for help.
The girl told a dispatcher that her little sisters were chained up, that they would wake up crying at night, and that they wanted her to "call somebody and tell them."
When deputies entered the Turpin home on Muir Woods Road, they discovered a nightmarish scene, including two young girls who had been chained to their bed for weeks.
The chains were punishment for stealing candy, investigators were later told.
Twelve of the 13 siblings were so frail and malnourished that deputies at first assumed they were all minors; they later learned that seven were adults. The youngest child, a toddler, appeared to have been spared the lack of food, prosecutors said.
Deputies arrested the couple, and shortly after, Riverside County prosecutors filed dozens of charges against them related to allegations of abuse, captivity and torture of the children. Additional charges of child abuse were later filed against both parents, along with a charge of felony assault against Louise Turpin and a perjury count against David Turpin.
In June, Riverside County Superior Court Judge Bernard Schwartz ordered the couple to stand trial after finding sufficient evidence to support 49 of 50 charges.
The Turpins initially pleaded not guilty to all charges last year.
Prosecutors had been gathering evidence and preparing for trial, but after continued conversations with the defense, Hestrin said the Turpins opted for a plea agreement.
"This is among the worst, most aggravated child abuse cases that I have ever seen or been involved in in my career as a prosecutor," he said.
Hestrin said he had hoped to spare the children any further trauma that might come with a trial.
"Part of what went into the decision-making in this agreement and this sentence is that the victims in this case would not ultimately have to testify," he said.
A year after the abuse was uncovered, it remains unclear why David and Louise Turpin tortured their children.
"I can't speak to their state of mind," Hestrin said. "I can't get into the minds of their motive."
But the district attorney said he was struck by the resilience of the siblings when he met with them to discuss the plea deal.
"I was very taken by them — by their optimism, by their hope for their future," he said. "They have a zest for life and huge smiles. I'm optimistic for them, and I think that's how they feel about their future."
The seven adult siblings are "not really looking back now. They're looking forward," said Osborn, their attorney.
They have been living together and are "working on school, working on their health and working on learning and doing basic life skills," Osborn said. "They are all working toward their own independence."
They also have expressed to their attorney a hope that they won't be forever identified with the abuse their parents inflicted on them.
"They don't want their identity to people who they meet to be one of being a victim and of having to relive this trauma every time they meet somebody," Osborn said. "They want people to know them for who they are and what they are going to be doing."
alejandra.reyesvelarde@latimes.com
Twitter: @r_valejandra
Twitter: @palomaesquivel
The stories shaping California
Get up to speed with our Essential California newsletter, sent six days a week.
You may occasionally receive promotional content from the Los Angeles Times.