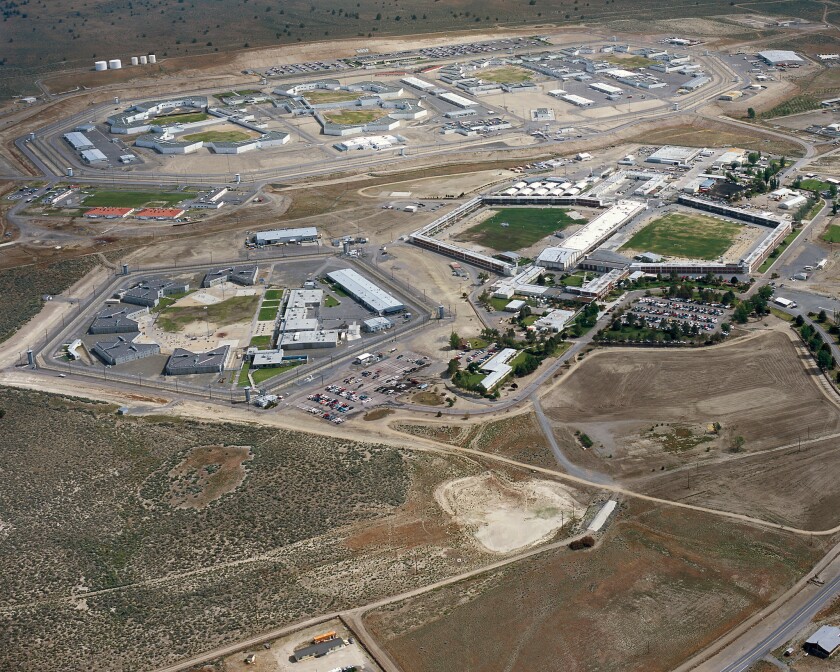 Reporting from Sacramento —
A second inmate has died in the last week during fighting at a California state prison, this time shot by a guard's rifle even as he was stabbed by other inmates, officials said Wednesday.
The latest outbreak, a dining-hall melee at the California Correctional Center in Susanville, was the fifth violent episode in a state prison after the Aug. 12 killing of notorious inmate Hugo Pinell and a subsequent riot in a prison near Sacramento.
California corrections officials said they do not believe the violence is related.
"There is nothing unusual about the frequency of these disturbances, and there are no correlations between the incidents," corrections department spokeswoman Dana Simas said in an email.
The latest casualty, Jonathan Velarde, 23, was repeatedly stabbed during fighting at the Susanville prison Sunday and was hit by rifle fire from an officer seeking to quell the disturbance, Simas said.
According to a statement issued by the Department of Corrections and Rehabilitation, Velarde was shot while "attacking another [prisoner] with a weapon."
Simas said officials waited to announce the death until after they received a coroner's determination that the cause was the bullet and not the stab wounds.
The agency said about 45 inmates in the medium-security unit were involved in the fight. Officers tried to stop the disturbance with pepper spray and at least four warning shots fired from rifles.
Interested in the stories shaping California? Sign up for the free Essential California newsletter >>
Velarde was serving a sentence of two years and eight months for attempted robbery and possession of marijuana for sale in Los Angeles County. Simas said he was due to be released in December.
His death is under investigation by the corrections department and will be referred to the Lassen County district attorney's office if criminal charges are merited.
It is rare for officers to shoot an inmate. Since June 2014, there has been only one other such incident.
In April at Kern Valley State Prison, Jose Herrera, 27, serving a life sentence without parole, was shot and killed by officers as he and another inmate attacked a third prisoner.
Simas said prison investigators determined that deadly force was necessary to defend someone from a grave threat and thus "complied with departmental policy."
No cause for the fighting that left Velarde dead has been released. But Simas said the latest riot was not believed to be connected to the killing of Pinell, 71, a former gang leader serving multiple life sentences.
Pinell had participated in the killings of three prison guards and two white inmates at San Quentin State Prison in 1971 alongside militant African American inmate George Jackson.
The high-profile trial of Pinell and his five codefendants, dubbed the "San Quentin Six," became a focal point for public protests over racial injustices in California prisons.
He had spent more than 30 years in solitary confinement but only days among the general prison population at California State Prison-Sacramento when he was attacked by two inmates and stabbed to death, corrections officials said.
Pinell's attorney has alleged that there had been recent threats against the prisoner and that he had asked officials to keep Pinell in a protected setting.
The riot that ensued involved about 70 inmates and lasted more than 20 minutes. Five other inmates were hospitalized, including one with life-threatening injuries. Corrections officials said that 29-year-old prisoner is expected to live.
Hours later, another riot erupted at Salinas Valley State Prison in Monterey County, leaving seven inmates injured, corrections spokeswoman Terry Thornton said last week.
Other riots occurred on Saturday at Deuel Vocational Institute near Tracy, involving 60 inmates, and on Monday at the California Institute for Men in Chino and at the Sierra Conservation Center in Jamestown. Simas said there were no serious injuries in those incidents.
Detailed incident reports compiled and released by the corrections department show the number of riots is higher than is typical.
The current report, going back to June 2014, shows as many as 18 riots in a month: in June 2014, November and May — averaging fewer than five outbreaks a week.
However, prison disturbances are not considered out of the ordinary.
"Inmates fighting is just not unusual," Thornton said last week.
ALSO:
Hugo Pinell, infamous 'San Quentin Six' member, killed in prison riot
The San Quentin Six: How a wig and a handgun sent a prison into chaos 44 years ago
California prison officials say two inmates suspected in Pinell stabbing death
---