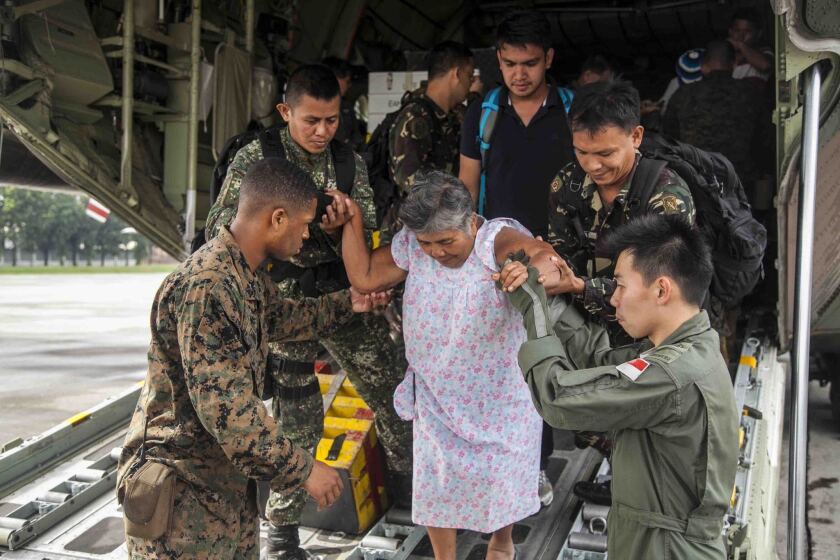 As relief efforts continue in the Philippines in the wake of Typhoon Haiyan, organizations in this country are collecting donations from those who want to help.
UNICEF, the United Nations' World Food Program and the National Alliance for Filipino Concerns are all accepting online donations.
The American Red Cross is also accepting donations online. Mailed donations can be sent to the group's local headquarters at 11355 Ohio Avenue, Los Angeles, CA, 90025.
In Los Angeles, which has the largest Filipino diaspora, local organizations here have kicked fundraising efforts into overdrive in recent days, with the Philippine Disaster Relief Organization and the ROMAH Foundation sponsoring a 5K fundraiser walk over the weekend.
The typhoon that ripped through the central Philippines on Friday was one of the strongest storms ever to hit land. Its official death toll stood at 2,275, but aid workers feared it would continue to grow. The storm has affected 11 million people, according to U.N. estimates, with more than 2,500 injured and some 660,000 left homeless.
PHOTOS: Central Philippines devastated by Typhoon Haiyan
Meanwhile, desperation was starting to boil over. Eight people were crushed to death when a huge crowd stormed a rice warehouse near Tacloban, one of the worst-hit cities, local authorities said. More than 100,000 bags of rice were carted away in the melee, according to local news reports Wednesday.
Elsewhere, residents dug up underground pipes and smashed them open to get water.
ALSO:
Man gets death penalty for torturing, killing 84-year-old widow
Santa Monica dog walker charged after dog bites 4-year-old girl
Woman defrauded nuns of $285,000 to buy lingerie, lease sports car
kate.linthicum@latimes.com
Twitter: @katelinthicum
---