UC Berkeley chancellor to resign following widespread criticism by faculty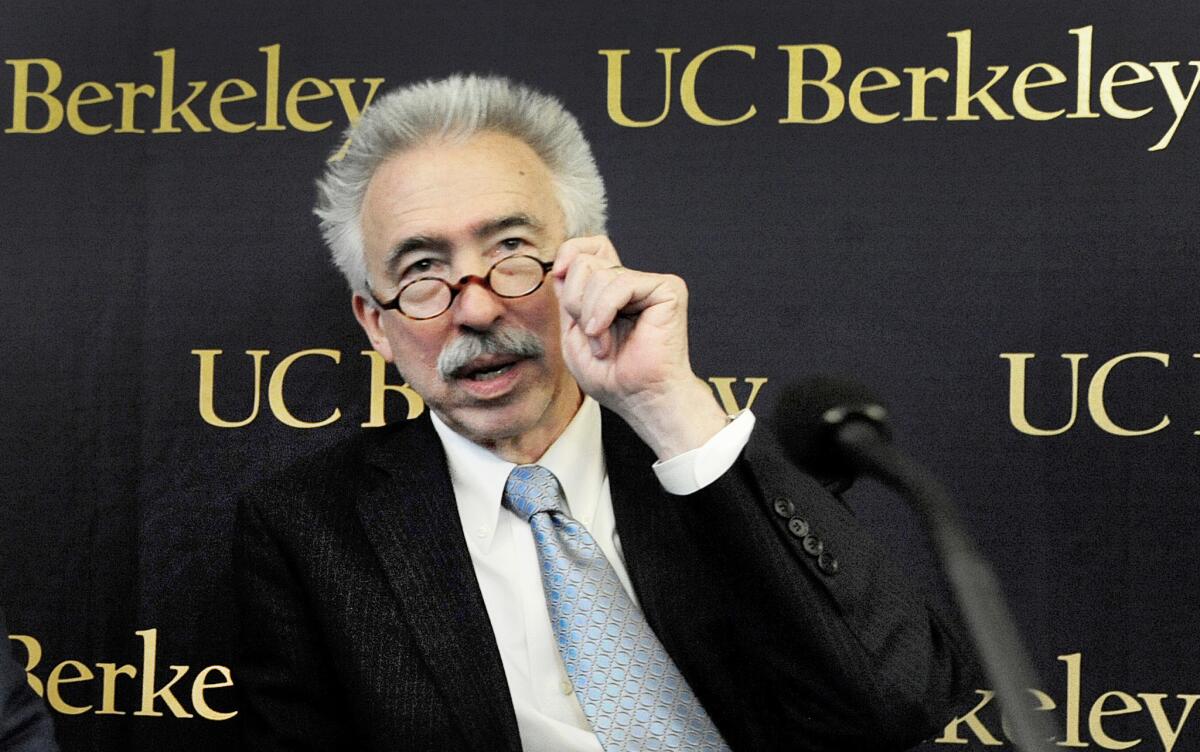 UC Berkeley Chancellor Nicholas Dirks announced Tuesday he would resign, a move that follows months of criticism by some faculty and others over his handling of sexual misconduct cases, a major budget deficit and other campus issues.
Dirks, who took the reins of the nation's leading public research university in 2013, did not spell out his reasons for stepping down but said he would stay until a successor was in place. A distinguished professor of history and anthropology specializing in South Asia studies, Dirks said he would return to teaching and research at Berkeley.
"I have come to the personal decision that the time is right for me to step aside and allow someone else to take up the financial and institutional challenges ahead of us," he said in a letter to the campus community. "We need fresh approaches and new ideas as Berkeley forges a path to maintain its excellence along with its full commitment to a public mission."
UC President Janet Napolitano accepted his resignation, expressed appreciation for his efforts and said a committee would be formed immediately to launch a global search for a new chancellor.
"We seek nothing less than an individual of the highest caliber to lead Berkeley, widely and correctly regarded as the finest public research university in the world," Napolitano said. "UC Berkeley, and the University of California, deserve nothing less."
Dirks' resignation has been long sought by some faculty members, who considered holding a vote of no confidence in him in the spring. Another possible vote was in the works if he did not resign by the fall, a faculty member involved in the effort said.
Dirks has been blasted for imposing weak sanctions on three high-powered faculty members who violated UC's sexual harassment policy. He has since unveiled a reform plan to expand education and training, improve services for victims and form a committee to review proposed sanctions.
Grappling with a $150-million budget deficit, Dirks sought to overhaul academic departments, including the College of Chemistry, but was criticized by many faculty members who said he had failed to consult them. He ultimately backed down on some of the changes he sought.
His problems mounted last month when it was disclosed that he was under UC investigation for alleged misuse of public funds and the personal use of a fitness trainer without payment. Dirks declined to comment at the time, pending the inquiry's outcome.
And reports of spending $700,000 to build a security fence around his residence and $9,000 for an emergency exit to avoid protesters rankled some students, who said he should engage with them, not avoid them.
"There was just a complete collapse of faculty confidence in him, almost across the board," said one UC source who was not authorized to comment publicly. "There was a sense he was ill-equipped to deal with the challenges, he was in over his head as CEO and he didn't really get what Berkeley is all about."
In his statement, Dirks highlighted his work improving undergraduate education, increasing diversity of senior administrators, launching new global initiatives for research, improving sexual misconduct policies and increasing philanthropy to what he said were record levels of more than $450 million in each of the last two years.
Bob Jacobsen, a physics professor, had praised Dirks for committing $4 million extra this year to hire new instructors for the additional 1,000 students admitted. In an interview last month, Jacobsen said concerns about Dirks' leadership were legitimate. But Jacobsen believed in working out problems together.
Asked by The Times last month whether he intended to resign, Dirks declined to respond, saying, "I will continue to meet with faculty, staff and students in order to hear and understand their concerns; to explain how these concerns are being addressed; and to build consensus and support for promoting Berkeley's long-term aspirations."
In recent weeks, however, pressure for Dirks to resign has escalated. A petition expressing loss of confidence in his leadership was recently signed by more than 45 distinguished professors, including former Academic Senate leaders, members of the National Academy of Sciences, department chairs and heads of research units.
"There was a whole series of really bad steps which shows he's cut himself off and is unresponsive to the campus community," said Michael Burawoy, co-chairman of the Berkeley Faculty Assn., who signed the petition.
However, Judith Butler, a professor of comparative literature, expressed concern that maneuvers like the petition occurred among a small group without open discussion by the full faculty. "The real question is who was this small group working in the summer and do they really represent the faculty?" she asked. "I'm not convinced."
She declined, however, to give an assessment of Dirks' effectiveness.
Former Berkeley Chancellor Robert Birgeneau called the news of Dirks' resignation "a sad day for Berkeley."
Dirks is the second UC chancellor to resign this month. Last week, Linda Katehi stepped down as chancellor of UC Davis after Napolitano announced that an independent investigation found that Katehi violated several university policies, showed poor judgment and had misled her superiors, students and the public.
Before coming to Berkeley, Dirks served as executive vice president for the arts and sciences department and dean of the faculty at Columbia University.
---
UPDATES:
9:05 p.m.: This article was updated with additional details and quotes.
This article was originally published at 5:20 p.m.
Sign up for Essential California for news, features and recommendations from the L.A. Times and beyond in your inbox six days a week.
You may occasionally receive promotional content from the Los Angeles Times.