L.A., long a destination for young people, is becoming increasingly out of reach, survey finds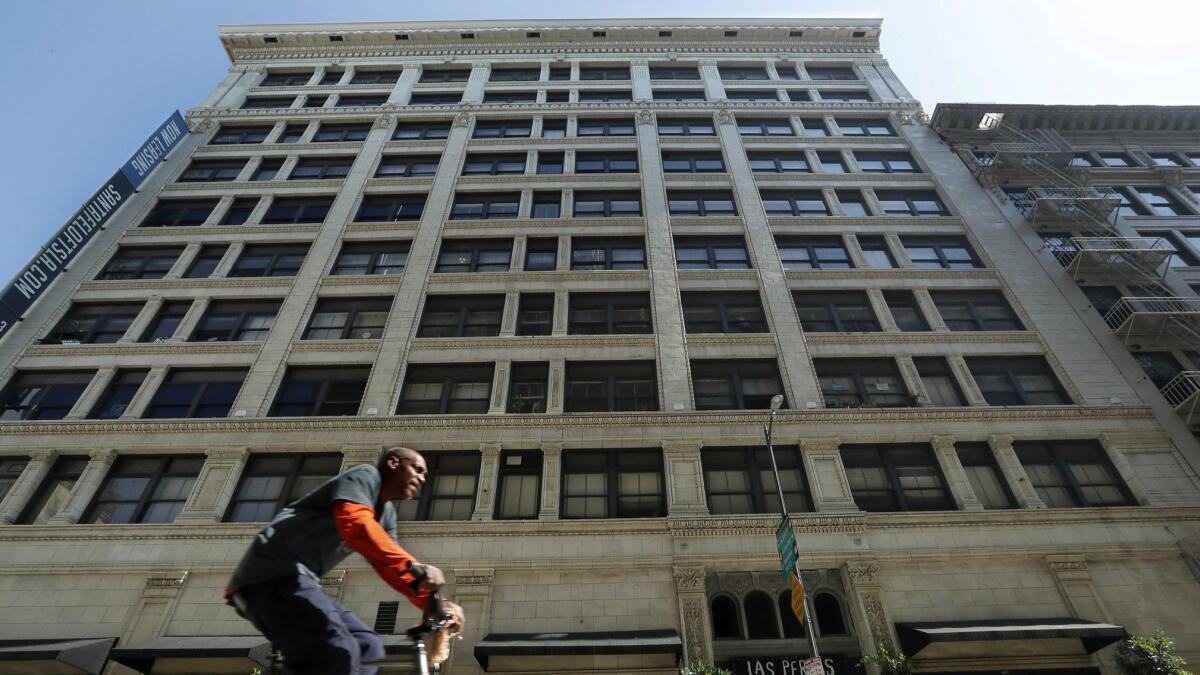 Four years ago, Chelsea Lutz moved to Los Angeles from Cleveland to pursue a career writing and directing films.
"I needed a really cheap apartment," she said. She found one in Koreatown, where she didn't particularly want to live, but it was all she could afford.

For the record:
1:35 p.m. April 16, 2018
An earlier version of this article referred to Zev Yaroslavsky as a professor at UCLA. He is a lecturer.
Today, Lutz, 28, shares a rent-controlled, one-bedroom apartment in the Miracle Mile area with her fiance.
"My rent's expensive, but it's not crazy expensive," Lutz said. "But eventually I want to get a house and that's worrisome because I want to be close to my job."
Lutz is not alone. According to a survey released Monday by the Luskin School of Public Affairs at UCLA, residents across L.A. County are increasingly anxious about the cost of living, with housing costs at the top of their worries. Young people are feeling it the most.
"It's a perfect storm for young people who are spending a disproportionate amount of their income just to have shelter over their head, and as a result, some of them tend to live farther out where housing is cheaper and so their commutes are longer," said Zev Yaroslavsky, a former county supervisor and current lecturer at UCLA who led the survey. As a result, younger residents rate their quality of life the lowest.
"What troubles me about this trend line is that young people are supposed to be optimistic and have a lot to look forward to," Yaroslavsky said. "L.A. has always been a place of optimism — that's what makes this place a magnet."
"L.A. has always been a place of optimism — that's what makes this place a magnet."
— Zev Yaroslavsky, UCLA lecturer and former L.A. County supervisor
The findings are part of a broader annual survey on quality of life as measured by nine categories, including cost of living, transportation/traffic, education, healthcare and the economy. The scores are weighted according to the relative importance of those categories and aggregated into a "quality of life index."
The overall index for 2018 was 56, down from 59 in each of the last two years. (The index ranges from 10 to 100, so the midpoint is 55.) Yaroslavsky said that drop was significant because the index reflects the qualities about which respondents care most — which in this survey included cost of living.
At a score of 43, cost of living was the lowest ranked of all nine categories.
"It's been dropping like a rock these last few years," Yaroslavsky said. "Housing is driving the low rating. This is not shocking news, but it continues to drop."
Yaroslavsky cited the difficulty of getting into the ownership market, the loss of rent-stabilized units and skyrocketing costs of market-rate rental housing.
"Young people are probably pressured more than anybody else ... and for young people of color it's even more acute," he said.
Adrian Alvarez knows what that's like firsthand. The 32-year-old waiter-bartender came to L.A. from Puebla, Mexico, when he was 20 and worked as a gardener and at a car wash before making his way up in the restaurant business. He splits the $1,200 rent on a studio apartment in the Pico-Union neighborhood with a friend and is conscientious about his spending.
"Sometimes I go out with friends and I don't spend any money, I don't buy any drinks," Alvarez said. "I have to save in case of an emergency."
Alvarez, who works four days a week, sometimes for 12 hours at a time, doesn't have health insurance. Every month, he tries to put away half his income.
"I could live by myself and pay for my own apartment," he said, "but then the majority of my income would go toward rent."
"I could live by myself and pay for my own apartment, but then the majority of my income would go toward rent."
— Adrian Alvarez
Still, Alvarez said he has few complaints about his quality of life, as he's always been able to find work, get around, eat and pay for some entertainment on the side.
"If you're willing to work hard, you can get ahead here," he said.
He does worry about his landlord raising the rent, though, and knows family members and friends who have fled L.A. for Las Vegas and Montana, where housing costs are lower.
"But they have to endure the weather," he said.
According to the survey, a majority of residents reported that they themselves, a family member or close friend had considered moving from the area because of rising housing costs, including two-thirds of those under 50.
One-quarter of those surveyed reported concerns about becoming homeless, with that concern weighing most heavily on young people, renters and those making less than $30,000 a year.
Across the board, residents overwhelmingly expressed support for rent-control policies and a preference that new apartment buildings go up only in multi-family zones and not single-family zones. They were split on whether the impacts of new housing and development were beneficial.
Beyond housing, the survey found that people in the 18- to 39-year-old age group were also more negative about their healthcare, job satisfaction and the environment as compared to older people. They were more positive about public transit and their ability to get around, as well as on race relations and the impact of immigrants on the community.
Somewhat surprisingly, there was a nearly 50% drop in the percentages of Latinos and Asians/Pacific Islanders who said they worried about being deported or someone they knew being deported.
"Last year there was this frenzy — the Muslim ban, build the wall, end of DACA," Yaroslavsky said, referring to a series of policies and intentions President Trump announced early in his administration. "But the sky didn't fall in. The courts have stepped in. The state Legislature, the City Council, the Board of Supervisors all took steps to convey the message [to immigrants] that we have your backs."
The survey was conducted by phone and online in English and Spanish in March and included interviews with 1,457 L.A. County residents. The quality of life index was prepared in partnership with the California Endowment and the public opinion research firm Fairbank, Maslin, Maullin, Metz & Associates Inc.
To read this article in Spanish, click here
Twitter: @AgrawalNina
Sign up for Essential California for news, features and recommendations from the L.A. Times and beyond in your inbox six days a week.
You may occasionally receive promotional content from the Los Angeles Times.