USC's Academic Senate calls on university president to resign after a series of scandals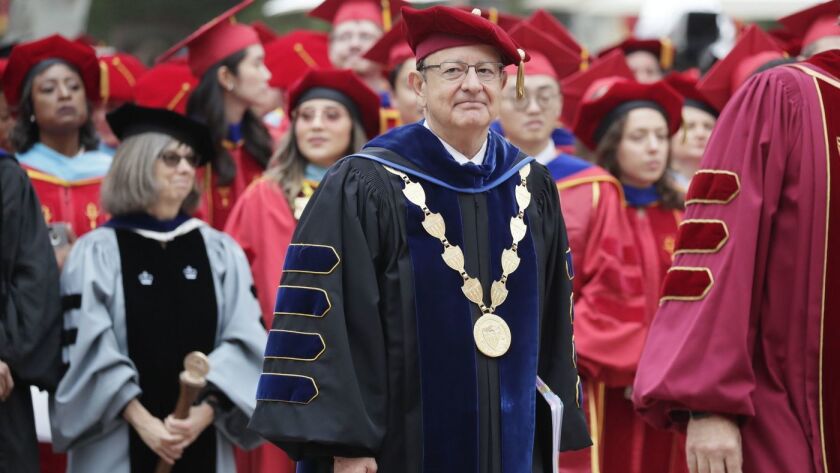 The body that represents USC's faculty called on President C.L. Max Nikias to resign Wednesday in the wake of relevations that the university's longtime gynecologist faced years of accusations of misconduct by students and colleagues at the campus' health clinic.
The Academic Senate took the vote late Wednesday afternoon after a fiery town hall meeting attended by more than 100 faculty members, many of whom voiced outrage over Nikias and the Board of Trustees' leadership. The vote came a day after the trustees' executive committee stood firmly behind Nikias, saying it has "full confidence" in his leadership, ethics and values.
At the town hall meeting, Senate President Paul Rosenbloom said he did not think Nikias or Provost Michael Quick committed wrongdoing but that the university president deserved criticism for a lack of transparency.
Professors then demanded that the Senate take an immediate vote of no confidence in Nikias. Those who spoke were also critical of the Board of Trustees, with some insinuating that the board answered to Nikias instead of the other way around.
"The main problem is this institution does not have a Board of Trustees. Max has a Board of Trustees," one faculty member said, to applause and cheers.
After the town hall, the Academic Senate met in a different room to discuss the vote. A Times reporter attended part of that meeting but was eventually asked to leave by an official who said it was only for Senate members.
Rosenbloom confirmed the Senate vote late Wednesday calling for Nikias' resignation, saying more than two dozen people participated. Some abstained, but a final vote count wasn't immediately available.
FULL COVERAGE: USC former gynecologist Dr. George Tyndall accused of inappropriate behavior »
There have been calls for Nikias' ouster on campus and social media, and in an online petition circulated by alumni since The Times last week detailed USC's handling of Dr. George Tyndall, who is accused of making sexual comments and touching patients inappropriately during pelvic exams. Tyndall denied any wrongdoing in an earlier interview with The Times but could not be reached for comment Wednesday.
Tyndall, 71, was the subject of complaints from students and staff beginning in the 1990s, according to former patients and clinic staffers interviewed by The Times. He was removed from the clinic only after a frustrated nurse reported him to the campus' rape crisis center in 2016.
An internal university investigation last year concluded that Tyndall's pelvic exams were outside the scope of current medical practice and amounted to sexual harassment of students. Campus administrators told The Times that they believe the physician's inappropriate behavior persisted for years.
USC Provost Michael Quick said that the university's senior leadership had not learned about the complaints against Tyndall until 2017. The university, in a secret deal last summer, allowed Tyndall to resign quietly with a financial payout.
At the time, USC did not report him to the Medical Board of California, the agency responsible for protecting the public from problem doctors. USC filed a belated report to the medical board in March. The university is also now sending cases to the Los Angeles Police Department for criminal review.
Some faculty members said their concerns extended beyond the Tyndall scandal to disclosures about drug and alcohol abuse by Dr. Carmen A. Puliafito during his tenure as dean of the university's medical school, while he was leading a second life of partying with young criminals and addicts.
Tara McPherson, a professor in USC's School of Cinematic Arts, attended Wednesday's town hall, which she said was "almost unanimously in favor of Max's resignation."
"Every faculty member but one was in favor of a new administration," she said, describing the public comment portion of the meeting. "It was incredibly affirming."
The faculty, she said, is dismayed with the current state of affairs and she doesn't trust the Board of Trustees to conduct an independent investigation into how the university handled the case.
Still, she is hopeful.
"None of the faculty believe the vote is where this ends," she said.
alene.tchekmedyian@latimes.com
---
For reporting and exclusive analysis from bureau chief John Myers, get our California Politics newsletter.
You may occasionally receive promotional content from the Los Angeles Times.