Second person convicted in fatal beating of USC graduate student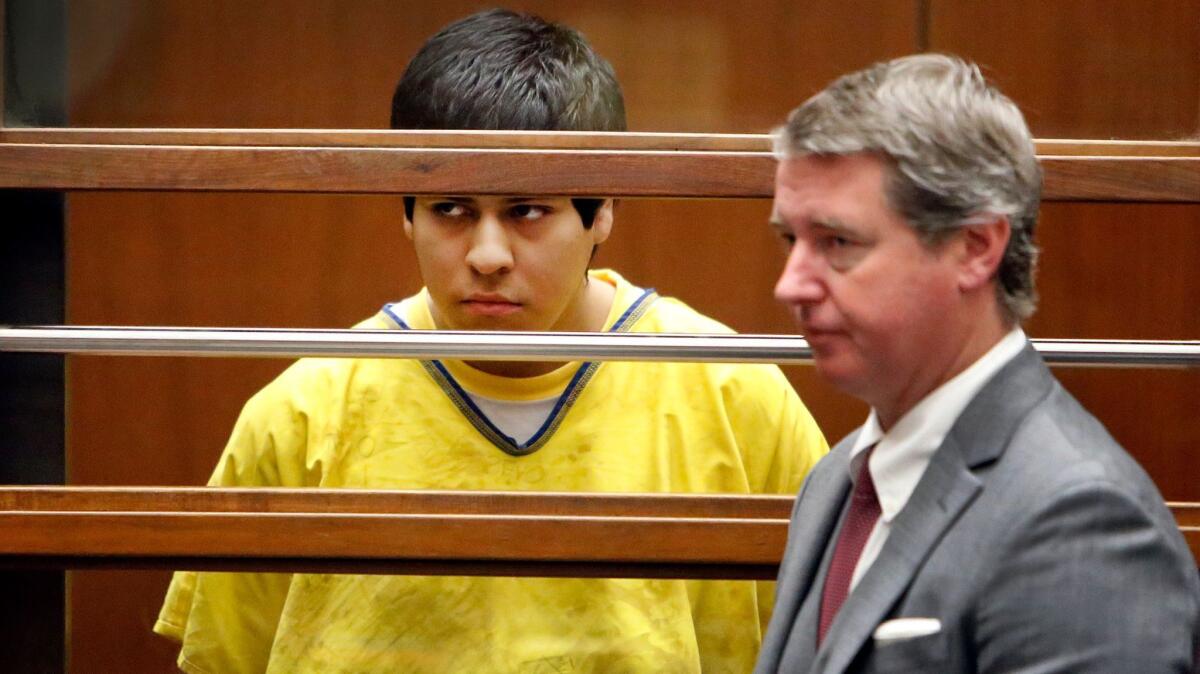 It took about two hours Thursday for a downtown Los Angeles jury to convict Andrew Garcia of beating a USC graduate student to death.
Garcia, 21, is the second person to be convicted of first-degree murder in the 2014 death of Xinran Ji, according to the Los Angeles County district attorney's office.
Ji, 24, was walking home near USC's South L.A. campus after midnight on July 24, 2014, when authorities say Garcia and others confronted him.
Garcia, two other men and a teenage girl attacked Ji with a blue baseball bat and a wrench, prosecutors said.
In interviews with detectives, the defendants said they targeted Ji — an engineering student who had been walking home from a study group — because he was Chinese and they believed he had cash.
The group pummeled Ji, but he managed to flee. Prosecutors said Garcia chased him down and struck him several times with the baseball bat.
Ji managed to walk back to his apartment, leaving a trail of blood along the quarter-mile route. He made it to his bed and, hours later, a roommate found him dead, prosecutors said.
Later, prosecutors said, Garcia and the rest of the group drove to Dockweiler State Beach, where they accosted and robbed a couple. Garcia was convicted of robbery for the beach incident along with attempted robbery and assault with a deadly weapon.
Following Monday's verdict, Garcia faces life in prison without the possibility of parole, according to Greg Risling, a spokesman for the district attorney's office.
Ji's death rattled the university — particularly its Chinese community. Parents and family members of students gathered in Beijing, seeking answers about the brutal killing, while dozens of students descended upon the downtown L.A. courthouse to witness the defendants' hearings.
About 4,600 of USC's 10,500 international students hail from China, according to figures published on the university's website.
Ji's death came amid a string of violent incidents at the university. In 2012, two Chinese graduate students were shot and killed in a botched robbery near campus. Six months later, a man fired gunshots in the middle of campus outside a Halloween party. The shooting injured four people, none of whom were USC students.
In response, USC improved security and added non-armed security "ambassadors" in off-campus neighborhoods. International graduate students were also required to complete a safety education program.
Jurors have also convicted Alejandra Guerrero for her role in Ji's killing.
Gurrero, who was 16 at the time of the slaying, was found guilty in October of first-degree murder, robbery, attempted robbery and assault with a deadly weapon. She faces life in prison; a sentencing date for her has not been set.
Two others charged in the case, Alberto Ochoa and Jonathan Del Carmen, are in jail and awaiting trial.
Twitter: @MattHjourno
MORE ON THE KILLING OF XINRAN JI
For Chinese students at USC, a tragic circle tightens
Chinese students flock to court as pleas entered in USC beating death
18-year-old is convicted of murder in 2014 beating death of USC graduate student from China
---
UPDATES:
7:25 p.m.: This article was updated with current statistics on USC's international student population.
This article was originally published at 7:00 p.m.
Sign up for Essential California for news, features and recommendations from the L.A. Times and beyond in your inbox six days a week.
You may occasionally receive promotional content from the Los Angeles Times.