Street vendors could be banned near Hollywood Boulevard, Staples Center and other areas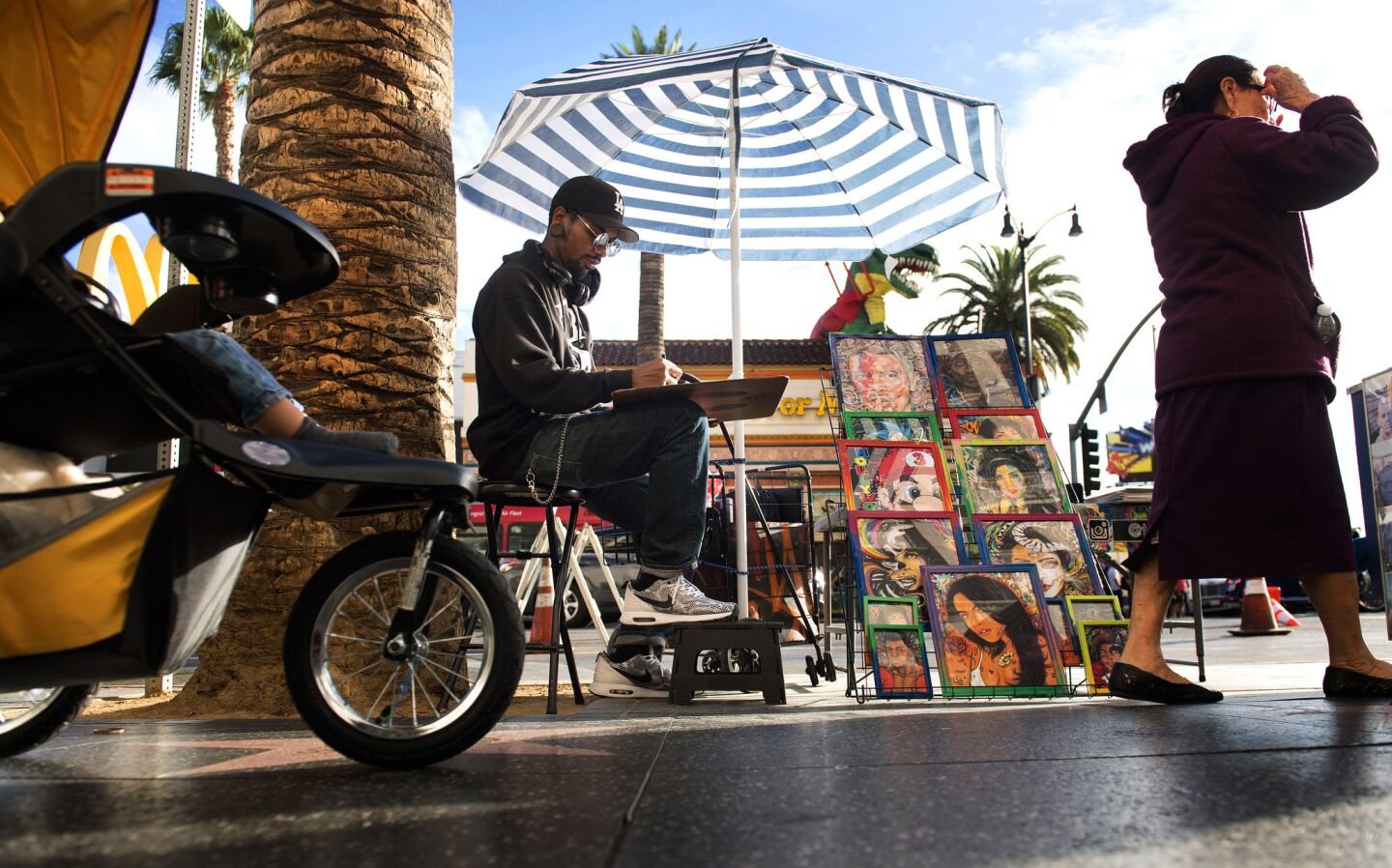 Christopher Stoute draws and sells his artwork on Hollywood Boulevard. Los Angeles is considering regulations that would ban sidewalk vending within 500 feet of Dodger Stadium, Hollywood Boulevard, Staples Center and other venues. City officials said the regulations would not affect people selling their own art or "expressive" items.
(Christina House / Los Angeles Times)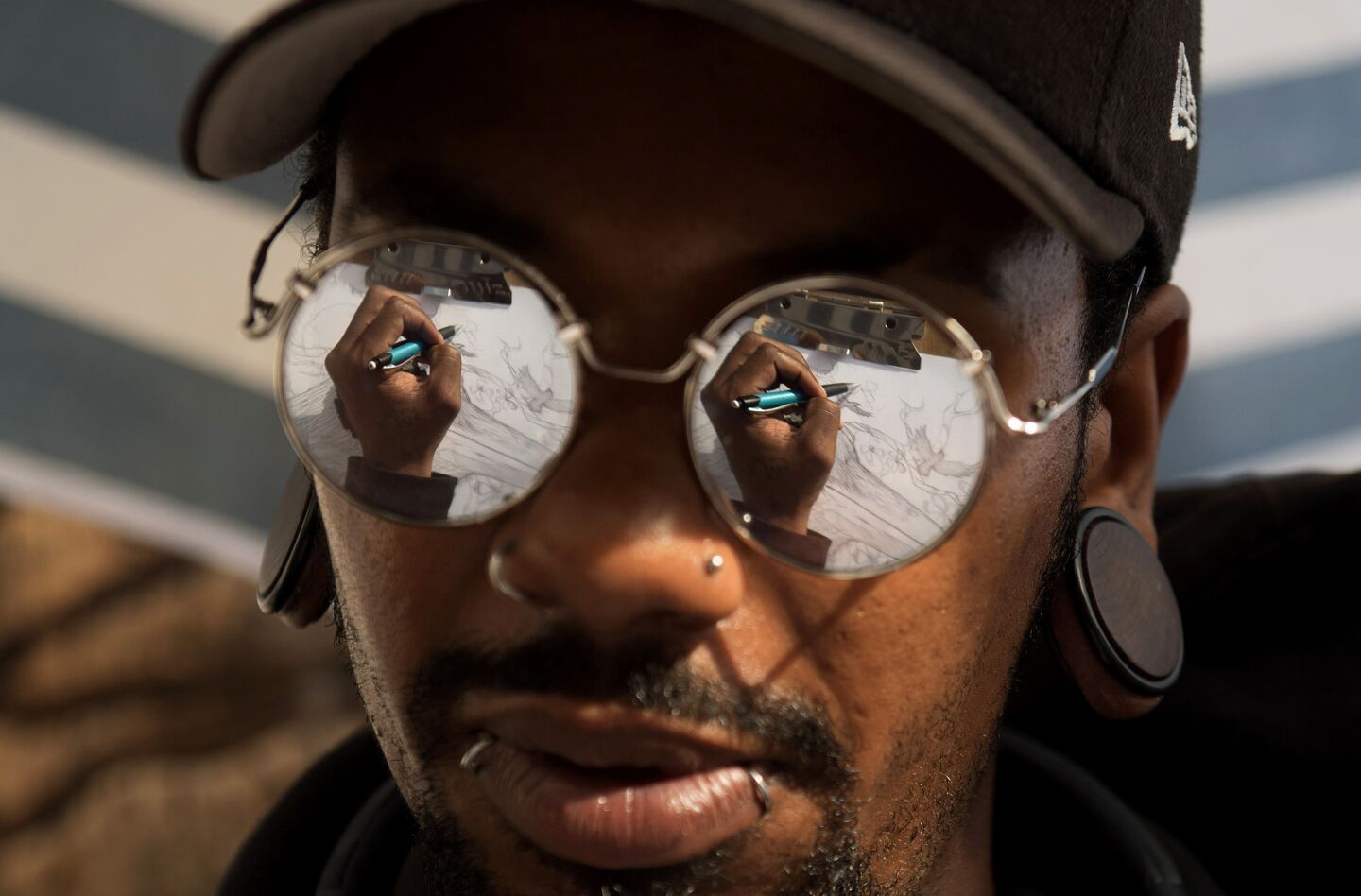 Christopher Stoute's art is reflected in his glasses as he sells his work on Hollywood Boulevard.
(Christina House / Los Angeles Times)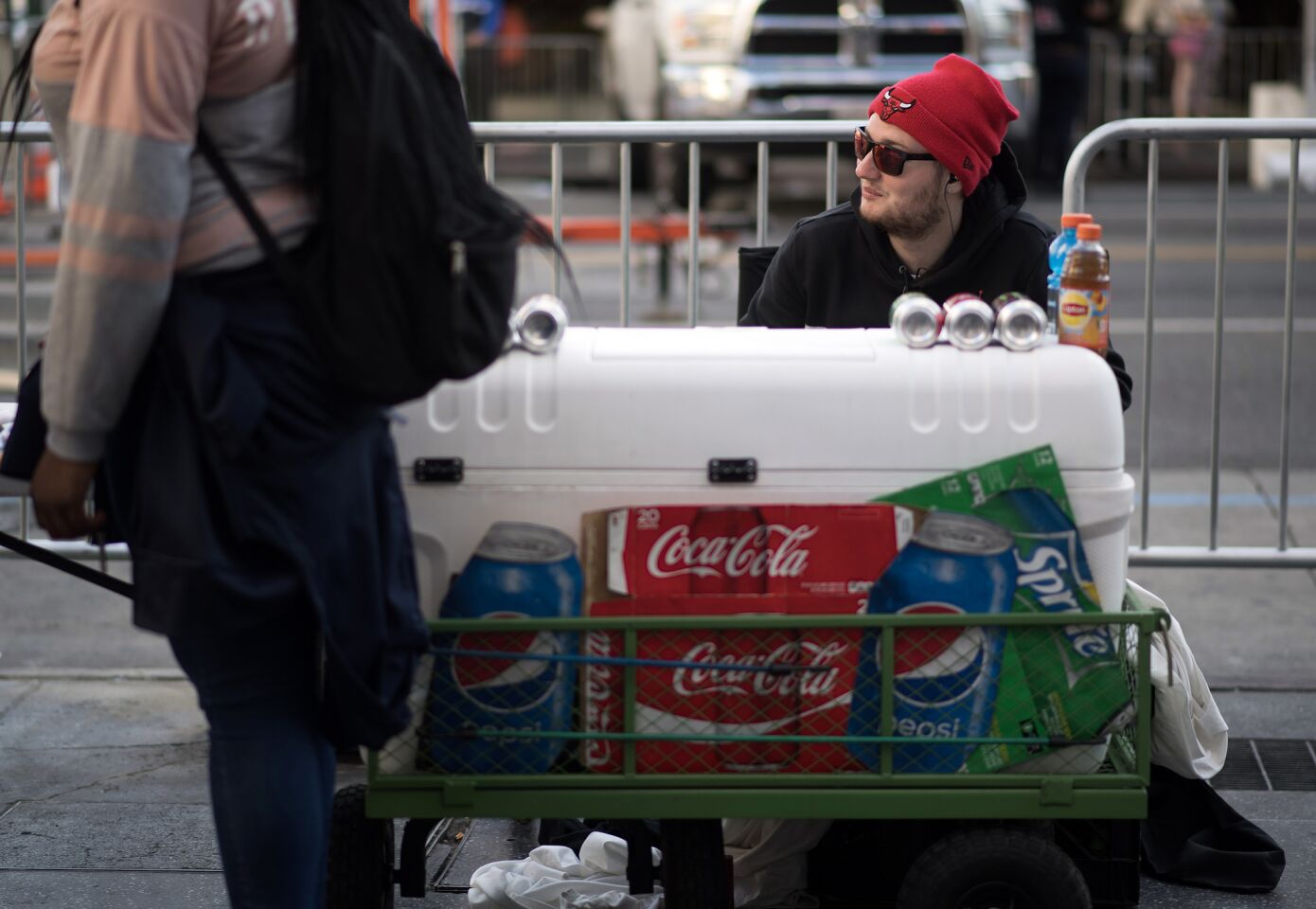 Coty O'Donohue, a 22-year-old from Michigan who is trying to launch his career as a hip-hop artist, sells beverages on Hollywood Boulevard on Nov. 7.
(Christina House / Los Angeles Times)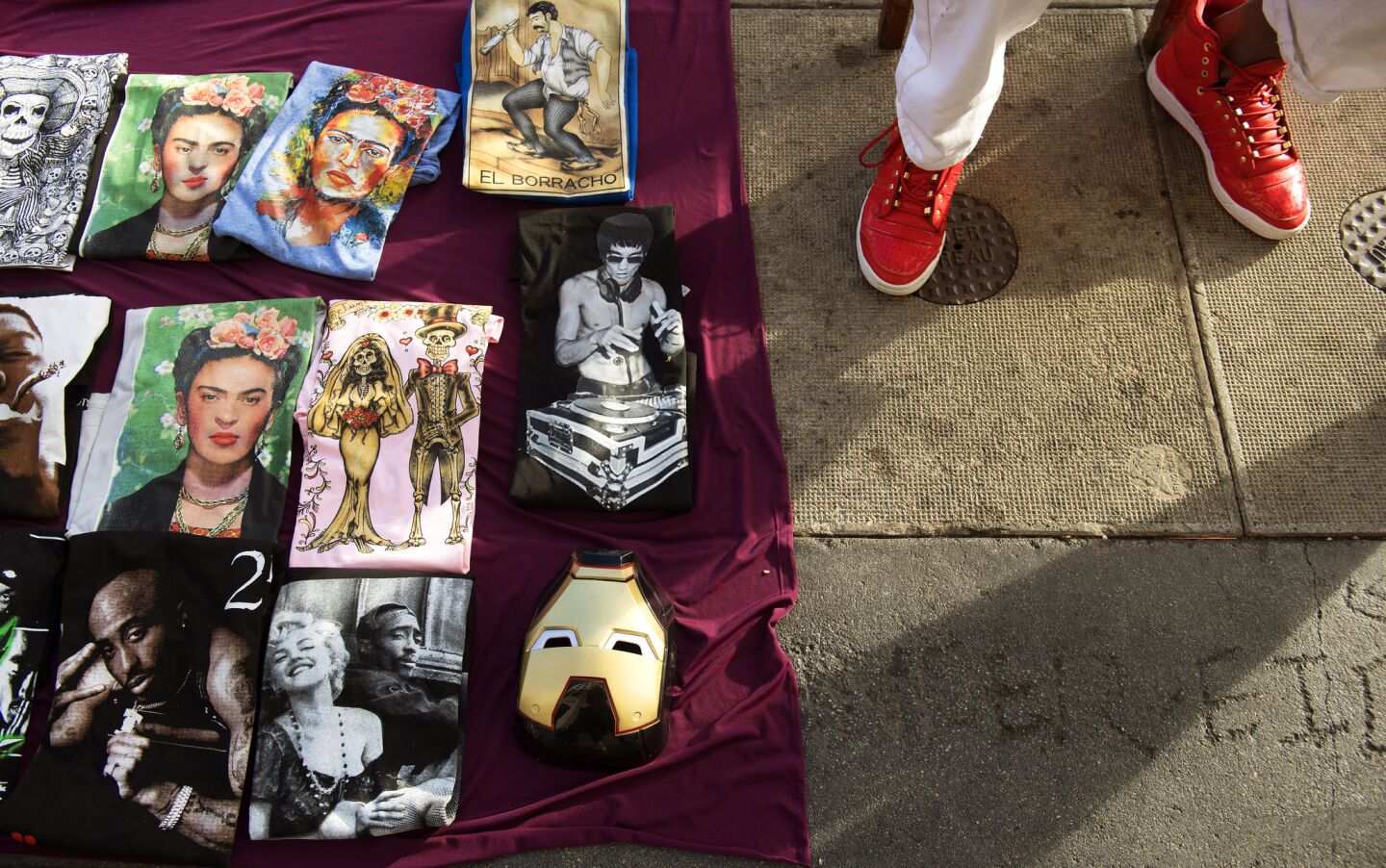 Michael Malone sells T-shirts on Hollywood Boulevard on Nov. 7. Los Angeles is preparing to legalize the vendors who hawk hot dogs, ice cream and other food and goods on its sidewalks.
(Christina House / Los Angeles Times)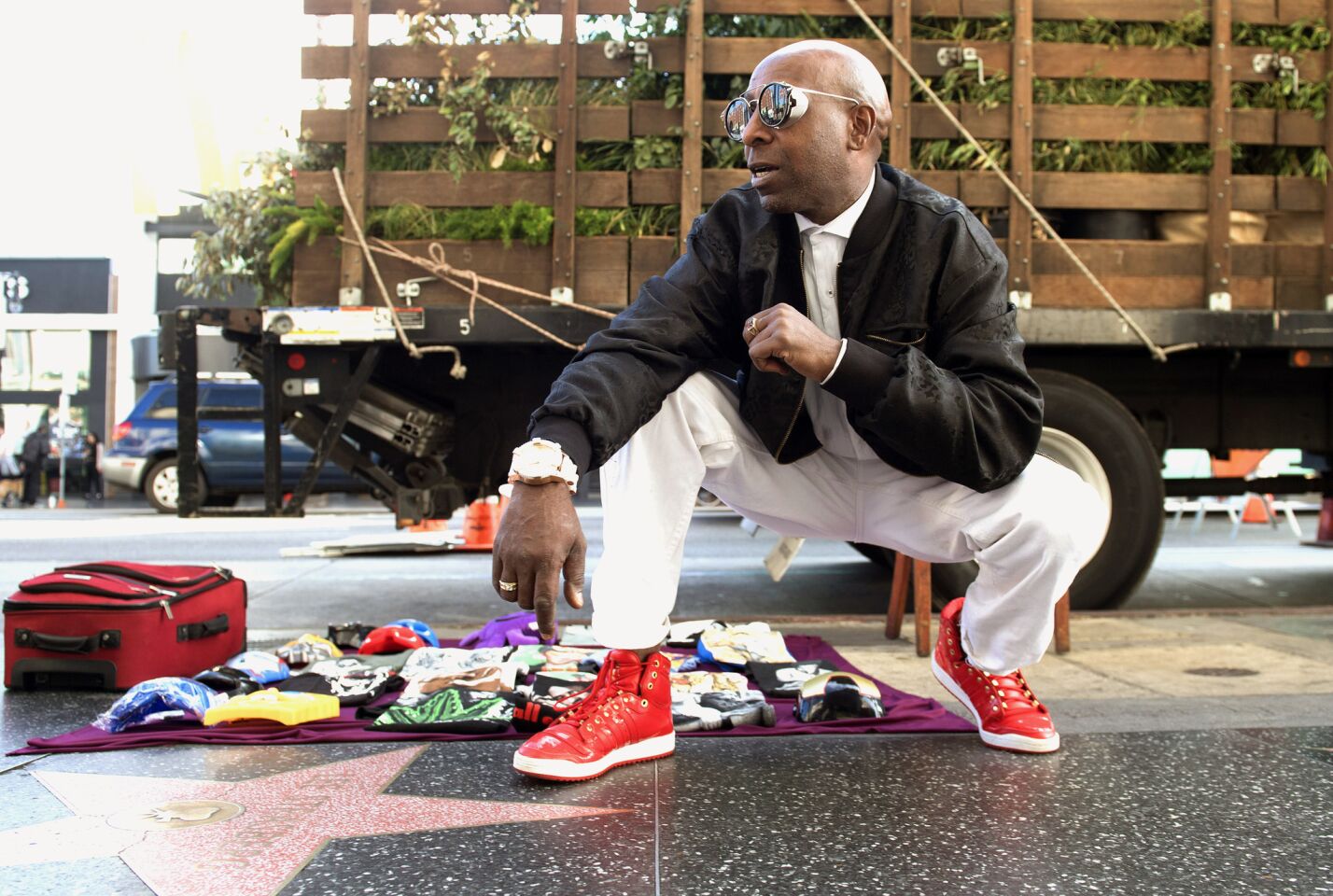 Michael Malone sells T-shirts on Hollywood Boulevard on Nov. 7.
(Christina House / Los Angeles Times)
Andrew Coronel, center, sells a keychain to Gopal Lalwani, second from left, with Carmine Giordano, at left, both visiting from the East Coast, on Hollywood Boulevard on Nov. 7.
(Christina House / Los Angeles Times)
Near the bustling corner of Hollywood and Highland, Coty O'Donohue sells bottled water, sodas, cellphone accessories and other knickknacks to tourists strolling down the Walk of Fame.
"We're out here trying to make an honest dollar," said O'Donohue, a 22-year-old from Michigan trying to launch his career as a hip-hop artist. "It should just be legal."
Los Angeles is preparing to legalize the familiar vendors who hawk hot dogs, ice cream and other food and goods on its sidewalks, a longtime dream of local activists.
But under newly proposed regulations, vendors could still be banned near hot spots such as Dodger Stadium, Staples Center or Hollywood Boulevard, which was lined with vendors like O'Donohue selling everything from sodas to jewelry to T-shirts emblazoned with images of Frida Kahlo and the Notorious B.I.G. on Tuesday afternoon.
Sidewalk sellers would also face an intricate list of restrictions on where they can set up stands or pushcarts on each block. And city lawmakers could clamp down more before vending becomes legal, declaring additional areas off-limits in the face of concerns about cramped or unsafe sidewalks.
Los Angeles has long grappled with how to handle such vendors, who are a common sight on its sidewalks even though they are banned. Four years have passed since Councilmen Jose Huizar and Curren Price proposed that L.A. legalize and regulate sidewalk vending, arguing that legitimizing the industry would be a boon to taxpayers, customers and entrepreneurs.
"It's alarming to know that we are the largest city without a vending policy…. Today the system is a failure. It's an embarrassment," Councilman Joe Buscaino said Wednesday.
This year, lawmakers voted to decriminalize vending amid fears that immigrant vendors could be jeopardized by criminal charges under the Trump administration, limiting the possible penalties to administrative fines. And they are also taking steps to eliminate criminal charges for "peddling," another code section enforced against vendors.
Now L.A. lawmakers are deciding precisely where and how sidewalk vending will be permitted, setting out how vendors will apply for city permits, how they will be taxed and what fines they could face for flouting the rules. At a Wednesday hearing at City Hall, two council committees backed a set of proposed regulations, which will now go to the entire council for a vote.
Under the draft rules, only two carts would be allowed per block on each side of the street in commercial and industrial zones. Mobile vendors who sell food could do business in residential areas as long as each sale does not last more than seven minutes. Sidewalk sellers would also have to follow complicated rules about where they can set up shop.
For instance, they would be banned from doing business within five feet of driveways, bus benches, fire hydrants, crosswalks, outdoor dining areas and "any area improved with lawn, flowers, shrubs" or trees; within 10 feet of transit shelters, the rear of a parking meter, or the front of any marked spot for parallel parking; within 20 feet of historic monuments and murals, sculptures or fountains funded or managed by a city program; and anywhere that interferes with window displays, puts people in danger or impedes access to adjacent businesses.
Vending would also be prohibited within 500 feet of Dodger Stadium, the Hollywood Bowl, Staples Center, the Coliseum, Hollywood Boulevard and any other venues singled out by the Board of Public Works. Price said those venues were chosen because they "have a surge of crowds during events" and vendors could worsen congestion.
Sidewalk vendors could not set up shop near schools during school hours, unless they sell "exclusively healthy food" such as fruit or vegetables. And more restrictions could be on the way: The City Council is supposed to come up with criteria to "expand, limit or prohibit sidewalk vending" in designated areas, dubbed Special Sidewalk Vending Districts, before permits are handed out.
Business groups that include brick-and-mortar shops have pressed for neighborhoods to be able to choose if they want more, less or no vending at all. They have also lobbied for L.A. to require sidewalk vendors to get permission from neighboring property owners. And in Hollywood, they have urged the city to totally ban vending along the Walk of Fame.
"Ultimately, there are going to be some areas where it is not going to make sense," said Kerry Morrison, executive director of the Hollywood Property Owners Alliance, which manages two business improvement districts in the area. The Hollywood Walk of Fame, she said, "is absolute chaos right now."
Morrison and other Hollywood business advocates complained that some vendors have blocked the famed stars on the sidewalks with their tables and obstructed people getting off buses. Ed Bell, general manager of Madame Tussauds Hollywood, said the company has attractions across the globe, but "nowhere is the street scene as hazardous and chaotic as outside our doors."
The L.A. Street Vendor Campaign argues that the proposed rules are excessively strict. For instance, the group said the complex regulations on where vendors can operate on each block, which are virtually identical to existing restrictions on news racks, would end up barring vending on streets with parking meters.
The campaign argued that any additional restrictions on where vendors can ply their trade should be based on health and safety concerns, warning that such requirements should not become "tools for arbitrary exclusion." And the group charged that it would be unfair to give brick-and-mortar shops a veto over other kinds of businesses.
"If you open the door on this issue, you're going to have a lot of problems with extortion and graft," said Cynthia Anderson-Barker, an attorney with the National Lawyers Guild.
Alejandra Rodriguez, who sells toys in Hollywood, said that if the city allows neighborhoods to bar vending for any reasons other than safety, it would create "invisible walls."
"Are you on the political side of racists like Trump or on behalf of hardworking women?" Rodriguez asked in Spanish.
After hours of testimony and discussion, lawmakers backed the recommended rules. They also asked for city staffers to draw up a process that would allow property owners to prohibit vending on the sidewalks in front of their property, which drew boos and shouts from the crowd. Price said he personally disagreed with that idea but would wait to hear from staff.
Wednesday's decision still leaves many questions unresolved, including what fees will be charged on vendors to fund enforcement. Business owners have argued that the administrative fines have done little to discourage scofflaw vendors and are pressing for more aggressive enforcement as the new rules move forward.
The proposed regulations would not affect people hawking art or other "expressive" items, which are already allowed on city sidewalks, according to city staff.
Twitter: @LATimesEmily
---
The stories shaping California
Get up to speed with our Essential California newsletter, sent six days a week.
You may occasionally receive promotional content from the Los Angeles Times.