Street vending advocates protest in downtown L.A.
About half a dozen protesters were arrested Friday in downtown Los Angeles after they blocked traffic as part of a demonstration against proposed street vending rules.
Several hundred demonstrators took over Main Street near City Hall shortly after 10 a.m. to protest a vending proposal that they say favors businesses over local vendors. The group shouted "Si se puede" — "Yes we can" — and carried signs that read "Opportunity, Dignity and Safety."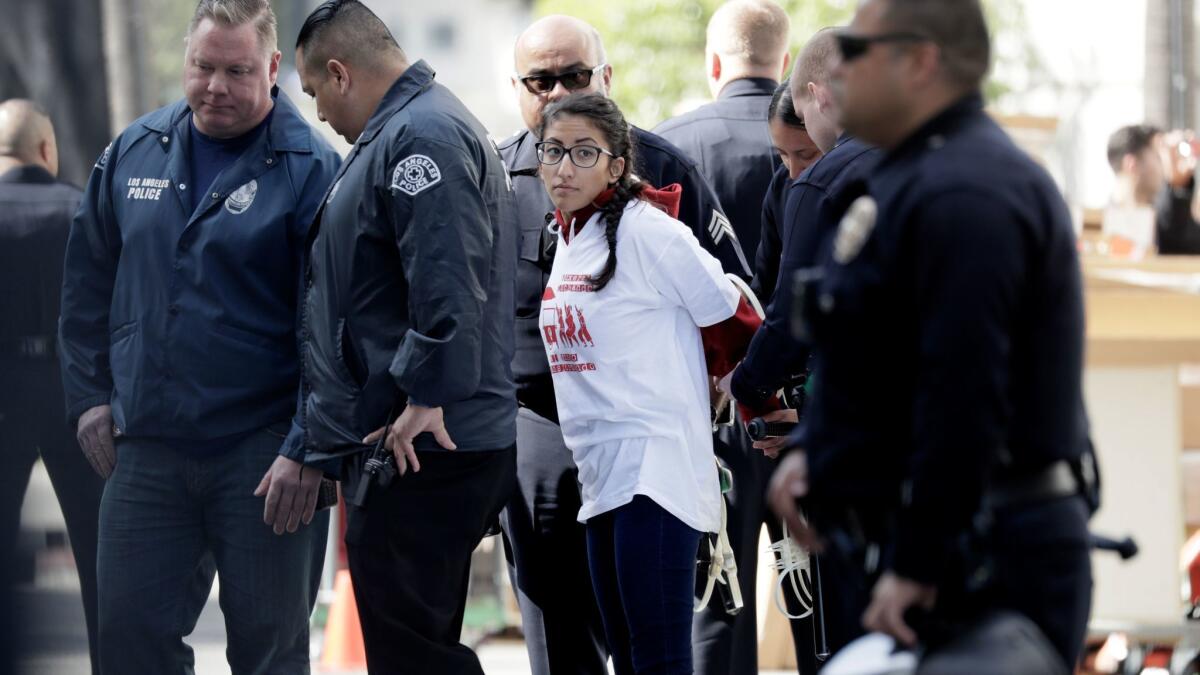 Police arrested seven people who refused to leave after a dispersal order, LAPD Officer Rosario Herrera said.
The L.A. City Council is crafting new rules for the thousands of unlicensed street vendors who sell fruit, clothing and CDs on the city's sidewalks.
As part of those rules, lawmakers are considering requiring vendors to get permission from neighboring properties to sell their goods. Brick-and-mortar businesses say they are worried about how legalizing vending will affect them, and they cite concerns about trash, blocked walkways and what they see as unfair competition from street vendors.
About an hour before the arrests, a group of vendors — many of them women — and their supporters gathered outside City Hall to criticize the proposed business permission requirement.
The demonstration was held a day after International Women's Day, and the organizers said women make up about 80% of the street vendors in Los Angeles.
"It is time to be bold," said Rosemarie Molina, an organizer with the Los Angeles County Federation of Labor. "We must stand against the business veto, which would give private business owners the governing power over public space."
Twitter: @dakotacdsmith
Sign up for Essential California for news, features and recommendations from the L.A. Times and beyond in your inbox six days a week.
You may occasionally receive promotional content from the Los Angeles Times.