Witness recalls 'manic grin' on Venice boardwalk crash suspect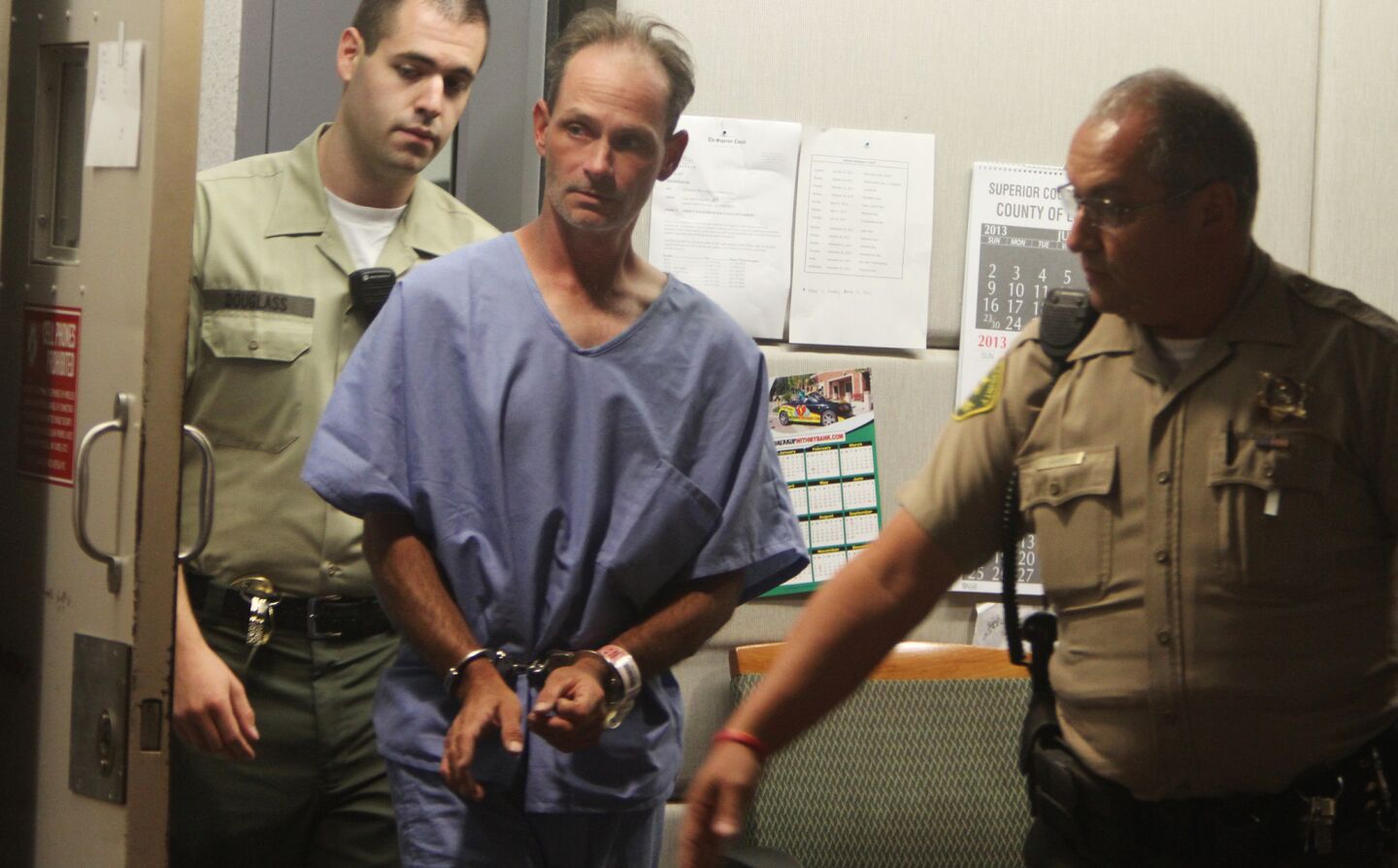 Deputies escort Nathan Louis Campbell at the Airport Courthouse, where he was arraigned Aug. 6, 2013, on charges of driving into crowds on the Venice boardwalk, killing a honeymooning Italian woman and injuring 16 others.
(Francine Orr / Los Angeles Times)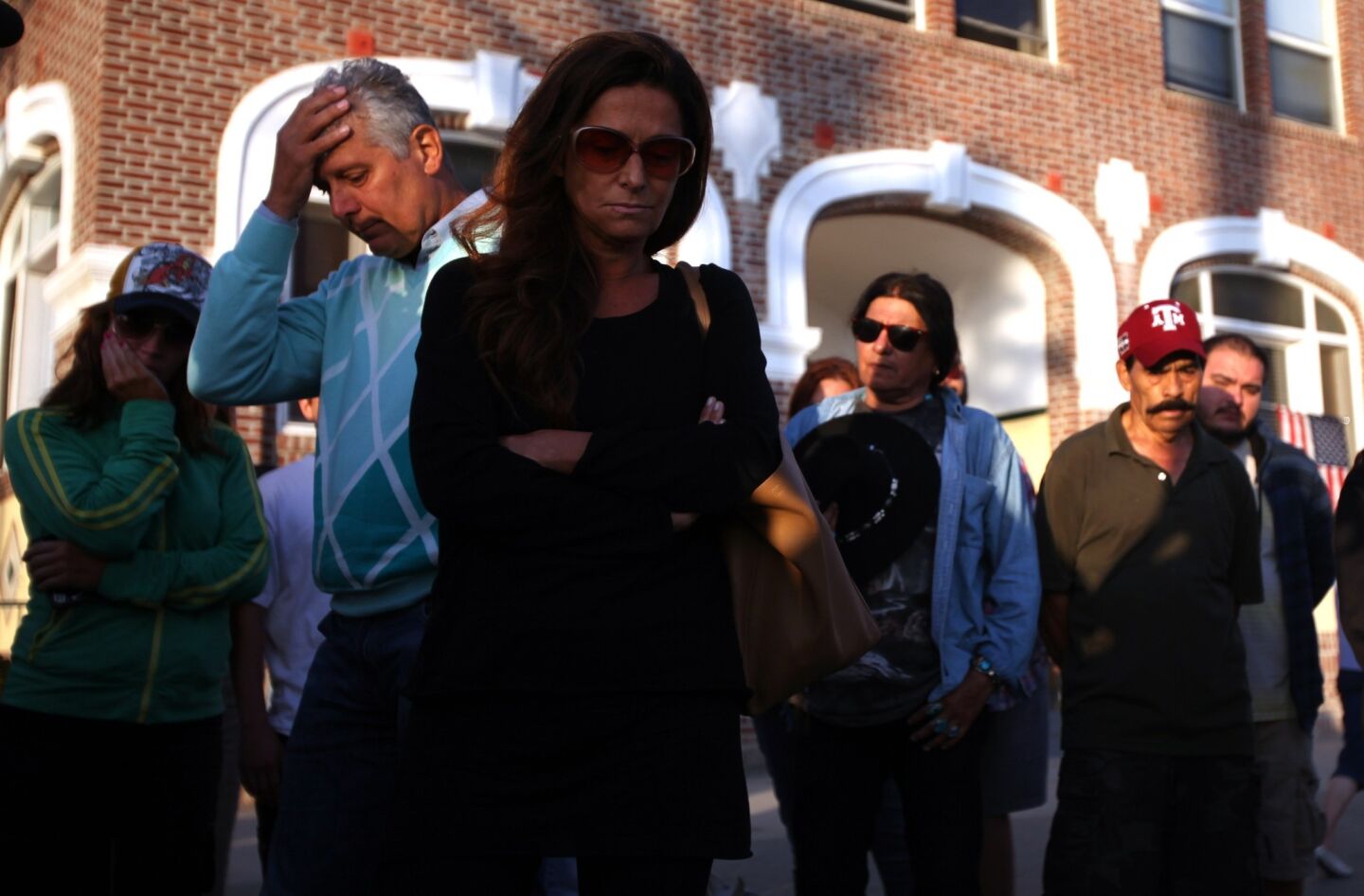 Piero Casadei, left, and Katia Gruppioni, the father-in-law and aunt of Alice Gruppioni, visit a memorial at the boardwalk on Aug. 5, 2013.
(Michael Robinson Chavez / Los Angeles Times)
People gather at the Venice boardwalk to remember the victims of the Aug. 3, 2013 crash.
(Michael Robinson Chavez / Los Angeles Times)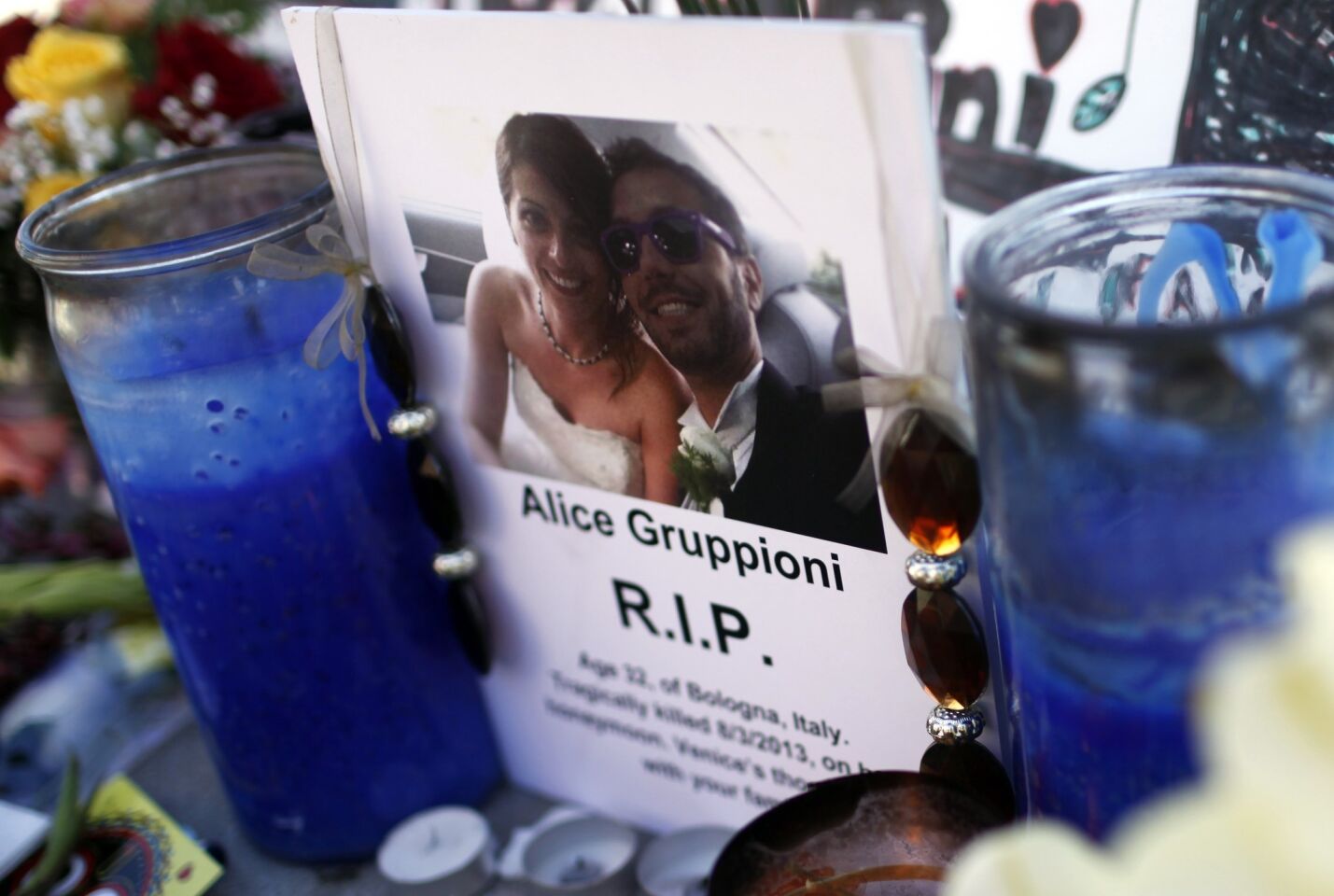 A card bears the photo of Christian Casadei and Alice Gruppioni, who were on their honeymoon when Gruppioni was killed and Casadei injured.
(Michael Robinson Chavez / Los Angeles Times)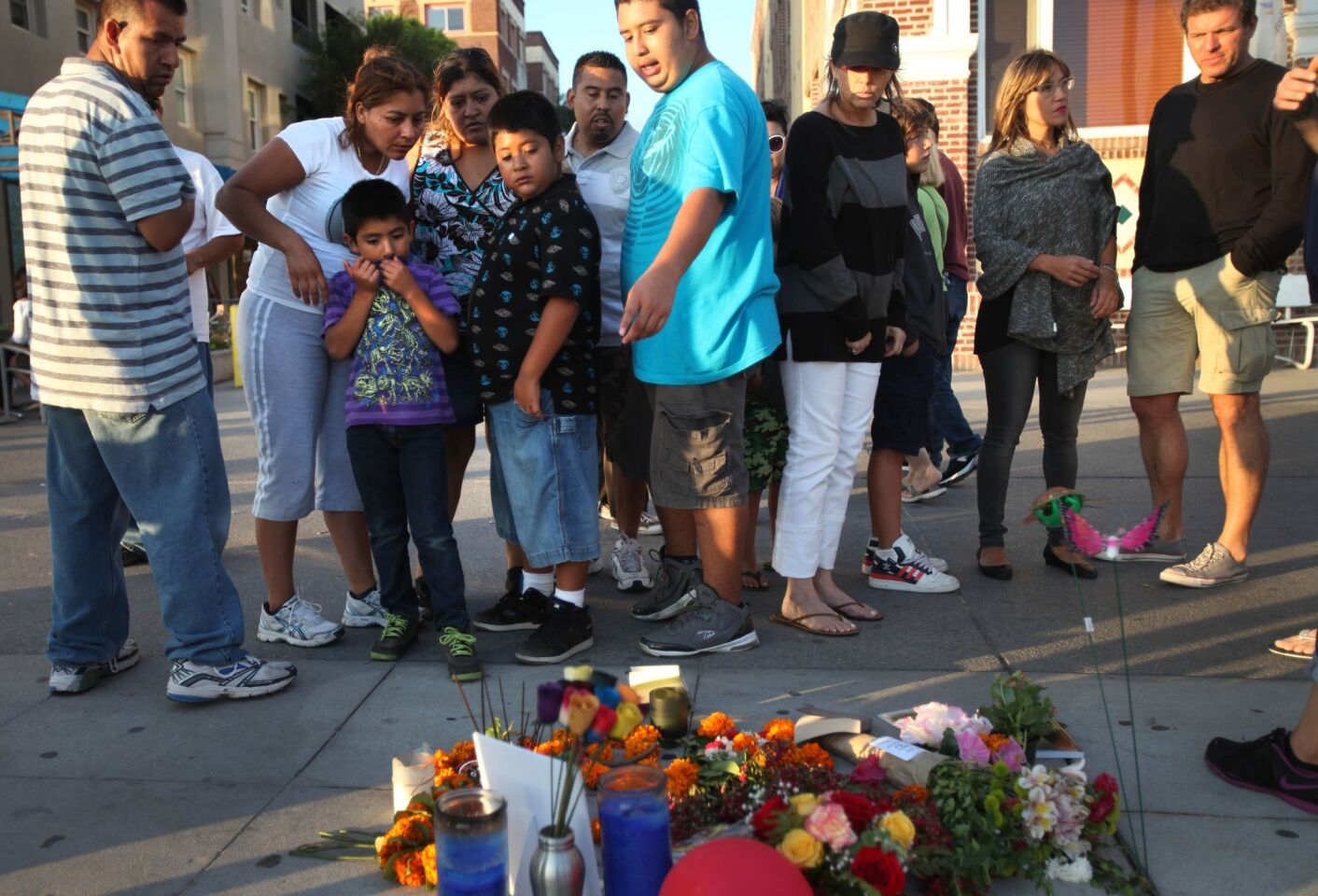 Visitors leave flowers and pay their respects at a memorial on the Venice boardwalk.
(Michael Robinson Chavez / Los Angeles Times)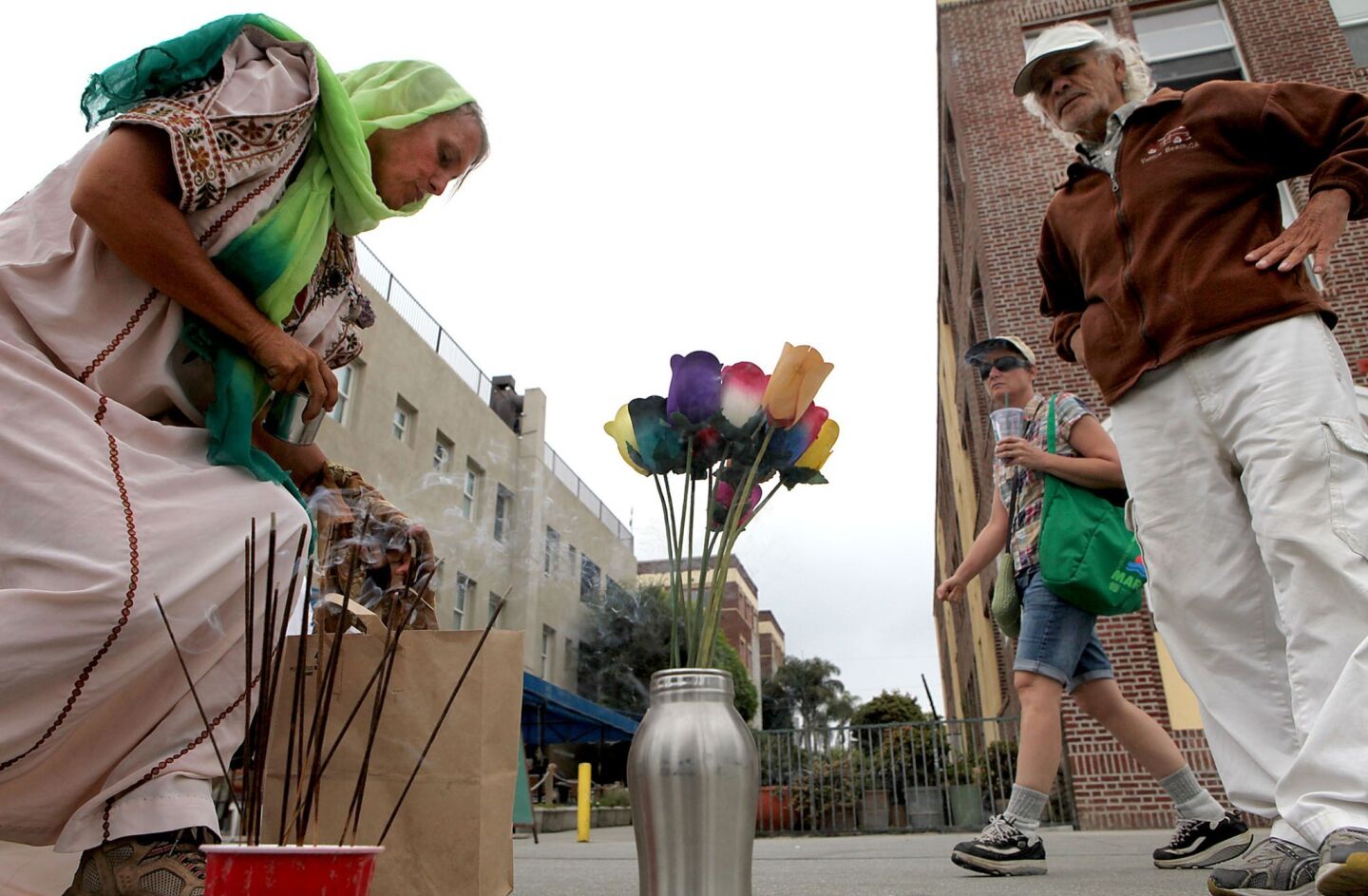 Lisa Green, left, and Toneey Acevedo, right, stop to place remembrances at a makeshift memorial on the Venice Boardwalk near Dudley Avenue.
(Brian van der Brug / Los Angeles Times)
Remembrances and flowers at a makeshift memorial.
(Brian van der Brug / Los Angeles Times)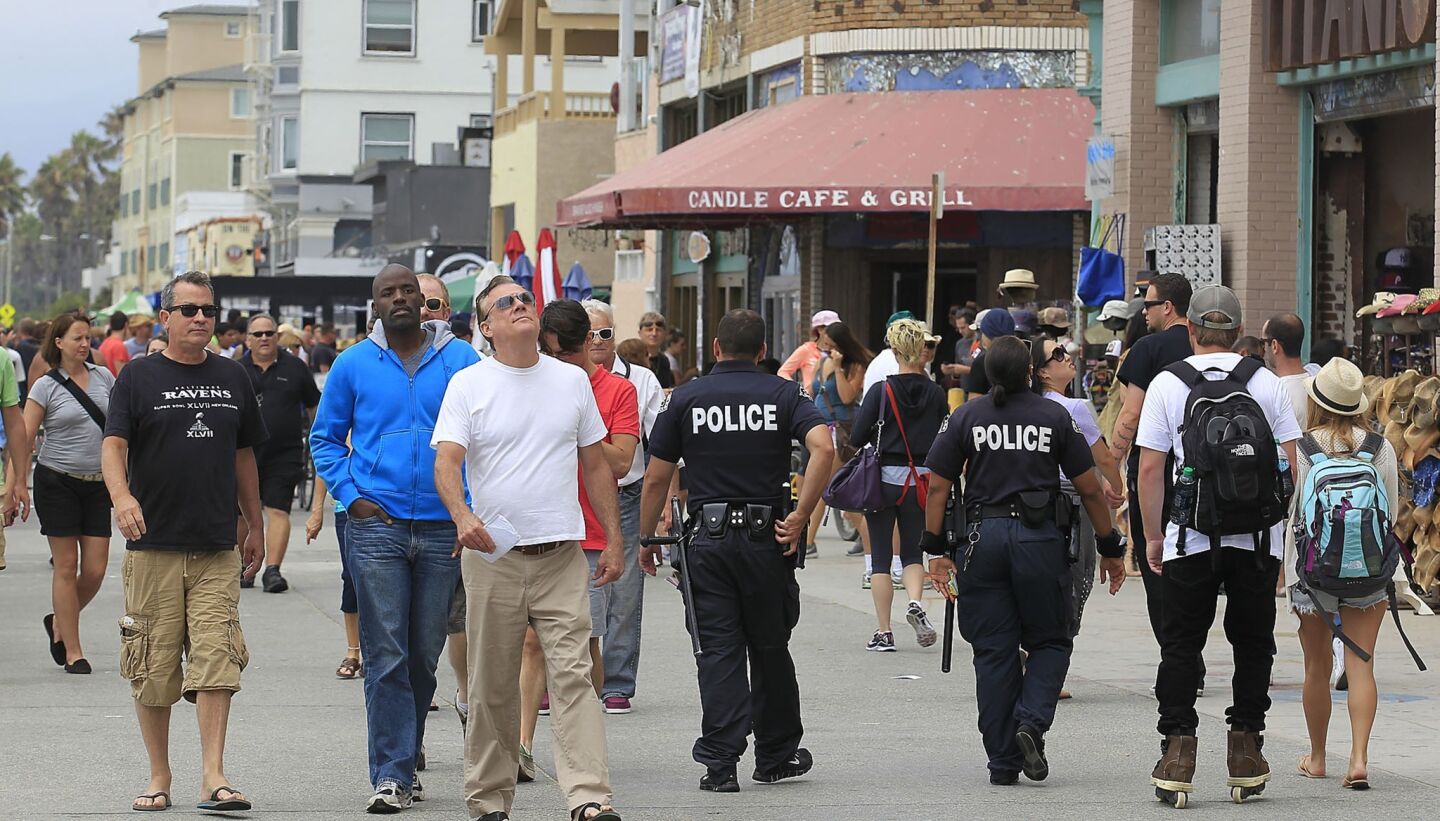 Life resumes on the Venice Boardwalk after a deadly crash.
(Brian van der Brug / Los Angeles Times)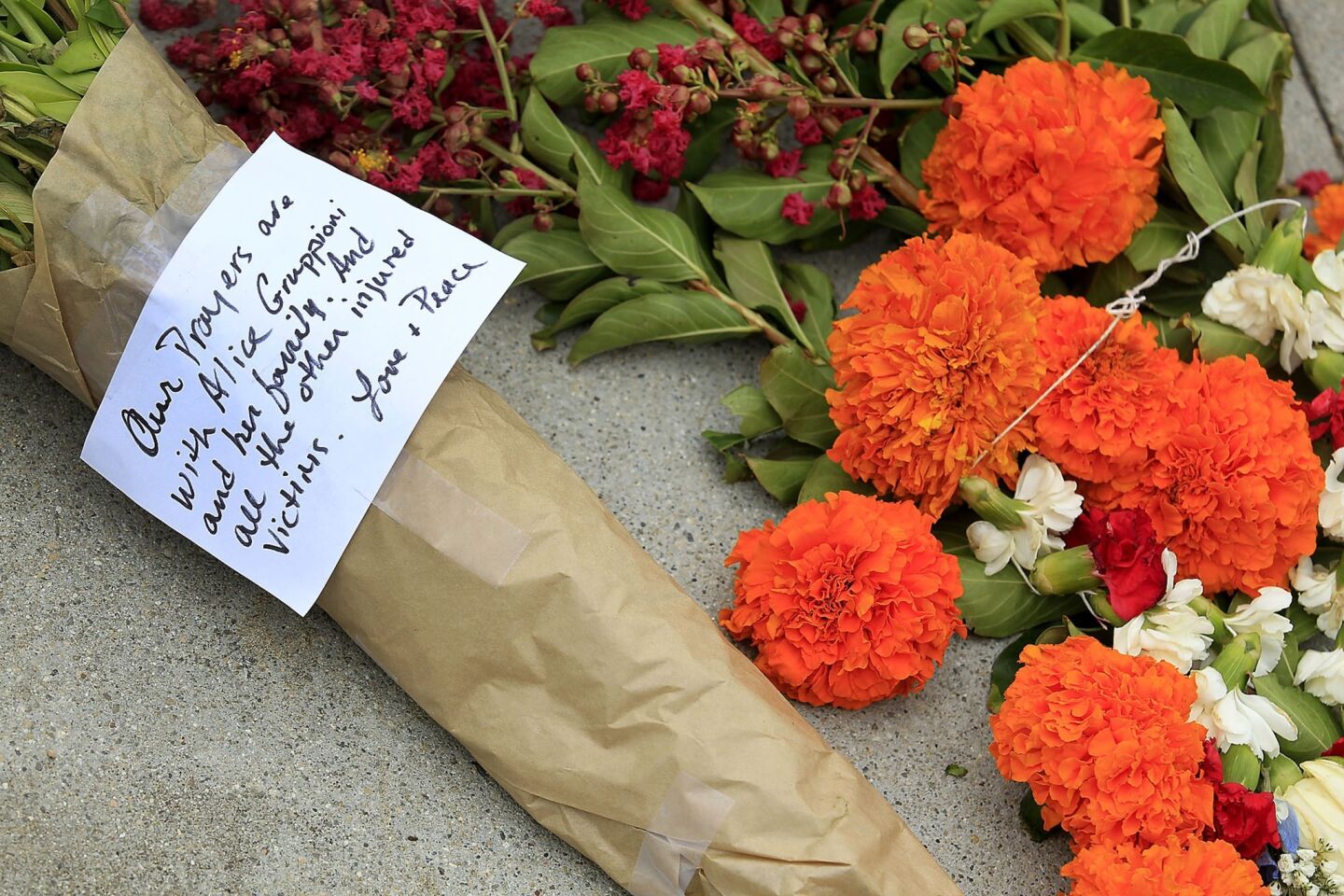 Witnesses described a blue Dodge zigzagging along Ocean Front Walk, striking pedestrians and vendors before speeding away.
(Brian van der Brug / Los Angeles Times)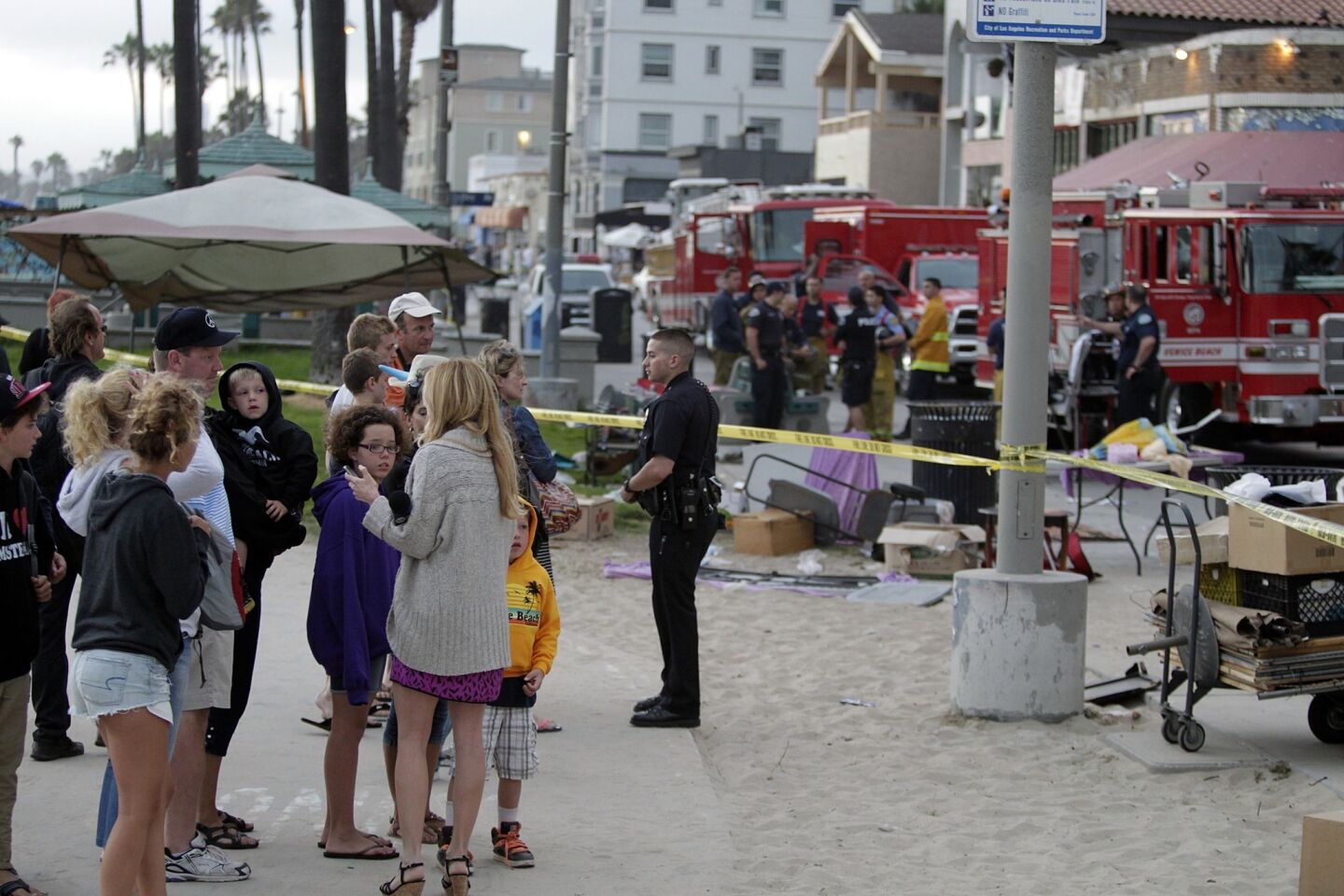 Bystanders, police and firefighters at the scene of the Aug. 3, 2013, incident in which a crowd of pedestrians was struck in Venice Beach.
(Allen J. Schaben / Los Angeles Times)
Witnesses and the first victim struck by a car that plowed through the Venice Beach boardwalk in August testified Tuesday they could not believe the Dodge Avenger continued after striking a vendor's tent.
They recalled in the preliminary hearing a car smashing an ATM near the corner of Dudley Avenue and Ocean Front Walk at sunset. It came toward them across the walkway, knocking over a trash can and a booth near a patch of grass. They said they expected the car to stop at this point.
Instead, the vehicle swerved to the left, back toward the center of the boardwalk, they said. A woman was tossed onto the hood for several seconds as the car swerved down the boardwalk.
It struck a total of 17 people, injuring 16 and killing an Italian woman on her honeymoon. Alice Gruppioni, 32, died of blunt force trauma to the head and neck, according to the L.A. County coroner's office.
Prosecutors allege Nathan Louis Campbell, a 38-year-old from Colorado, was behind the wheel during the rampage. He turned himself in to police about an hour after the hit-and-run.
L.A. County Superior Court Judge Antonio Barreto, Jr. could decide as early as Wednesday whether there is enough evidence for Campbell to face trial.
Campbell, who's grown a gray beard since his first court hearing, appeared Tuesday in a maroon shirt provided by his public defender, Philip Dube. Campbell sat still and stayed quiet with his hands in his lap, except for at least two occasions when he used a mechanical pencil to write to Dube on a white legal pad.
John Drolette, 58, of Fresno, saw the crashes from the Cadillac hotel fire escape.
"He didn't stop," Drolette testified. "In fact, he revved up, and you could here the vehicle's transmission go into overdrive."
When people parted to the side, the car "went left-right, left-right -- zigging -- hitting people who had moved out of the way," Drolette said.
Kevin Salveson, who with his two children had been biking between the boardwalk and beach, testified he twice screamed out, "Look out! to people on the boardwalk.
Salveson said that although he was about 70 feet away, he could see the driver's face through the windshield, describing the expression as a "manic grin."
"The shocking thing to me was this must have been a terrible accident and you'd expect [the car] to come to a stop and the driver to come out and look terribly apologetic," Salveson said. "He didn't have any remorse."
Mustafa Balci, whose booth on the corner of Dudley Avenue and Ocean Front Walk was the first struck by the car, said a trash can saved his life by slowing down the car as it smashed through a table, hit his knees and knocked his wife, Yesim, back to the grass.
The third victim believed to be hit, 28-year-old Nancy Martinez, appeared in court in a wheelchair with a brace around her torso. Shedding tears as L.A. County Dist. Atty. Victor Avila showed a hospital photo of her bandaged back, Martinez said a spinal fracture has limited her to walking only short distances, with the assistance of a cane.
Her 37-year-old boyfriend, Jose Enrique Gutierrez, who choked up as he testified, suffered lesser injuries to his back. He said the pair had hired an attorney to file a lawsuit against the driver.
Dube questioned several victims -- all struck from behind -- about whether they were actually hit by a car. He suggested they could have been pushed to the ground by someone else in the scattering crowds or hit by debris.
Sareen Boshgezenyan, 20, said on the stand that she turned around in time to see the car hit someone else and come straight toward her. She was shopping for sunglasses near the boardwalk corner where Snapchat had an office.
"I tried to move out of the way behind a table, and it felt like, in that second, the car kept following me," Boshgezenyan said.
The blow knocked her unconscious and left her with torn muscles in the shoulder and neck, she said. She was the final civilian to testify.
Several police officers are expected to take the stand Wednesday, prosecutors said.
ALSO:
Alleged LAX shooter indicted by federal grand jury
L.A. school board will decide in January how to fill LaMotte seat
Witnesses to fatal Venice Beach boardwalk crash recall chaos, horror
paresh.dave@latimes.com
---
The stories shaping California
Get up to speed with our Essential California newsletter, sent six days a week.
You may occasionally receive promotional content from the Los Angeles Times.