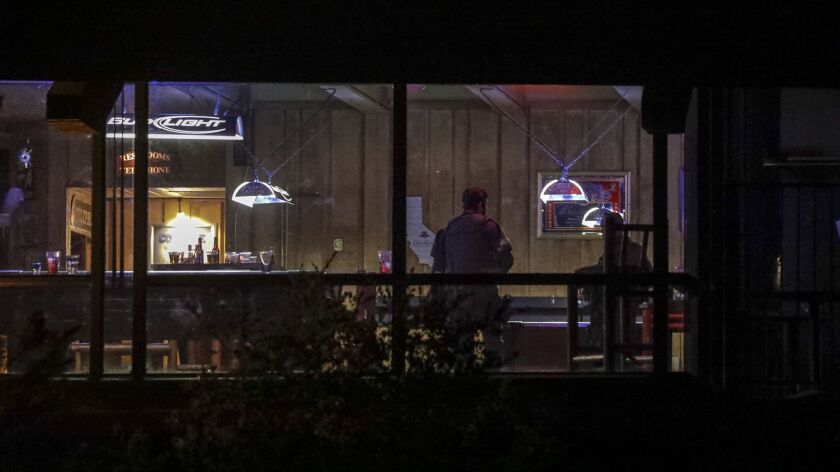 After receiving several calls from concerned residents, the Ventura County Sheriff's Department began investigating the nature of a man's rambling Facebook post that references the Borderline shooting.
The post, made Wednesday evening, is largely incoherent and reads: "'Paris event'- BorederLine 'Shooting' 'chuting' event Hoax undermining funded par Islamic state."
The man, who claims to live in Newbury Park, included several hashtags of cities in Ventura County, which caused some residents to see his post on Facebook, authorities said.
The post also includes a screenshot of a Los Angeles Times story about the shooting, a photo of the shooter, and photos of 18-year-old Pepperdine freshman Alaina Housley, who was killed in the shooting, next to screenshots of Bible verses from the Book of Revelations.
Ventura County Sheriff's Capt. Mike Beckett said authorities believe there's no threat to the community related to the man's post.
"At this point the subject has not committed any crime," Beckett said. "He has not said anything that resembles a threat. They're odd, bizarre statements, and that's certainly concerning to people, and we're sensitive to that, and we want to find out what's going on with this subject."
Beckett said authorities would like to better understand if the man might have mental health issues and need treatment.
The shooting, which occurred Nov. 7 at the Borderline Bar and Grill in Thousand Oaks, left 12 people dead and was one of the deadliest shootings in U.S. history.
Beckett said it is understandable that community members, many with trauma from the shooting, remain vigilant to the types of social media posts that the man made.
"We live in a very different world than we did 20 years ago, and we can't just blow this kind of stuff off," he said. "We have to take it very seriously."
We are aware of messages online that reference the Borderline shooting incident. The source of these messages has been identified. No actual threat has been discovered, but we are still actively investigating with other law enforcement agencies to ensure people's safety.

— Ventura Co. Sheriff (@VENTURASHERIFF) June 27, 2019
---