Vin Scully says no thanks to mayor's idea of naming street after him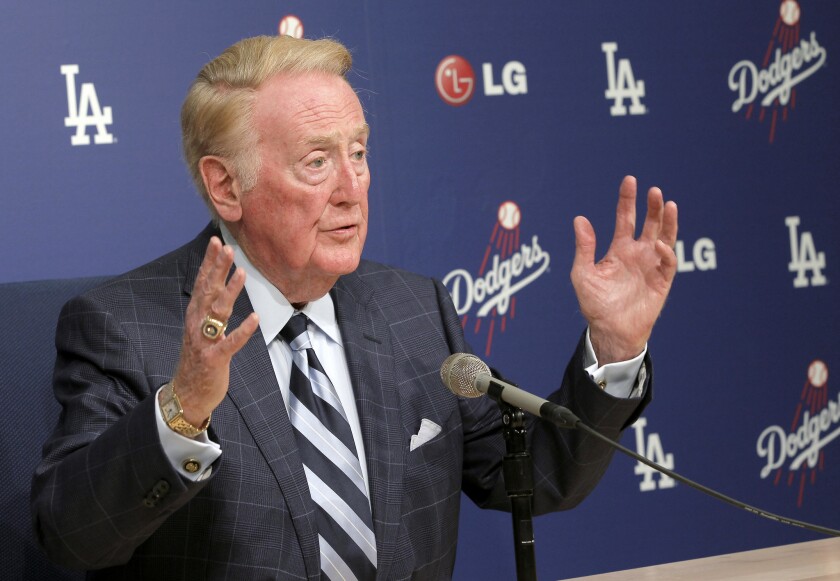 Famed Dodgers broadcaster Vin Scully isn't so hot on the possibility that Mayor Eric Garcetti might name a street in his honor.
Garcetti discussed the possibility of naming a street after Scully on KABC's "Eyewitness Newsmakers" program Sunday morning.
The question that prompted the discussion came from Scully's daughter-in-law, Dodgers Now reported.
"There's no honor that could be too great for Vin Scully, and I absolutely would love to rename a street for him," Garcetti said. "We'll look at a few around the stadium as a possibility. I know there's been a lot in the Twittersphere, a lot of people tweeting and Facebooking about this."
But the announcer is pooh-poohing the idea.
"The mayor of Los Angeles has a great deal more important things to do than name a street after me," Scully said in a statement that the Dodgers issued on his behalf Sunday night. "And if he is considering the idea, better the street should be named after Walter or Peter O'Malley than myself."
Walter O'Malley was the Dodgers owner who moved the team to Los Angeles from Brooklyn. Peter succeeded his father as owner.
ALSO:
Weekend mayhem leaves 10 dead across L.A. County
Woman loses leg after man, possibly driving drunk, rams her car
Transgender homecoming queen breaks down on YouTube after victory
dylan.hernandez@latimes.com
---
For reporting and exclusive analysis from bureau chief John Myers, get our California Politics newsletter.
You may occasionally receive promotional content from the Los Angeles Times.