To stop a virus, California has euthanized more than 1.2 million birds. Is it reckless or necessary?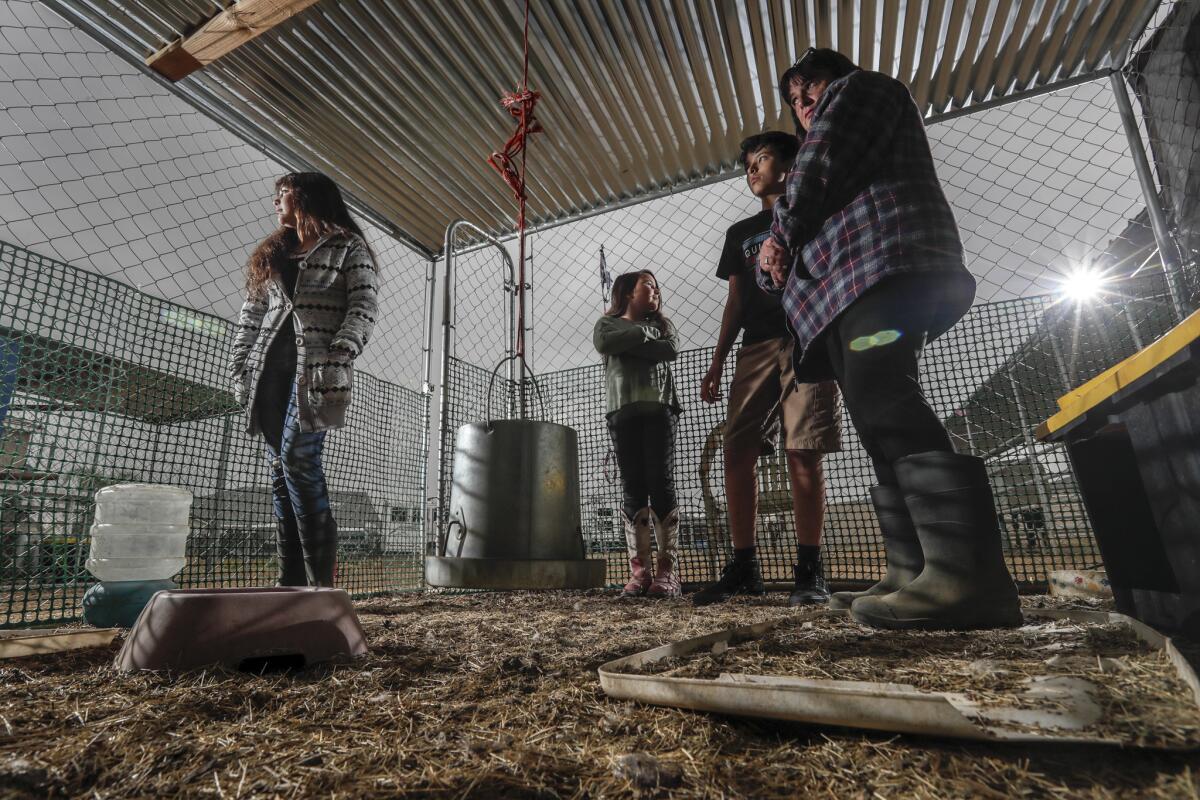 Each morning, once the kids were off to school, Kerri Hand would slip out to her backyard, sit in a lawn chair and hang out with her feathered family.
There was Delores, a young turkey she got her 13-year-old son for his birthday, who would sit in her lap and beg for treats. Her family loved Delores so much they stopped eating turkey for Thanksgiving dinner.
Hand, 48, would laugh at their black silkies Queen Coconut and Bambi, fluffy chickens that look as if they had a fun time at a blow-dry bar, and Michael, a leghorn rooster who once overheated because he was running around so much to check on hens.
In watching the colorful birds parade around her yard, Hand felt at peace. Life was good — until it wasn't. Her family's birds are now dead.
For the past year, Southern California has been plagued by an outbreak of a highly contagious viral disease that can affect all species of birds but is most deadly to chickens.
Known as virulent Newcastle disease, the virus poses no food safety concerns and essentially no human health concerns. Only people who spend a lot of time close to infected birds are at risk of pink eye or a mild fever.
But for owners, the outbreak has been devastating: 444 homes, farms and businesses in California — the majority in San Bernardino, Riverside and Los Angeles counties — have had birds test positive for the disease since May 2018, according to the U.S. Department of Agriculture. There is no cure or treatment.
All of L.A. County and parts of San Bernardino and Riverside counties have been under quarantine for months, with no one allowed to move their birds without facing steep penalties.
To stop the spread of the virus, more than 1.2 million birds, mainly chickens, have been euthanized in heavily affected areas, some of which weren't showing symptoms or hadn't been infected yet.
And that's the root of the outrage from a small but vocal group of backyard bird owners, led by Hand.
Before her birds were euthanized, Hand was a stay-at-home mom and retired law enforcement officer who used social media to share photos of her kids and pets.
But now she's become something of a poultry activist, organizing protests at homes where the euthanasia teams are scheduled to be and raising money to sue the state.
When she learned in April that her birds might be euthanized, she started a Facebook group with about 30 friends and family members called "SOB save our birds." Now, it has more than 4,700 members.
That's because on April 19, when Hand came home to find a euthanasia team with a court order to destroy an estimated 70 birds at her home, she was holding arguably the most powerful tool of protest in 2019: her cellphone.
Over the next few hours, Hand broadcast live on Facebook from her backyard, showing the team grabbing her family pets and killing them. Hand's one video has garnered 225,000 views on Facebook, far more eyeballs than any of the educational videos the state agriculture department has produced about Newcastle disease.
The California Department of Food and Agriculture has tried in vain for the past year to educate the public about the outbreak. But there is no central database of the estimated 100,000 backyard chicken owners in California.
Instead, agency staff has visited almost 150,000 homes and dozens of feed stores and community events. They've given more than 100 presentations at churches and held almost 20 town hall meetings.
But only after Hand's viral video did the outbreak start to gain significant attention.
Authorities and researchers agree that, while heartbreaking for families to lose their pets, euthanizing birds that aren't showing symptoms but live in areas where the virus load is high — where epidemiologists are actively pulling data to assess which flocks pose the most serious threats — is necessary to end the outbreak.
The virus can spread in a number of ways, hitching a ride on vehicles, equipment and even on the bottoms of shoes as neighbors visit one another. Other birds can carry the disease on their bodies without being affected. And even if a bird survives an infection, it can still shed the virus for weeks.
"The reality is that the virus does not replicate in dead birds, but it does replicate in live birds," said Dr. Maurice Pitesky, a veterinarian and faculty member at UC Davis School of Veterinary Medicine who has researched how avian diseases spread.
"If we are on a block, and there's 10 houses on that block, and your birds, you think, are perfectly healthy, but there are one or two other homes on that same block that have infected birds, you have a high risk of those healthy birds getting sick," Pitesky said.
Hand lives in Perris, one of several neighborhoods heavily affected by the outbreak.
Early in the day's events, one worker attempted to explain to Hand why they were at her home. Hand had coops, but some of her birds did roam around her backyard freely.
"The fact of the matter is that a commercial facility in December was positive very close to you," the worker told Hand. "Recently, there was another property in less than a quarter of a mile in this subdivision that was positive for Newcastle disease. There is a commercial property across the street from you, which hasn't been infected yet. The issue is, the high risk of your birds…. Your birds are not cooped in a cage with a roof where there can be no contact with other birds."
Authorities have advised that, to limit exposure to Newcastle disease, all poultry should kept away from waterfowl and wild birds.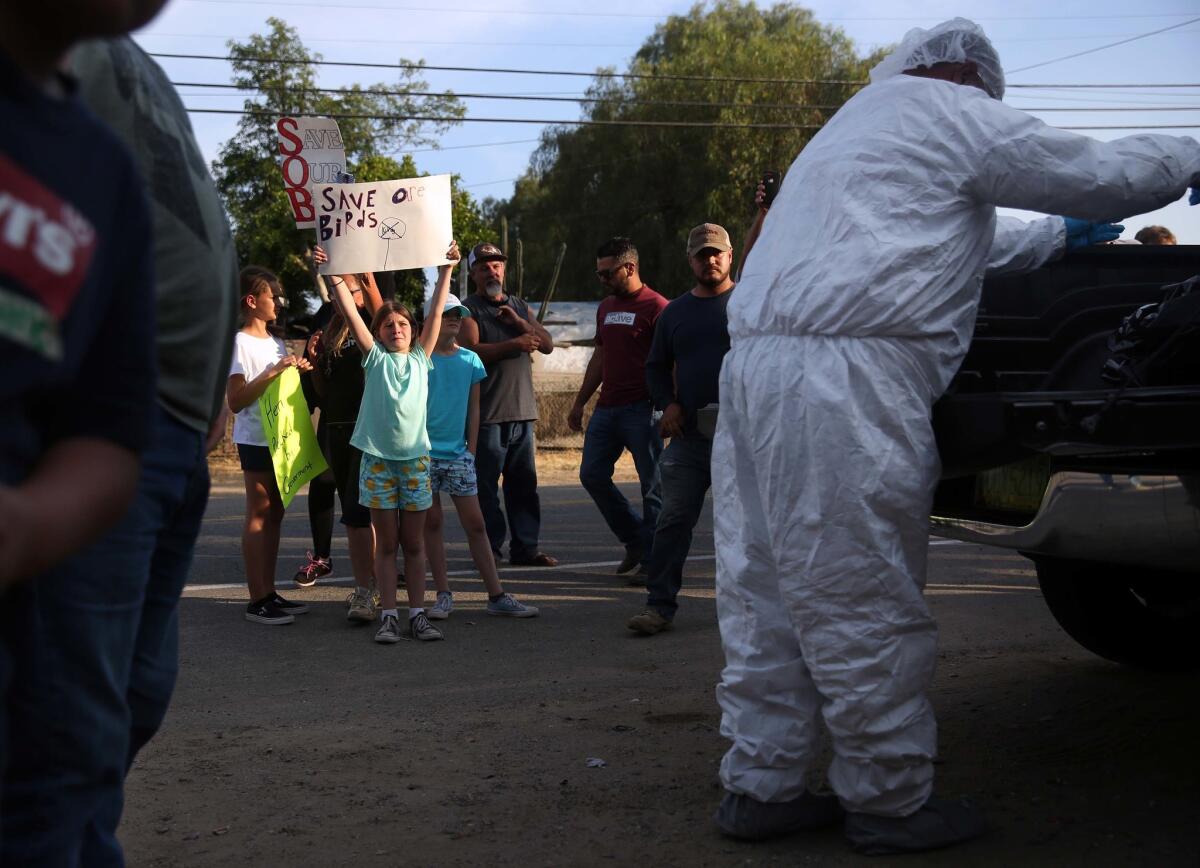 At Chino Valley Ranchers, an organic egg producer headquartered in San Bernardino County, staff met last June with a state agriculture department veterinarian and, per the state's requirement, moved their chickens, which normally walk around the farm on soil, inside.
Already practicing rigorous biosecurity before the outbreak by requiring visitors to dress in protective gear and sanitize their vehicles before and after visiting their farms, the company hasn't had any sick birds. But it is stressful, regardless of how careful they are.
"It's probably a 12 out of 10," said David Will, general manager of Chino Valley Ranchers. "It's an invisible disease. It travels in the wind. The host vectors are known but not clearly identified. Some bird species can live with this and become transmitters, but this particular virus is very, very targeted to chickens, and it's just scary."
Not typically found in the United States, virulent Newcastle disease is endemic in some areas of Mexico, Central and South America, and widely spread in Asia, the Middle East and Africa.
Officials say that Southern California — which has experienced the only major Newcastle outbreaks in North America — is at particularly high risk to outbreaks, in part because there are a lot of people with a lot of birds, living close together, creating the perfect environment for the virus to thrive.
In 1971, a major outbreak here infected 1,341 flocks, caused 12 million birds to be euthanized, cost $56 million to end, and seriously threatened the nation's entire egg and poultry supply. It was 19 months from the first to the last case detected.
Thirty years later, an outbreak that was started by illegally imported game fowl started here and spread to commercial operators and to backyard poultry in Arizona, Nevada and Texas. Then-Gov. Gray Davis declared a state of emergency. Almost 3.2 million birds were euthanized at a cost of $161 million. The outbreak, from discovery to eradication, lasted 11 months.
California state veterinarian Dr. Annette Jones served as incident commander during that outbreak.
When she got the call from the laboratory last year that Newcastle was again active in the state — initially detected after a backyard chicken owner took sick birds to a veterinary clinic in L.A. County — Jones' stomach dropped.
"I don't think I've gotten my stomach back since that day," she said. "For the people that have been impacted by this outbreak, it is personally devastating to them, and the way I am able to do my job is I think of all the bird owners in the state, and if we can just work together and get through this very difficult time, we're going to spare so many more people from going through this."
The bit about getting everyone to work together seems to be the trickiest part.
Jones said she cannot talk specifically about Hand's case because of the lawsuit filed against Jones by the Save Our Birds group.
But Jones said that, generally, authorities have made the most progress in eradicating the disease in communities where bird owners have banded together to increase biosecurity — which includes keeping birds indoors and limiting contact with other bird owners — and pledged not to move their birds. In those communities, the virus load has stayed low, she said.
"The problem is, when one person doesn't follow directions because they think they're doing the right thing or don't know what the right thing is because we haven't reached them, that puts everybody back," she said.
Officials say the biggest challenge in controlling the outbreak has been people going against the quarantine.
In January, someone with a valuable bird moved the bird from L.A. County to Utah. The person thought the bird wasn't sick. And then the birds around it in Utah started dying of Newcastle disease.
A similar scenario played out in April in Arizona when the virus was found in a small flock of pet chickens in Coconino County. Genetic testing found that the virus in Arizona was more than 99% similar to the virus causing the California outbreak.
During Hand's video, she tells the audience: "Get off the live video, people, and get your chickens, and get the [expletive] out of Dodge now. Run. Take them. Everybody's birds will die. Take your birds, and run, hide, go. Please, I don't want any more death."
Hand said she doesn't regret saying that and wishes she had taken her birds elsewhere, despite the enormous fines she could have faced.
"Are you really going to put me in jail for that? … I've got more time than money so, OK, I will go there if that's where you need me to go," Hand said. "And that can be remedied. What I can't seem to remedy is the fact I failed all of them. They're all dead, and money is not going to fix this. Money is not going to fix what we heard or saw or witnessed or the whole memory of it all."
Les Kanawah holds a protest sign outside her Mira Loma, Calif., home on the day her chickens were scheduled to be euthanized.
(Dania Maxwell / Los Angeles Times)
Mira Loma community members protest the chicken euthanizations, an effort to curb the spread of virulent Newcastle disease in Southern California.
(Dania Maxwell / Los Angeles Times)
John Dave Denilofs talks to community members about the protests against euthanizing chickens in Mira Loma, Calif.
(Dania Maxwell / Los Angeles Times)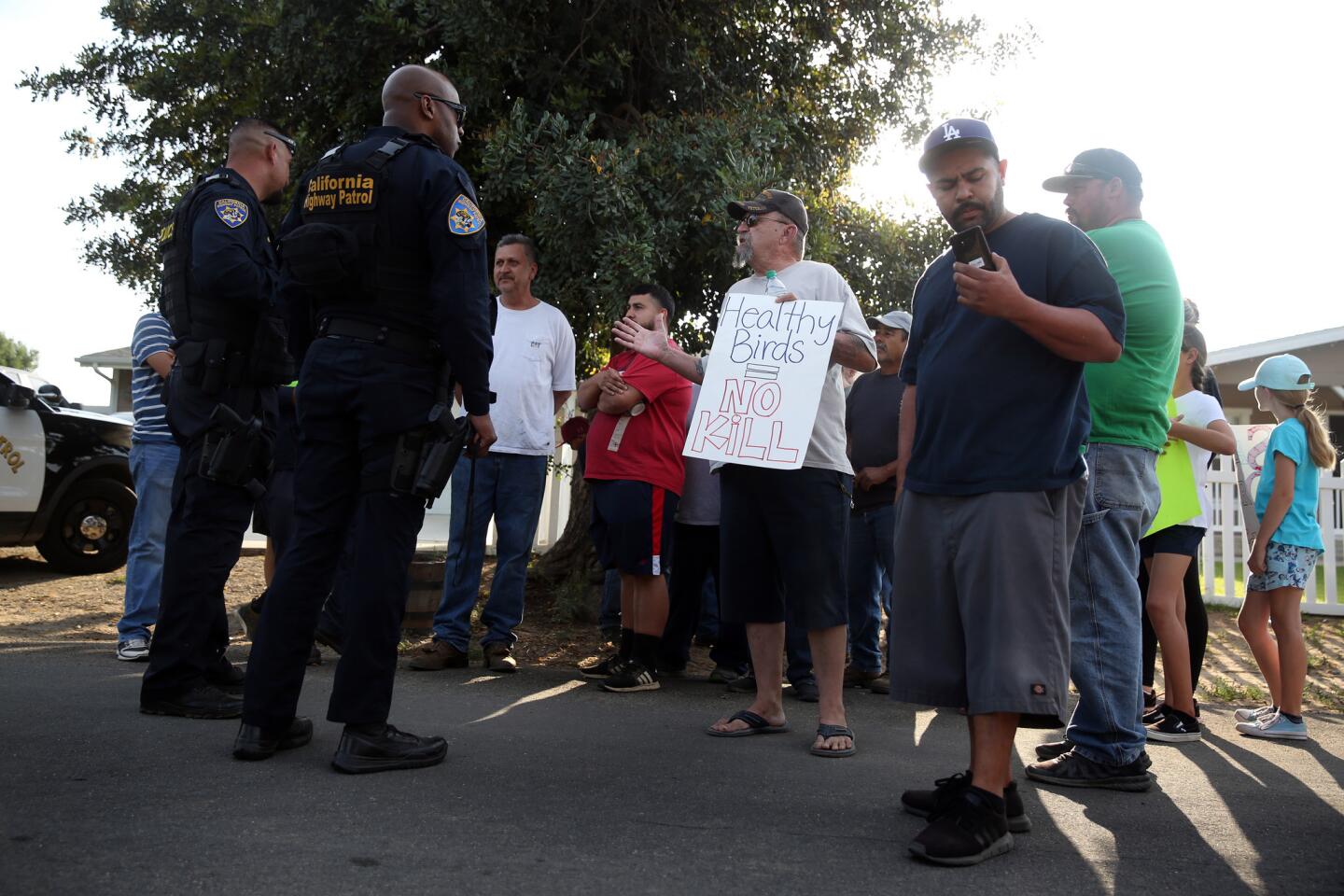 Community member Roger Johnson, center, speaks with police officers during the protest against bird euthanization in Mira Loma, Calif.
(Dania Maxwell / Los Angeles Times)
Members of the euthanasia team clean up.
(Dania Maxwell / Los Angeles Times)
Katie Walker, left, and daughter Kalli Walker protest the euthanization of chickens.
(Dania Maxwell / Los Angeles Times)
Les Kanawah's chickens were scheduled to be euthanized May 13 in Mira Loma, Calif.
(Dania Maxwell / Los Angeles Times)
In recent weeks, the outbreak has split backyard chicken owners into factions.
In Hand's Facebook group, members voice deep skepticism over the government's approach to the outbreak, arguing with the science and even whether the disease is actually killing birds.
Hand regularly refers to the state veterinarian as "Lying Jones." Members have posted Jones' photograph and photos of state and federal workers, including euthanasia team members, complete with their names and notes about their interactions.
The group made T-shirts that read: "We the People are pissed off! When will the killings end?" And on Tuesday, the group filed a lawsuit against Jones and the state agriculture department, noting in their complaint that they want to "stop inhumane euthanization practices until it can be ascertained that the euthanizations are justified."
Other Facebook groups have since started, including "In Memory of Flocks Killed by the CDFA 2018-2019" where people post photos and memories of their departed pets.
Mikke Sharpe started the Facebook group "End Virulent Newcastle Disease" four days after Hand posted her video. The group takes a different tone than Hand's group, its description including that it was "formed to support and share the FACTS" of the virus and outbreak. It has about 620 members, a fraction of Hand's group.
Sharpe, who has 12 birds at her home in Hesperia, said she and her fellow group moderators feel deeply for people who live in zones where teams are actively euthanizing birds, but it's the only way to end the outbreak.
"I don't believe that it's going to help anything to — I don't know how to say it — to be overly emotional about it," Sharpe, 54, said. "It's a scientific fact. In order to stop the disease spread, it has to happen, no matter how much we don't want it to."
On a recent Monday afternoon, Hand and her fellow Save Our Birds members organized a demonstration at 55-year-old Les Kanawah's home in Mira Loma to protest the euthanasia team coming to take her birds.
Some held signs, and a few children carried Kanawah's Red Star hens down the road. The group headed toward the euthanasia team, which left and hasn't returned. Since then, Kanawah has felt edgy and stressed, unsure of when a team will try again.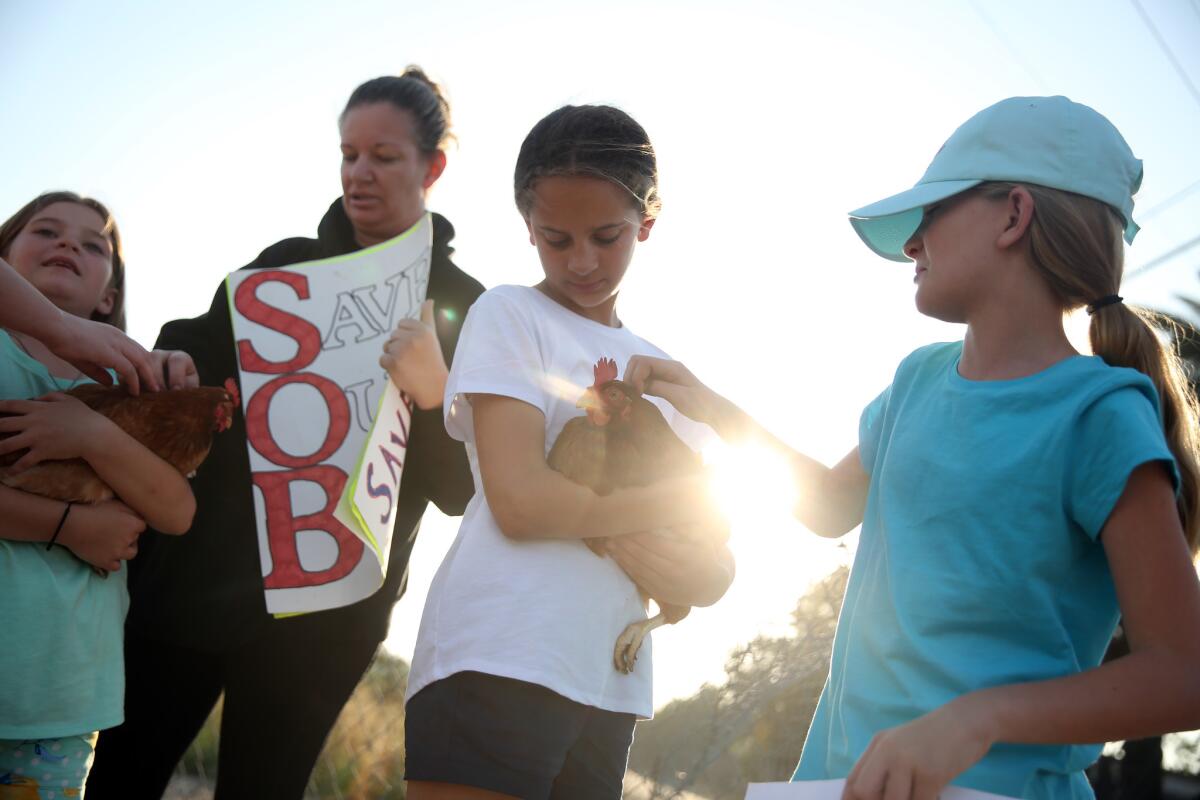 Recently, a neighbor lost birds to Newcastle and called the state, which sent a team to euthanize the rest of his birds.
Kanawah said her birds are still healthy, and they spend all of their time in a coop, making them less at risk of catching Newcastle disease, she said.
"If I saw any signs of my birds looking not healthy, I'd be the first one to say, 'Yeah, get rid of them before my neighbors get in trouble,' " Kanawah said. "That's what animal people do."
The same day as the protest, a quieter scene played out about 30 miles southeast at 23-year-old Julia Lopez's small hobby farm in Perris.
A euthanasia team arrived at the farm about 3:30 p.m. Her family asked several questions, and the workers answered them. All remained cordial, and in less than an hour, their 40 chickens, five ducks and two turkeys were dead.
The family moved to Perris from Anaheim to escape rising housing prices. When they moved to their half-acre in July, they already had plans to start their farm. They soon learned from their local feed store that they'd just moved to the middle of a bird disease outbreak.
About six months ago, a neighbor's birds were euthanized, and her family feared a team would soon be by for their birds, Lopez said. Finally, they came.
The following day, the farm was quiet. Lopez was heavyhearted, trying to figure out how she would tell her 5-year-old sister where the chickens she loved to help feed had gone.
"It's heartbreaking, it's hard, but I guess in time, we will heal," Lopez said. "And as soon as this is over, we can start over again."
Sign up for Essential California for news, features and recommendations from the L.A. Times and beyond in your inbox six days a week.
You may occasionally receive promotional content from the Los Angeles Times.