At one warehouse in L.A.'s Chinatown, artists feel blunt impact from deadly Ghost Ship fire
For three years, the artists worked and lived inside a pair of weather-beaten warehouses at the edge of Chinatown.
The rhythm of life and labor went mostly undisturbed, even after the faded one-story building — plain except for a splash of colorful graffiti — was cited by the Los Angeles Department of Building and Safety in February.
Then in early December, a fire at a warehouse 370 miles away in Oakland killed 36 people, and suddenly the old building on 1641 Naud Street came under intense scrutiny.
"That's when the nuclear clock started ticking," said Eric Land, 40, a welder by trade who paid $600 a month for about 525 square feet of work space at one of the Los Angeles warehouses.
On Dec. 9, a week after the Bay Area tragedy, Los Angeles Fire Department inspectors showed up at the Naud Street warehouse, leaving a long list of violations and a sharp deadline to do something.
Within days, the property owner issued eviction notices to about 70 artists and others who had been using the space as studios.
The case of the Naud Street warehouse shows how rapidly the perception of these illegally converted warehouses is changing in the wake of the Ghost Ship fire. In Los Angeles as well as Oakland, officials have vowed to crack down on illegally converted warehouses.
While most, if not all, residents left the the Chinatown warehouse earlier this year, the warehouse was still being used by artists as cheap illicit studios.
"There's not a lot of spaces being built like this anymore," said Tony Castillo, 36, who creates laser cutting art and is a tenant. "Now it's like this "Hunger Games" fight with all the other people here. We're all trying to find spaces in a totally oversaturated market."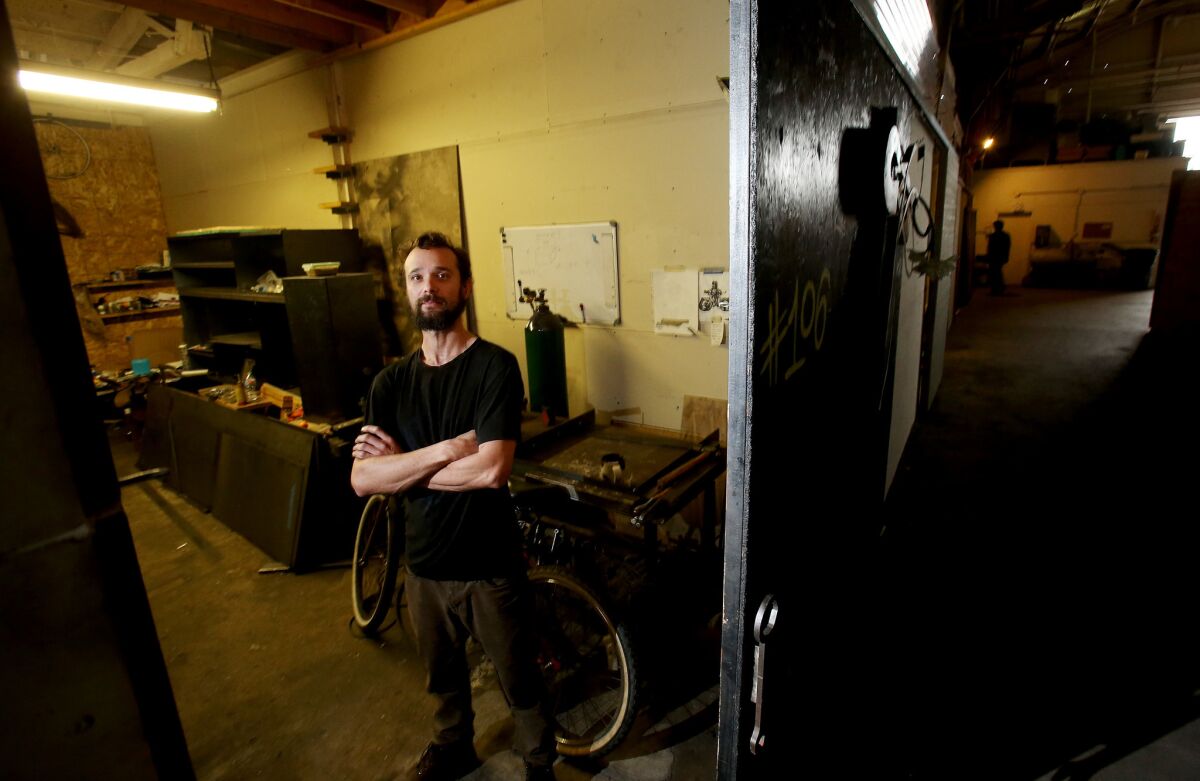 Naud Street is an alley-like road in the shadow of the downtown L.A. skyline. Close to railroad lines and the Los Angeles River, the area is lined with warehouses, security gates and power lines. Some of the warehouses are still used for storage or industrial businesses. Others have been transformed into film studios, galleries or art spaces.
The warehouse at 1641 Naud Street had received three complaints from anonymous callers this year, said David Lara, a Building and Safety spokesman.
One of those callers claimed to be a former tenant and alleged that the warehouse's sprinkler system was disconnected and that at least four units had one or more people living in them, according to city records.
Lara said inspectors went to the location and found several violations that included hazardous plumbing, wiring and people living on the premises.
"The fire sprinklers were not installed in the proper locations," he said.
A Feb. 23 letter from the city to the owner, obtained by The Times through a public records request, listed seven violations that the owner had to correct.
"Discontinue the use and occupancy of all buildings or portions thereof occupied for living, sleeping, cooking or dining purposes which were not designed or intended to be used for such occupancies," one violation read on the letter.
The owner was ordered to obtain permits and finish correcting the violations within 90 days, according to the letter.
At the time, at least some artists both lived and worked there. But after the February letter, some who were living there began to move out, according to residents.
Phillip Spencer, an interior designer and sculptor, said he continued to live in the warehouse until early August, when he was able to stay with a friend in Brentwood. He said he didn't know if anyone was still living there by December.
That makes the Naud property different from the Ghost Ship in several respects. The Ghost Ship was both an arts complex and residential space where people paid rent to live there. Residents and community leaders described the Ghost Ship as a death trap filled with debris, poor electrical wiring and trash.
The conditions at the Naud Street warehouse appeared to be nowhere near as ominous. And at the time of the Ghost Ship fire, it appeared to be used mostly as work space for artists.
The Naud warehouse and a second building nearby are owned by Omninet Capital under two limited liability cormpanies, city and property records show.
During the week of March 24 — the city's imposed deadline to obtain the permits and begin correcting the violations — a non-compliance letter was sent to the owner of the Naud Street warehouse. Lara said a request to extend that deadline was submitted that week but was denied on April 6.
Despite the lack of progress, it wasn't until late 2016 that the city forwarded the case to city prosecutors.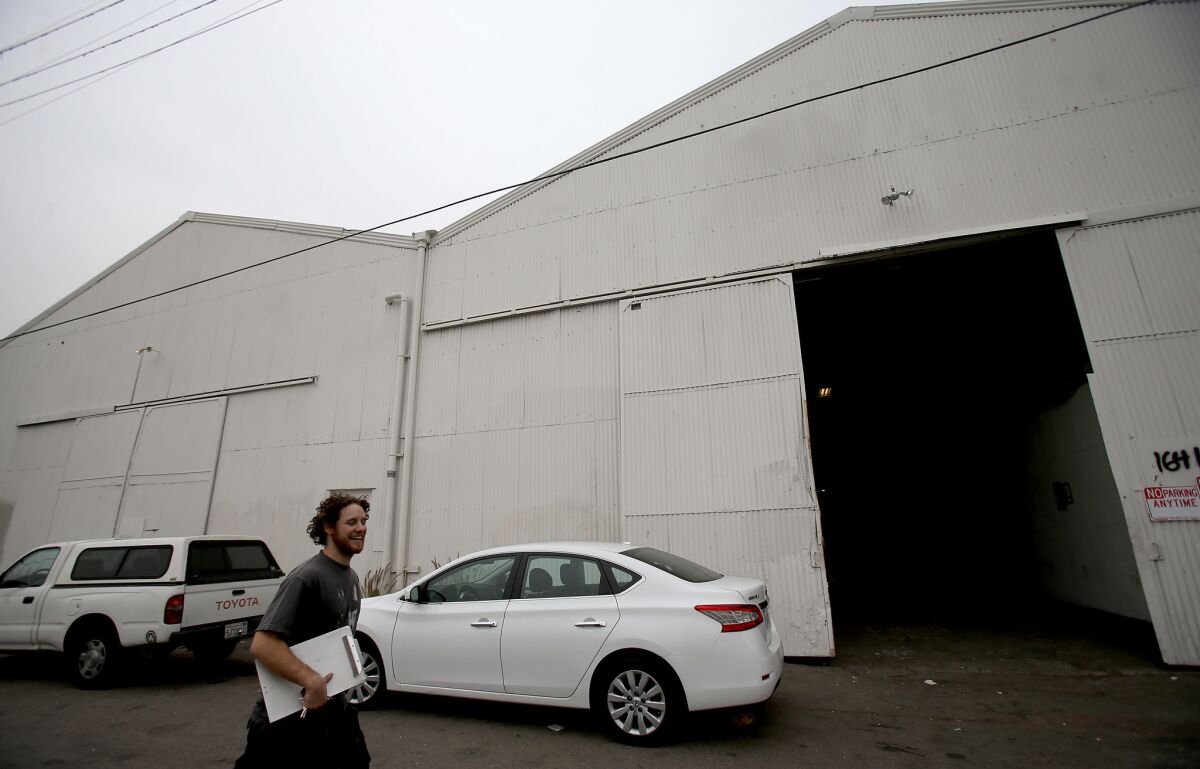 According to Lara, a permit application was submitted in May to change the Naud Street warehouse to a storage building with a machine shop and tentative improvements to create storage rooms.
"There was nothing about residential units," he said.
Architectural plans were sent back for correction in July but a permit was never issued, he said.
That month, Building and Safety received another complaint — this one about another warehouse belonging to Omninet Capital. The alleged violations at the building, on Wilhardt Street, were similar to the ones at the Naud Street property, Lara said.
Meanwhile, in October, the Los Angeles Police Department notified Omninet Capital about the illegal sale of alcohol and parties at the Wilhardt Street warehouse, according to emails provided by Andrea Costantini, chief operating officer with Omninet Capital.
In November, nine months after the February violations were discovered, Building and Safety sent the complaints about the warehouse on Naud Street to the city attorney for non-compliance, according to Lara.
Last week, the property owner received a letter from city prosecutors notifying it of a hearing, scheduled for Jan. 10, on the violations.
Costantini said Omninet did not know the leaseholder was renting out spaces at the warehouses for people to work and live until the city notified it.
"Our lease doesn't allow him to sublease spaces," he said. "He didn't ask for our authorization, he didn't communicate anything about building inside.… Sounds like he took advantage of the situation."
Costantini said Omninet initially worked with the leaseholder because it felt he was addressing the code violations and was attempting to correct them as the city had ordered. He said the leaseholder hired an architect and submitted plans to the city.
"We tried to put our best foot forward, even if I was skeptical and had my reservations," Costantini said.
On Dec. 2, flames ripped through the Oakland warehouse.
The L.A. Fire Department inspected the Naud Street warehouse just days later, pointing to about three dozen safety violations, including using standard extension cords for industrial use, exposed wiring, and a need to reorganize storage to specific heights. The owner was given a month to fix the violations.
Peter Sanders, a Fire Department spokesman, said the Building and Safety Department had not notified it about the earlier complaints about the property.
"They can handle it if it falls in their purview," he said, adding that alerting the Fire Department was not a requirement.
Costantini said that while Omninet was cooperating with the city before, the Oakland tragedy was a cause of worry.
"I really didn't want to have any problems," he said. "Our business is about having good tenants who pay rent on time and don't cause trouble."
The leaseholder declined to comment. Costantini said he couldn't obtain the required permits and make the changes in time and agreed to vacate the buildings. The owner sent out eviction notices to all the tenants.
Mount Washington resident Doug Schwartz, 55, said he walked into the Naud Street warehouse on the evening of Dec. 14 for a jam session with other L.A.-area musicians and saw the eviction notices posted on nearly every door.
One artist looked as if he was in a fog, barely greeting Schwartz when he walked in, he said.
"He was trying to take it in. A little more like, just kind of not in the acceptance stage yet," Schwartz said.
Tenants say they were initially given 10 days to leave, but they said it was later changed to 30-day eviction notices.
On a recent afternoon, artists piled canvases into their cars. Some loaded furniture and sculptures into a U-Haul truck parked by the main entrance.
Inside, a wall of televisions stood high above one workspace. Flowers with wooden frames dangled from the front wall of another space. The sound of buzz saws echoed throughout the large warehouse.
Some of the artists said locating affordable work areas in L.A., especially quickly, would be very difficult.
Castillo said he paid about $375 for a 150-square-foot space.
Jeff Dunham, 53, a welder who creates metal table legs in his space at the Naud Street warehouse, said he didn't foresee that the devastation in Oakland would affect him — and so quickly.
Dunham, who paid about $1,450 a month for his space, said he planned to move out of California.
"I wish I could just shut down for a couple of days," he said, pausing to glance at his workshop. "It was a perfect spot for us."
For more Southern California news, follow @latvives on Twitter.
Los Angeles Times Staff Writers Joseph Serna and Ron Lin contributed to this report.
MORE ON THE GHOST SHIP FIRE
Family of 20-year-old brings first suit in Oakland warehouse fire
Officials crack down on San Diego art venues following Oakland fire
The Ghost Ship fire was 'a matter of benign neglect.' It's not the only one
Amid Ghost Ship's enchanting disorder lurked danger and the seeds of disaster
The stories shaping California
Get up to speed with our Essential California newsletter, sent six days a week.
You may occasionally receive promotional content from the Los Angeles Times.