Officials crack down on San Diego art venues following Oakland fire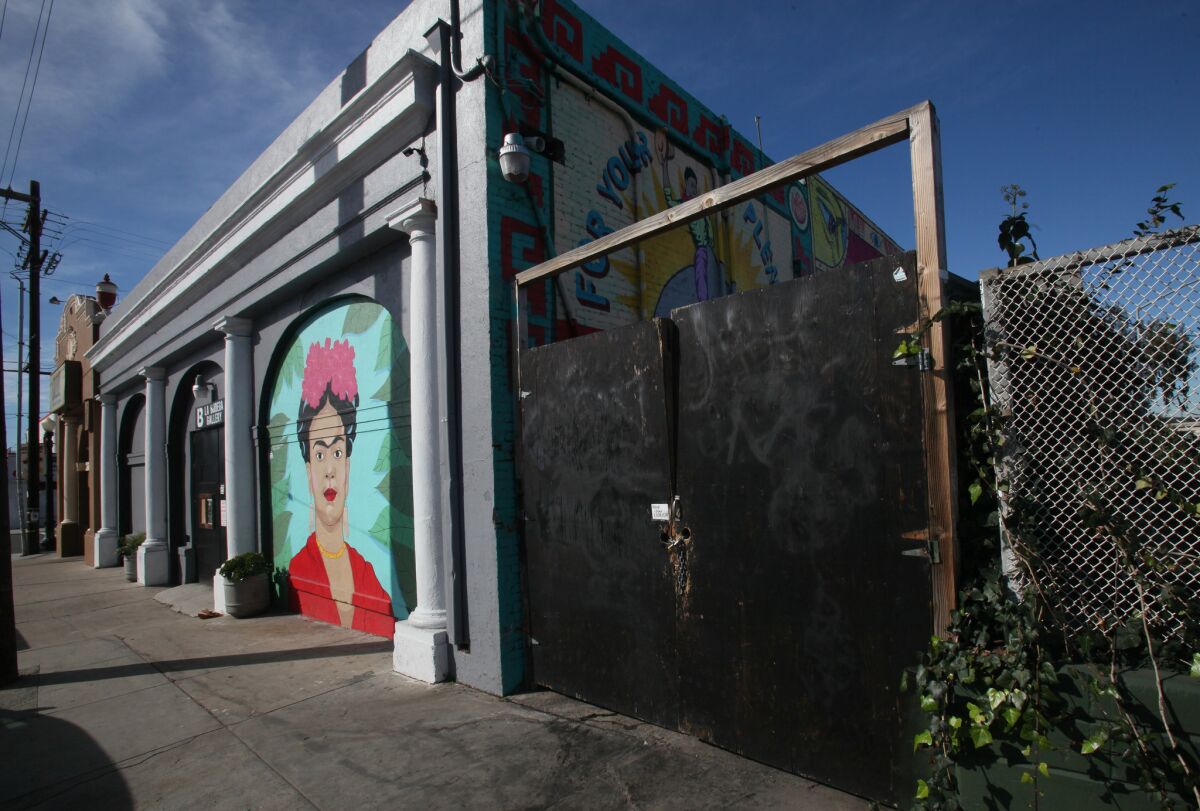 Reporting from San Diego —
San Diego authorities are cracking down on safety violations at two art venues in the wake of a deadly fire at an Oakland warehouse.
The Dec. 2 blaze that killed 36 people served as a wake-up call, San Diego Fire Marshal Doug Perry said.
"It did heighten our awareness and made us maybe a little more critical or suspicious," Perry said. "But a lot of these places are inspected annually and have no issues."
There are, however, problems at two buildings.
Inspections of La Bodega Gallery and the Glashaus, both in San Diego's Barrio Logan neighborhood, uncovered a lack of safety features, Perry said. Inspectors have prohibited large public events at the venues until the violations are addressed.
At La Bodega, there are no fire alarm or sprinkler systems and the building needs one more emergency exit, Perry said. City fire marshal and code inspectors are finalizing a list of violations that will be given to the owner.
La Bodega, which opened in 2011, was inspected after the Fire Department received an anonymous tip following the Oakland fire, Perry said.
Before that, the gallery, which includes 10 art studios, hadn't been on inspectors' radar because they typically check up on buildings with fire alarm and sprinkler systems — features that were not required before the Logan Avenue spot became an art gallery.
"Little by little we were doing what we thought was right, or what we thought was safe," said Sony Lopez Chavez, assistant manager of La Bodega. "We never really knew the extent of what codes were or what the city demanded."
Lopez Chavez said La Bodega was committed to being in compliance.
"We do understand and do agree that safety is a priority for any venue that is hosting art shows — or any event," she said.
The Glashaus, which was inspected before the Oakland fire, has been making needed changes such as adding exit signs and improving emergency exits. Inspectors more recently have pressured the venue to meet code requirements, Perry said.
The art gallery includes 15 studios, according to its website. The venue did not respond to a request for an interview.
Unlike Oakland's Ghost Ship warehouse, neither of the two San Diego venues serves as a live-work space for artists and musicians looking for cheaper rent.
And the conditions in La Bodega and the Glashaus, Perry said, are "nothing like Ghost Ship."
The Oakland warehouse clearly was a fire hazard, according to those who frequented the spot. Officials said city inspectors had not been in the structure for three decades.
According to Perry, San Diego — with its 31 fire marshal inspectors — is better equipped than Oakland to enforce safety regulations. The Northern California city has just two full-time inspectors.
The tip about La Bodega was the only one officials have received since the Oakland blaze, Perry said. While most places seem to be up to code, the fire marshal said he was recommitted to cracking down on unsafe structures and investigating complaints from the community.
"We do not want to repeat what happened up in Oakland," Perry said. "We owe it to the community to at least do our part and try to investigate everything that we can."
david.hernandez@sduniontribune.com
Hernandez writes for the San Diego Union-Tribune.
---
The stories shaping California
Get up to speed with our Essential California newsletter, sent six days a week.
You may occasionally receive promotional content from the Los Angeles Times.