L.A.'s water wasters will soon face heavier fines and audits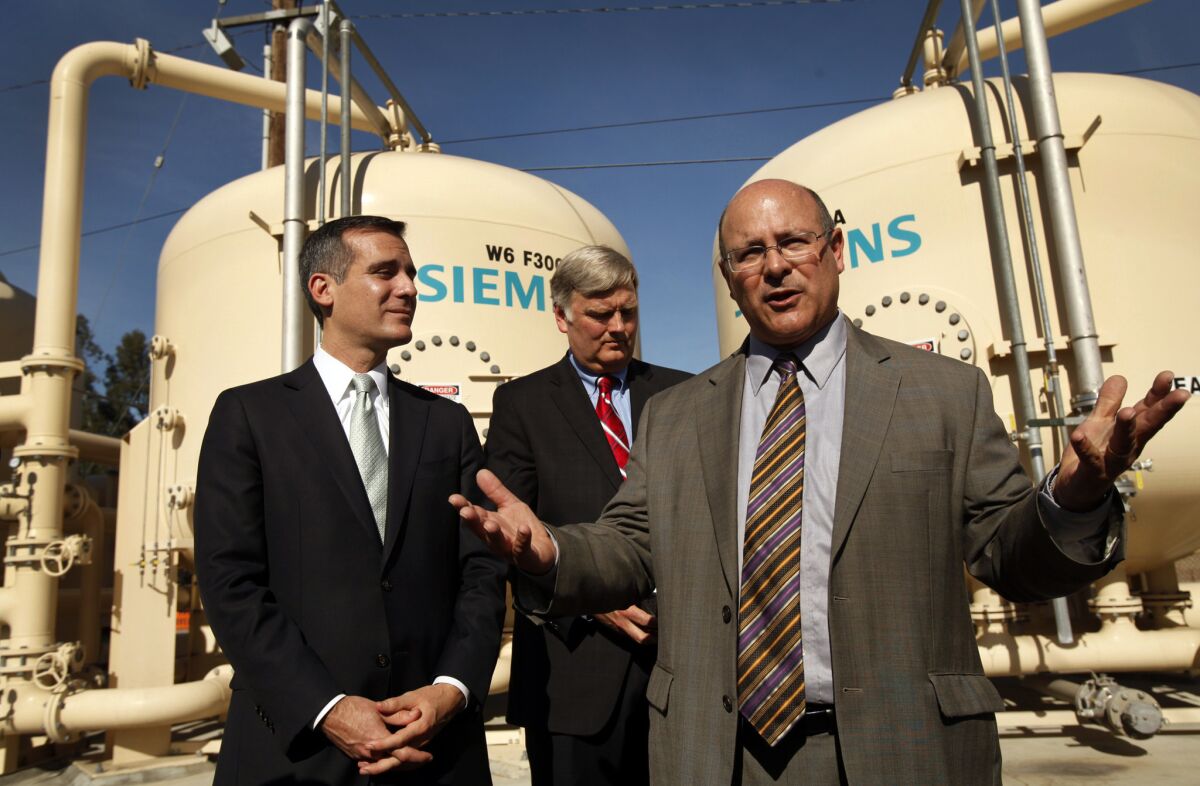 As regulators mull softening the state's drought restrictions amid outcry from some Northern California water districts, water wasters in Los Angeles will soon face stiffer fines and water audits under a plan approved this week by Mayor Eric Garcetti.
Under the city's amended water conservation plan, which will take effect Tuesday, the Department of Water and Power will be able to fine residents between $1,000 and $40,000 a month for what it deems "unreasonable use" of water when the city is in an elevated phase of its emergency drought plan.
Currently, the department can fine only customers who violate a specific provision of the city's water ordinance, such as watering at the wrong time of day or using a hose to wash down a driveway. The fines are relatively small, ranging from $100 to $300 while the city is in any phase of its conservation plan. Under the new proposal, fines for those types of violations will increase to as much as $1,200.
The customers who find themselves chronically in the highest water-use tier will also be subject to a water-use analysis by the DWP, in which utility staff members will need to be given access to a customer's property.
Staff members will then prepare a conservation plan that spells out ways to reduce water waste, as well as the reasonable amount of use for the specific property. Failure to meet any of the requirements of the plan could result in a penalty.
DWP officials have said the first fines are not likely to appear until the middle of the summer. All the money generated by the fines would go back into the utility's conservation programs, they said.
In a statement, Marty Adams, the DWP's senior assistant general manager in charge of the water system, said the changes will "improve our ability to respond to ongoing drought conditions by reaching out to and working with our customers on the higher end of the water use spectrum."
"These changes address our city's highest users to ensure that we keep our momentum going during this historic drought," Garcetti added in the statement from his office.
City officials became alarmed last fall when a report from the Center for Investigative Reporting disclosed that a Bel-Air homeowner had used 11.8 million gallons of water in a single year, even as the state battled a record drought. They called on the DWP to figure out how to combat such profligate water use and the utility unveiled its plan in March.
Garcetti's decision to sign off on the tougher rules comes the same week that officials at the East Bay Municipal Water District in Northern California decided to suspend the agency's "Excessive Water Use Penalty Ordinance," citing "a wet winter that restored reservoirs to healthy levels." The water agency had gained acclaim from some corners of the water world for publicly identifying some of the heavy users it fined under the ordinance.
Some water districts have publicly called on the State Water Resources Control Board to significantly soften California's drought restrictions in response to improved hydrology. Water board staff members could publish a draft of proposed modifications as early as next week.
Garcetti's office also announced that he signed an ordinance that updates the city's Green Building Code. Effective June 6, the updates will require that new buildings, additions or alterations valued at more than $200,000 incorporate a variety of water conservation measures that have the effect of cutting indoor water use by 20%.
For more on the California drought and water, follow me on Twitter: @ByMattStevens
The stories shaping California
Get up to speed with our Essential California newsletter, sent six days a week.
You may occasionally receive promotional content from the Los Angeles Times.