Fourth victim dies after deadly gun battle at underground Jamaican restaurant
Police say two groups exchanged gunfire inside and outside the restaurant, located in a converted home, in the West Adams district. Some diners were caught in the crossfire.
A fourth person has died from gunshot wounds following a bloody gun battle at a popular Jamaican restaurant over the weekend, officials said.
Details about the fourth victim were not immediately available, said Officer Liliana Preciado, a spokeswoman for the Los Angeles Police Department.
Los Angeles police detectives are still working to identify witnesses to Saturday's chaotic scene during a birthday party at a house in the 2900 block of Rimpau Boulevard, which also serves as an underground Jamaican eatery, she said.
Eleven others were injured in the shooting.
Those killed remained unidentified Monday as coroner's officials worked to notify their families. All of the dead were male.
Detectives asked for the public's help in providing more details about the deadly shooting.
The gunfire erupted after two men confronted another man, likely during a dispute over a drug deal gone bad, said Los Angeles Police Capt. Peter Whittingham. The man was shot and killed.
With about 50 people celebrating at the party, a gun battle then exploded between two groups -- one associated with the man who was shot and killed and the others defending the two men, the captain said.
The initial shooter and a second person, who police said fired into a crowd, ran away before police arrived.
A total of nine men and six women were struck by gunfire. Most victims have been released from hospitals.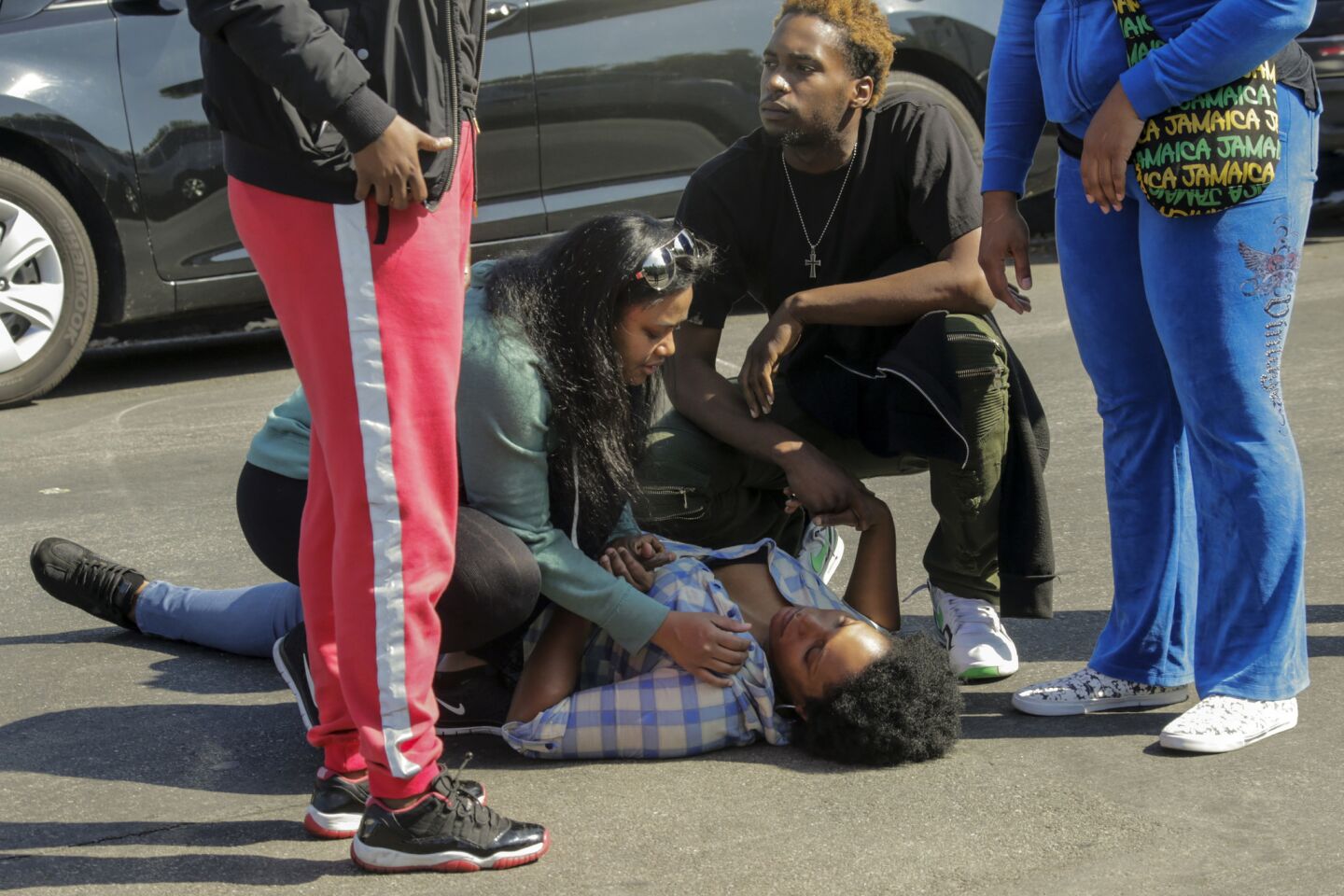 People tend to a woman who fainted after hearing of a friend's death in the West Adams shooting.
(Irfan Khan / Los Angeles Times)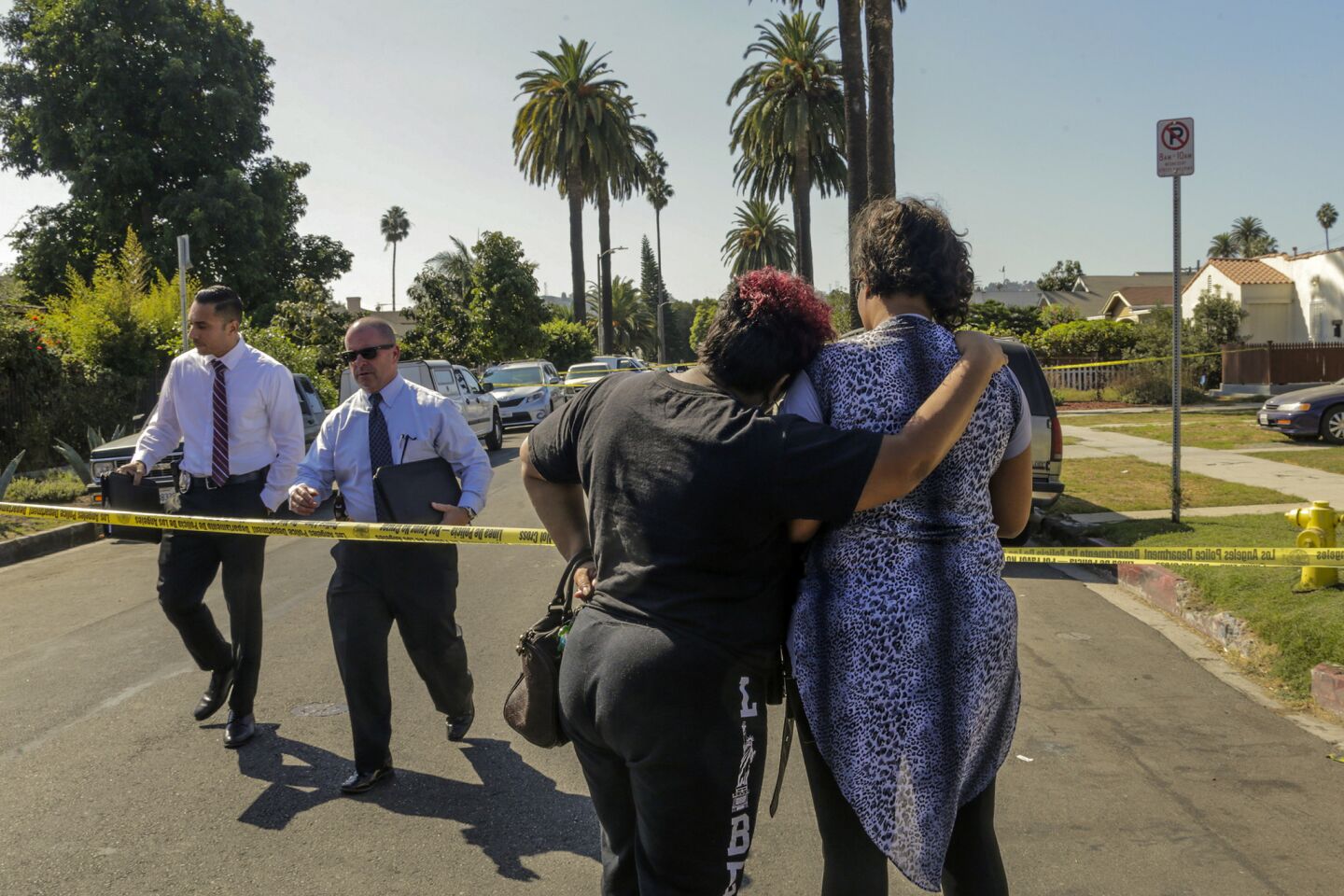 Detectives pass a woman, left, comforting the wife of a man who died in the shooting.
(Irfan Khan / Los Angeles Times)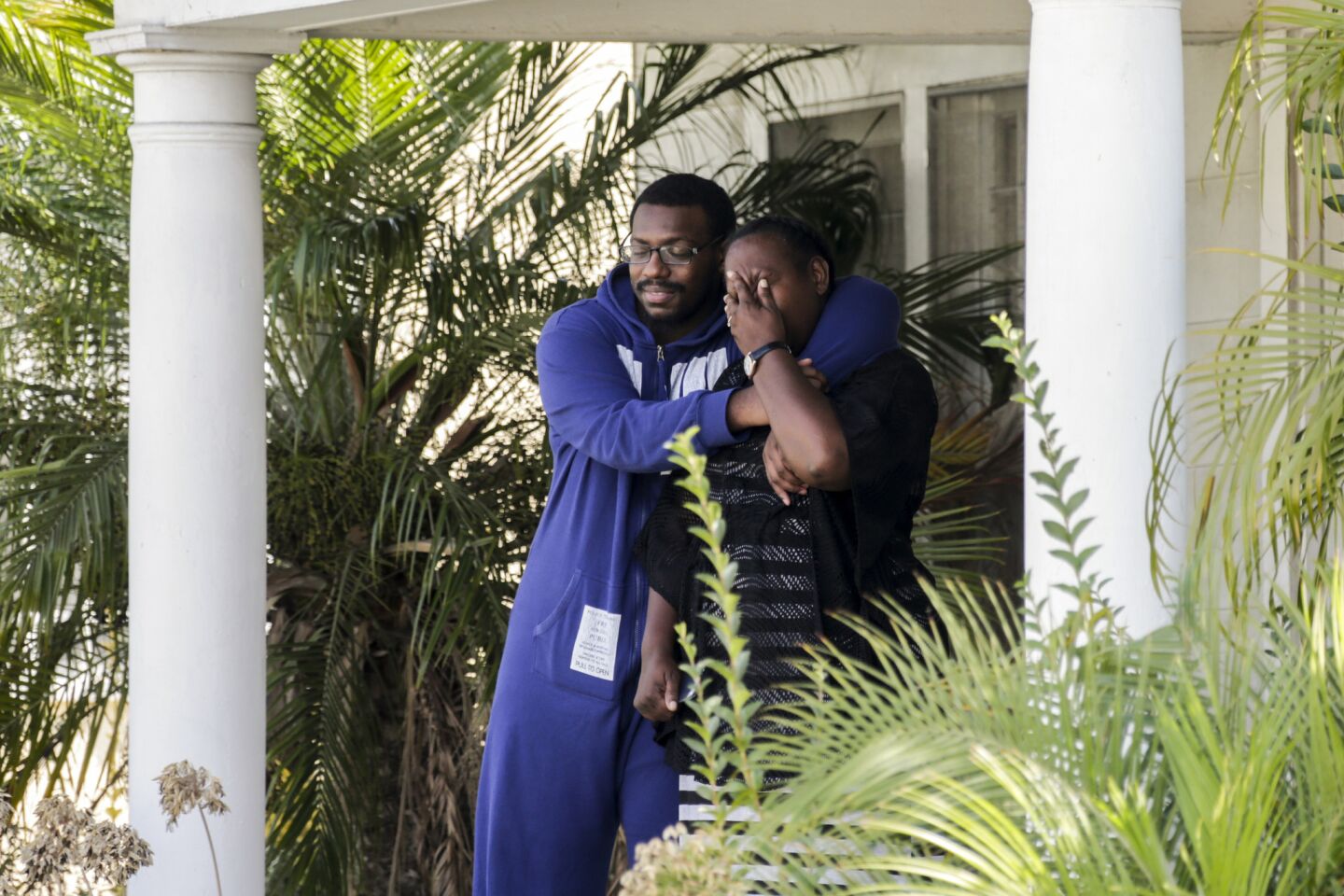 Two neighbors huddle together near the shooting scene.
(Irfan Khan / Los Angeles Times)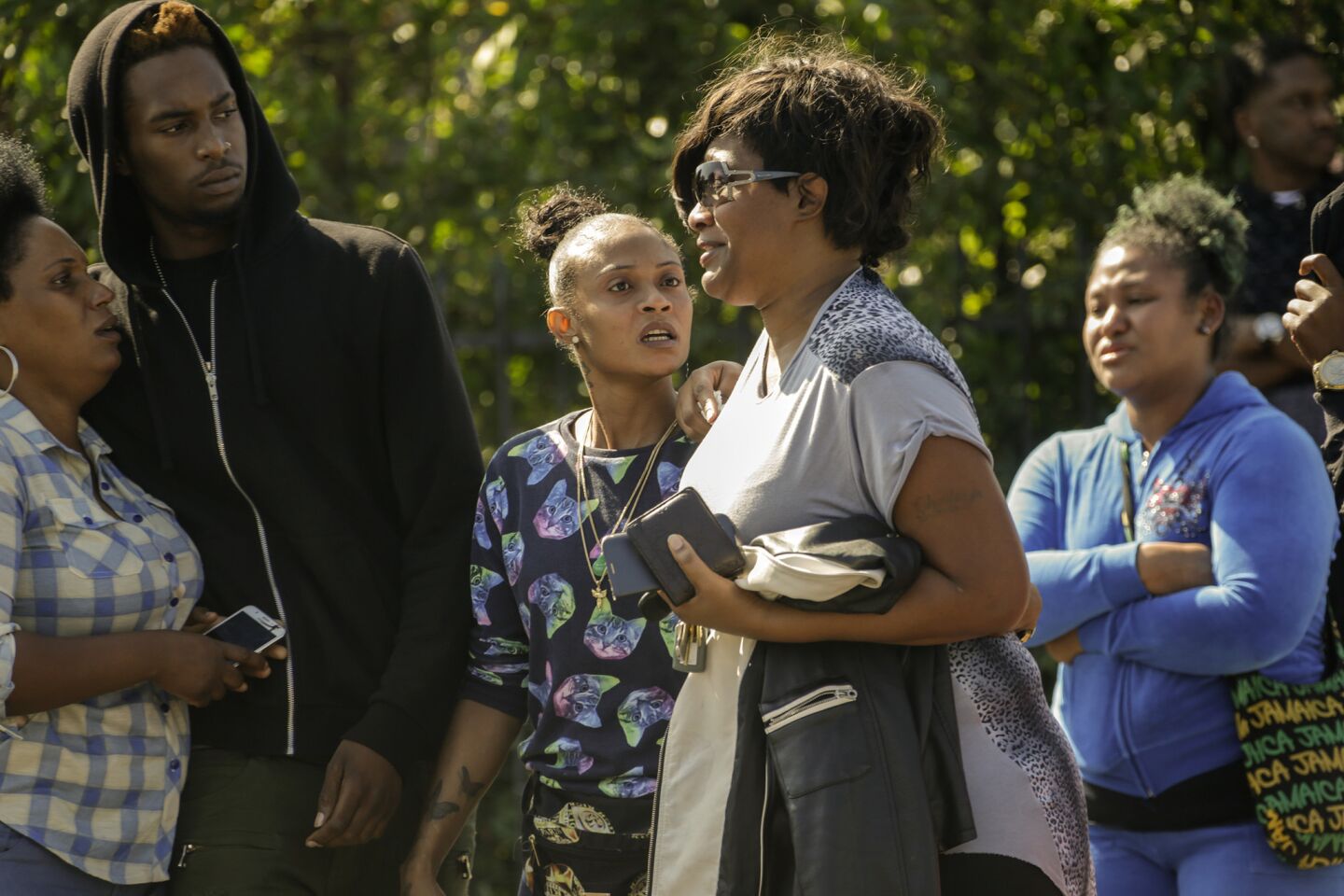 A woman, second from right, weeps after hearing her husband, 53, died in the shooting.
(Irfan Khan / Los Angeles Times)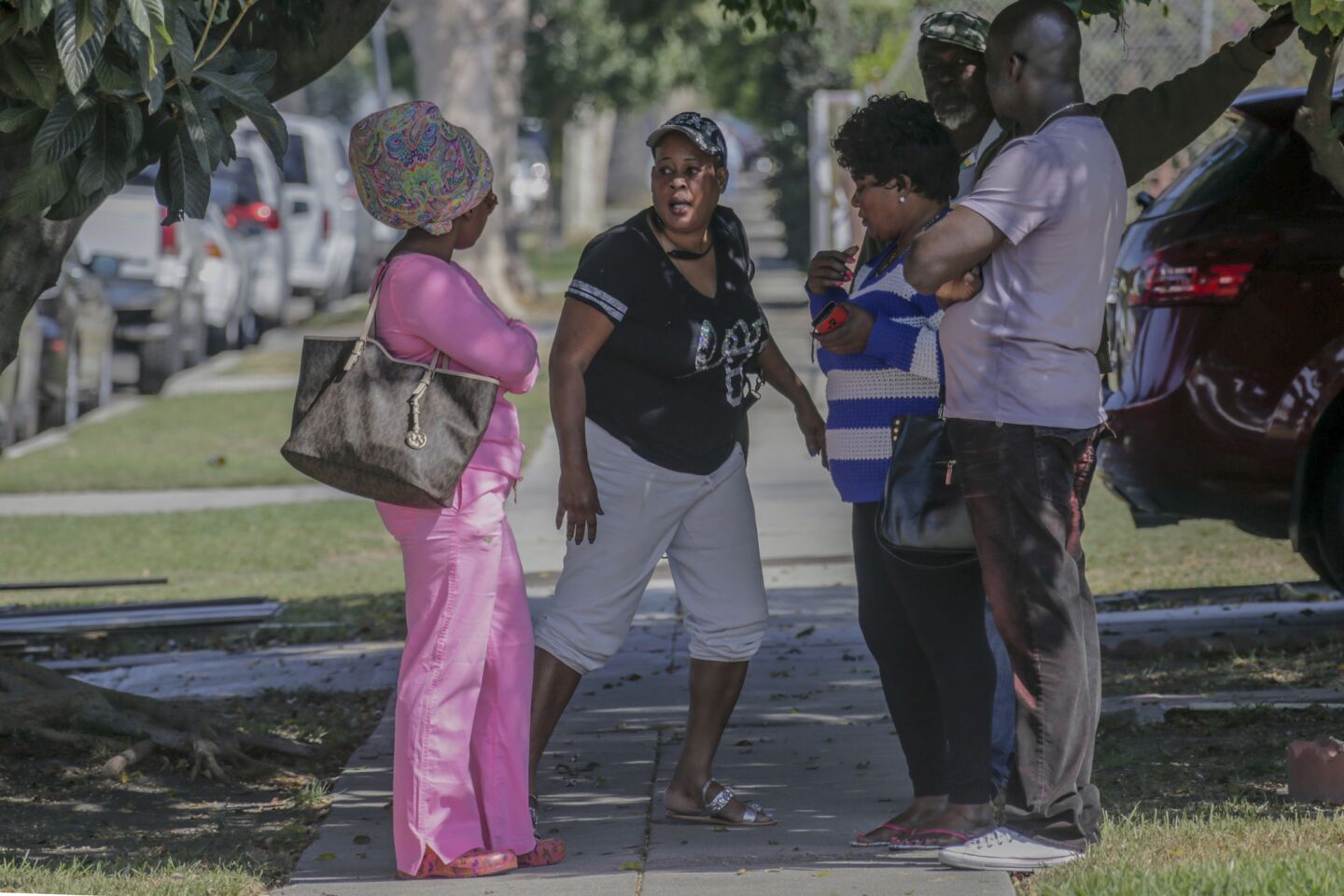 Residents and Jamaican community members gather near the shooting scene.
(Irfan Khan / Los Angeles Times)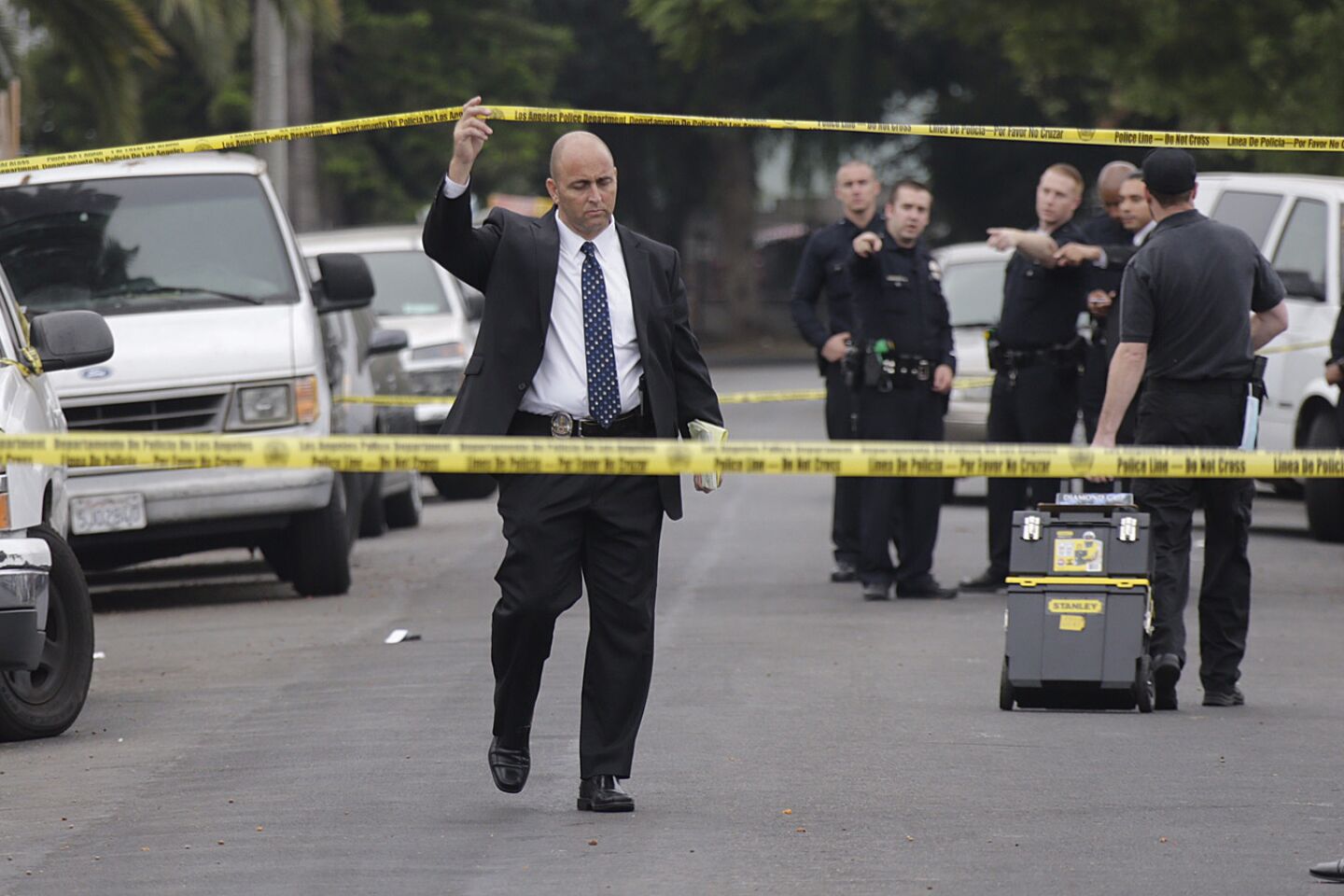 Police investigate the scene of a shooting at a West Adams restaurant on Oct. 15, 2016.
(Irfan Khan / Los Angeles Times)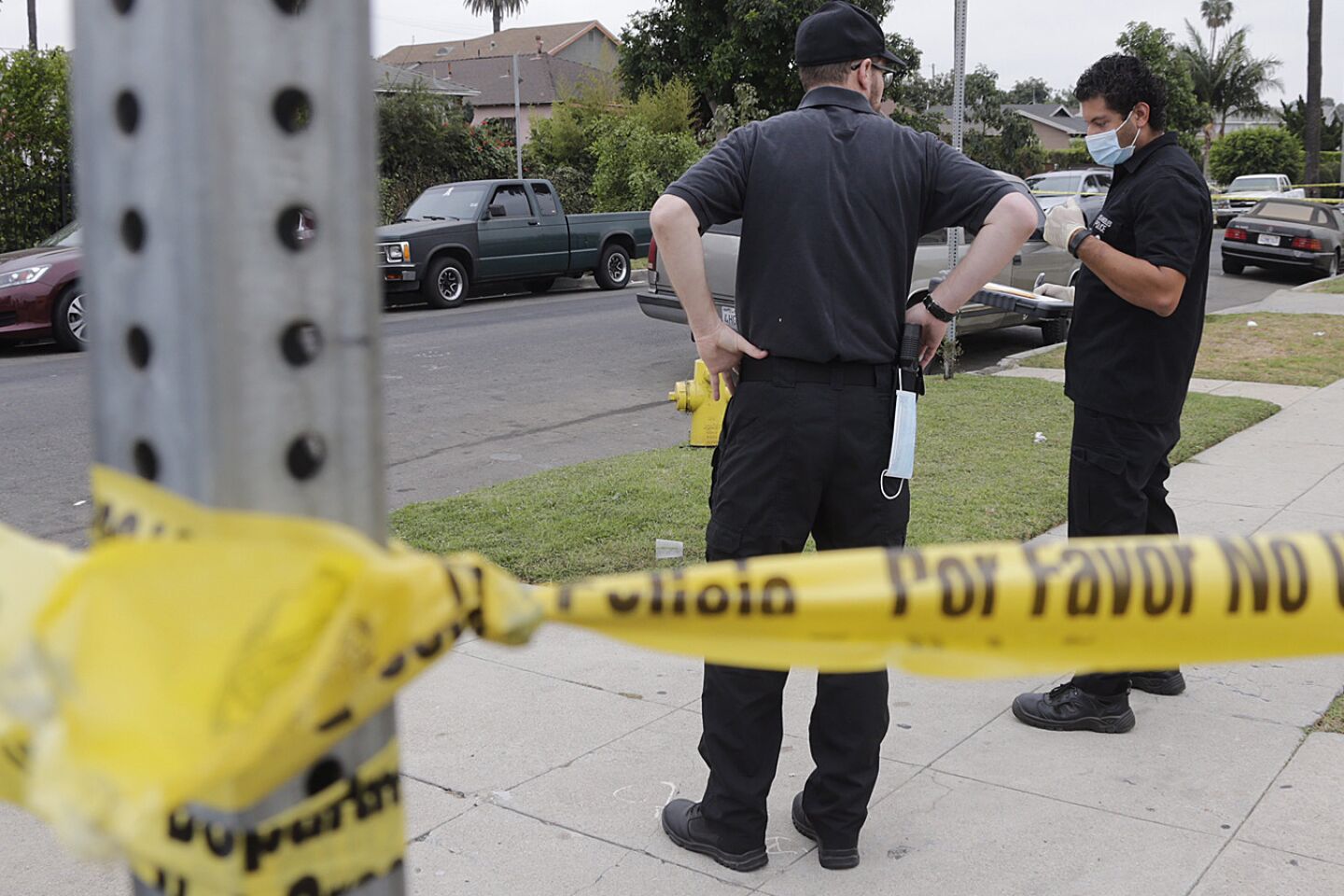 Officers cordon off the area near the West Adams restaurant where three people were shot to death early Saturday morning.
(Irfan Khan / Los Angeles Times)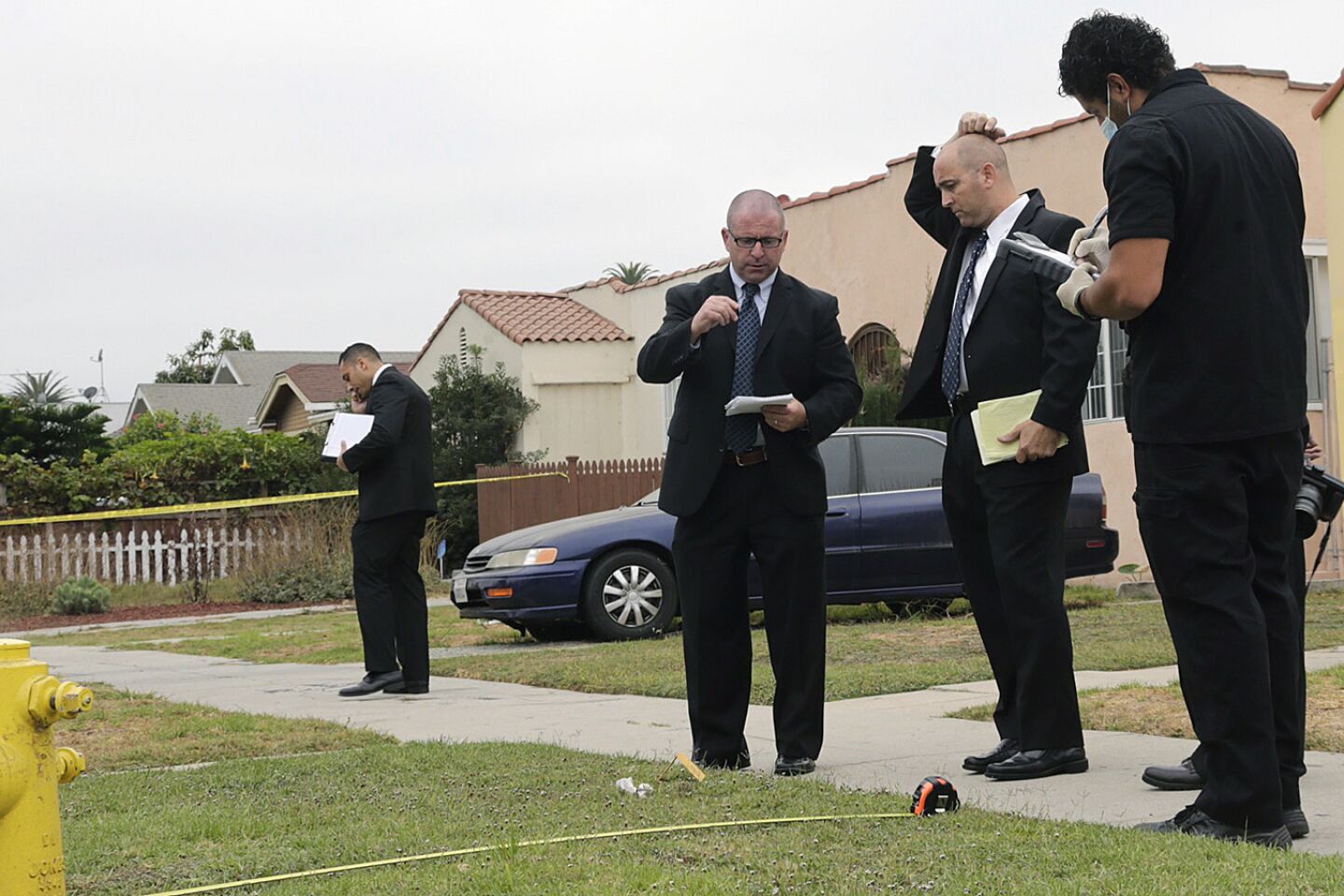 Investigators gather evidence after the shooting that left three dead and 12 wounded.
(Irfan Khan / Los Angeles Times)
On Sunday, police announced that they had arrested two Jamaican nationals on suspicion of murder in connection with the shooting. Mowayne McKay, 33, and Diego Reid, 25, were found at area hospitals where they were receiving treatment for gunshot wounds, Whittingham said.
The gunmen who killed the first victim remain at large, he said.
It is not yet known how many, if any, people were killed by shots fired by McKay or Reid, Whittingham said. After consulting with prosecutors, police decided the evidence against the men was strong enough to arrest them, he added.
The owner of the restaurant, who identified himself to The Times only as Dilly, said he was hosting a birthday party Friday night but that he did not know what prompted the shooting. He has been running a catering business from his home since 2003 and served food on Saturdays, he said. Patrons called the restaurant Dilly's Kitchen.
But after the weekend gun violence, Dilly said he planned to sell his home and move back to his native Jamaica.
The shooting comes amid a spike in crime this year in Los Angeles.
There had been no homicides in the West Adams district until this weekend, but the area had seen 109 violent crimes over the last six months, according to The Times' Crime L.A. database.
Through Oct. 8, overall crime rose 5.6% across the city compared with the same period last year, LAPD records show. Property crime was up 4.1%, and violent offenses climbed 10.9%.
Mayor Eric Garcetti said in a statement the West Adams shooting was "the latest example of a senseless gun violence epidemic that causes so much pain and sorrow in our city and across the nation."
Anyone with details about the shooting is urged to call gang homicide detectives David Dilkes or Isidro Soto at (323) 786-5110. Anyone wishing to remain anonymous should call the L.A. Regional Crime Stoppers at (800) 222-8477 or go directly to lacrimestoppers.
Staff writers Joel Rubin, Ben Poston, Brittny Mejia and Ruben Vives contributed to this report.
For breaking news in California, follow @VeronicaRochaLA on Twitter.
ALSO
Many UC workers struggle to feed themselves and their families, study shows
First rain of the season snarls traffic, but record-breaking heat is on the way
An Inglewood mother was fatally shot 13 times. But the police watchdog group has barely even met
---
UPDATES:
12:30 p.m.: This article was updated with a fourth person dead from the weekend shooting.
10:40 a.m.: This article was updated with LAPD crime figures through October.
This article was originally published at 10:30 a.m.
The stories shaping California
Get up to speed with our Essential California newsletter, sent six days a week.
You may occasionally receive promotional content from the Los Angeles Times.