Panic breaks out at a birthday party in West Adams: 'When the shooting started, everyone scattered'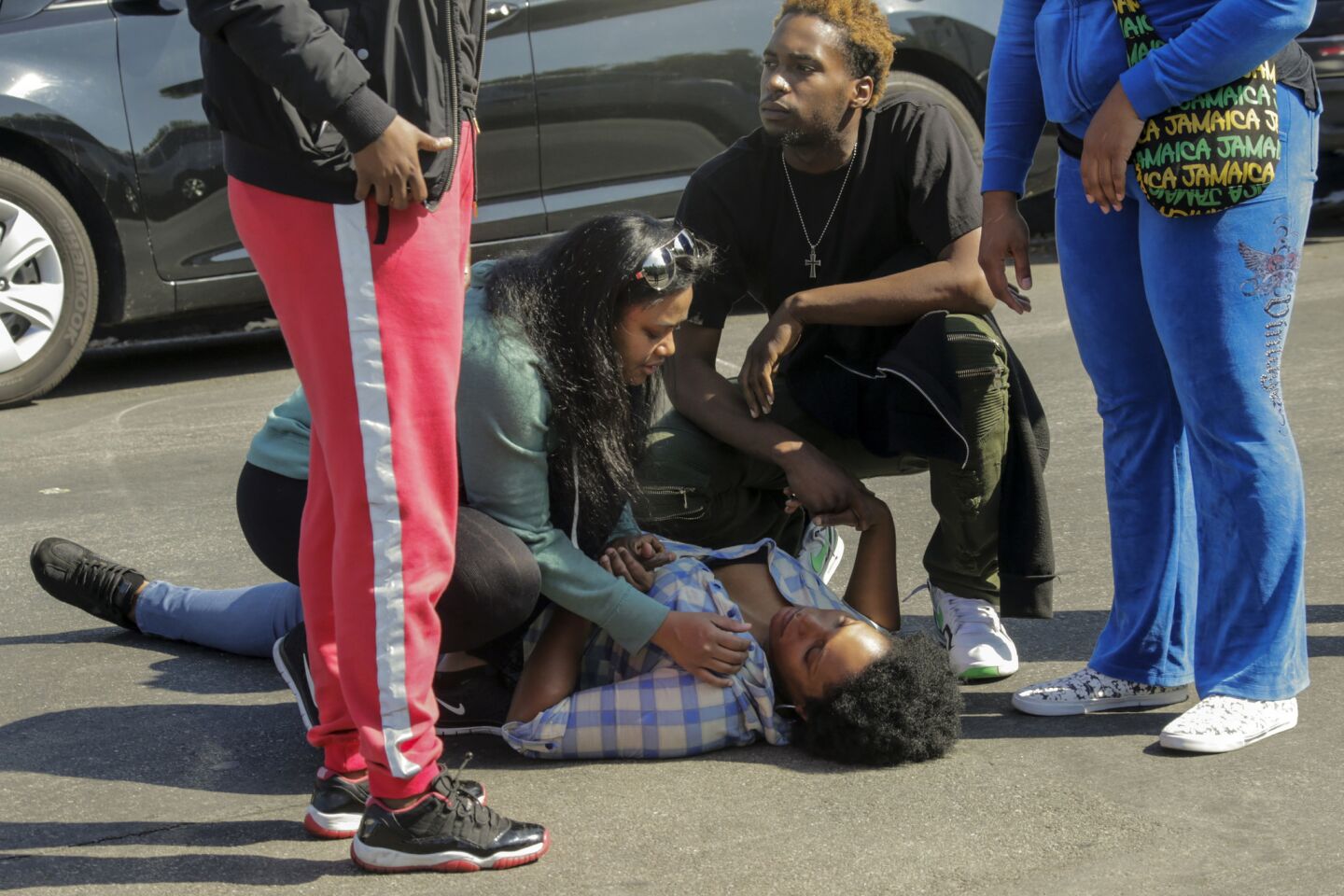 People tend to a woman who fainted after hearing of a friend's death in the West Adams shooting.
(Irfan Khan / Los Angeles Times)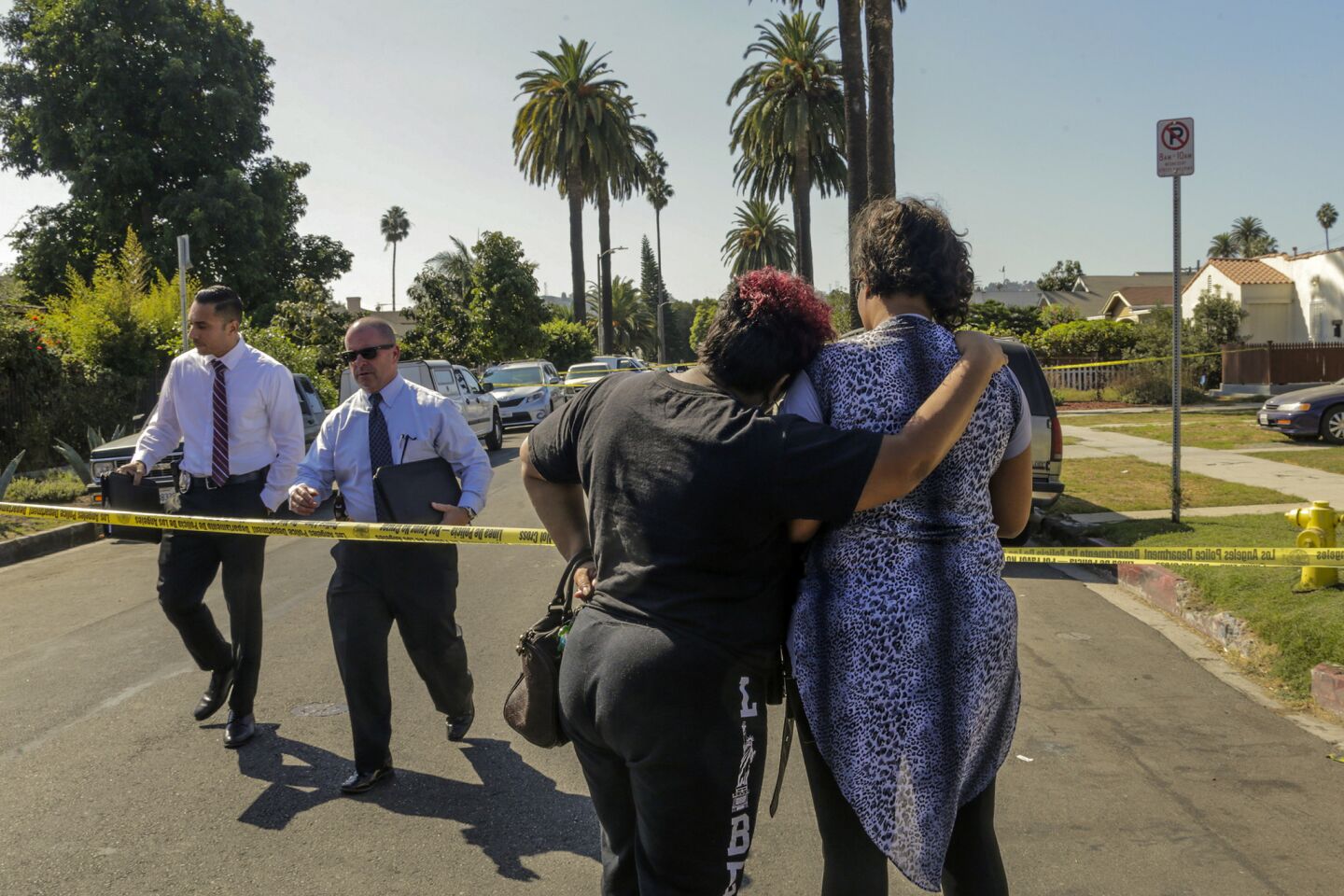 Detectives pass a woman, left, comforting the wife of a man who died in the shooting.
(Irfan Khan / Los Angeles Times)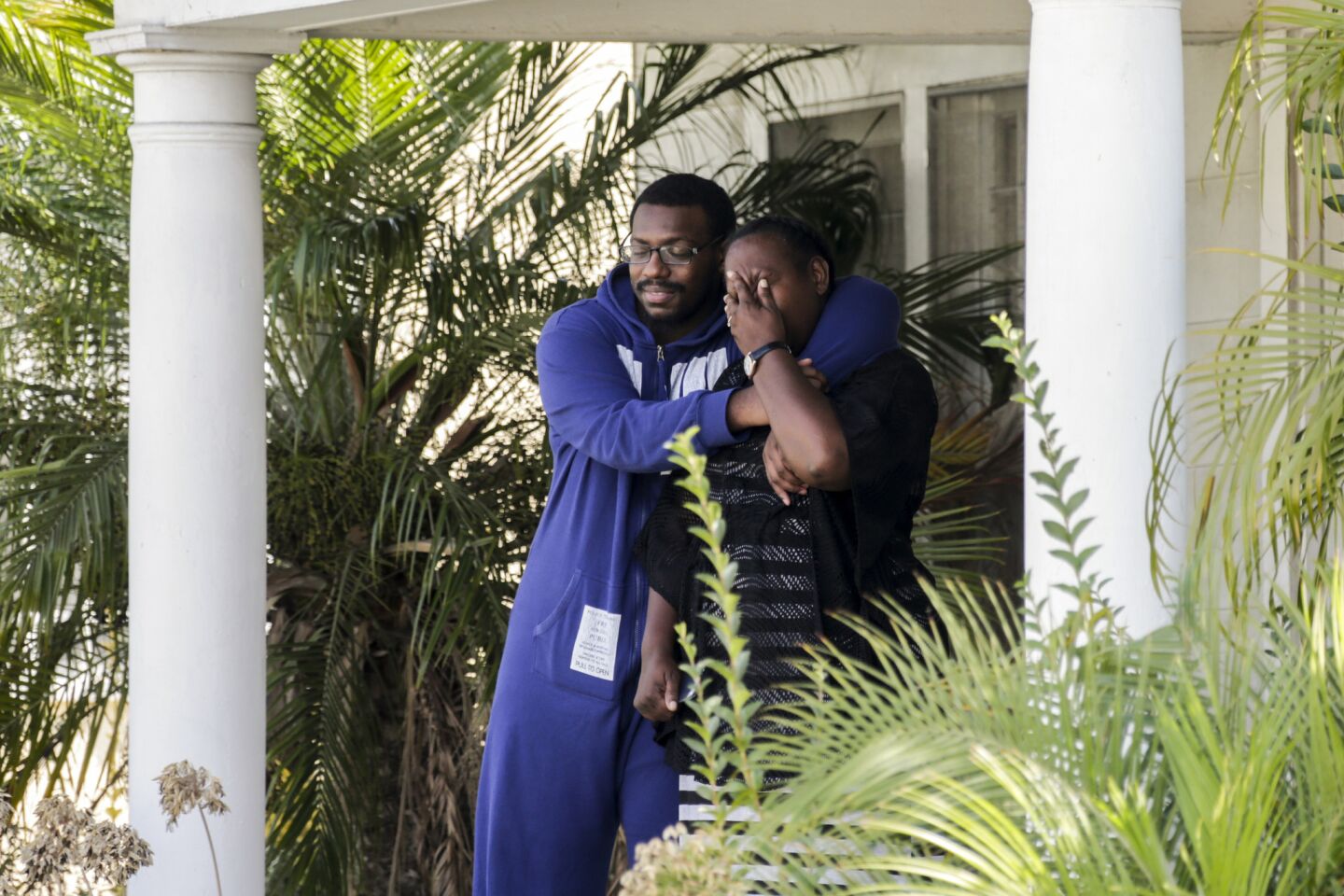 Two neighbors huddle together near the shooting scene.
(Irfan Khan / Los Angeles Times)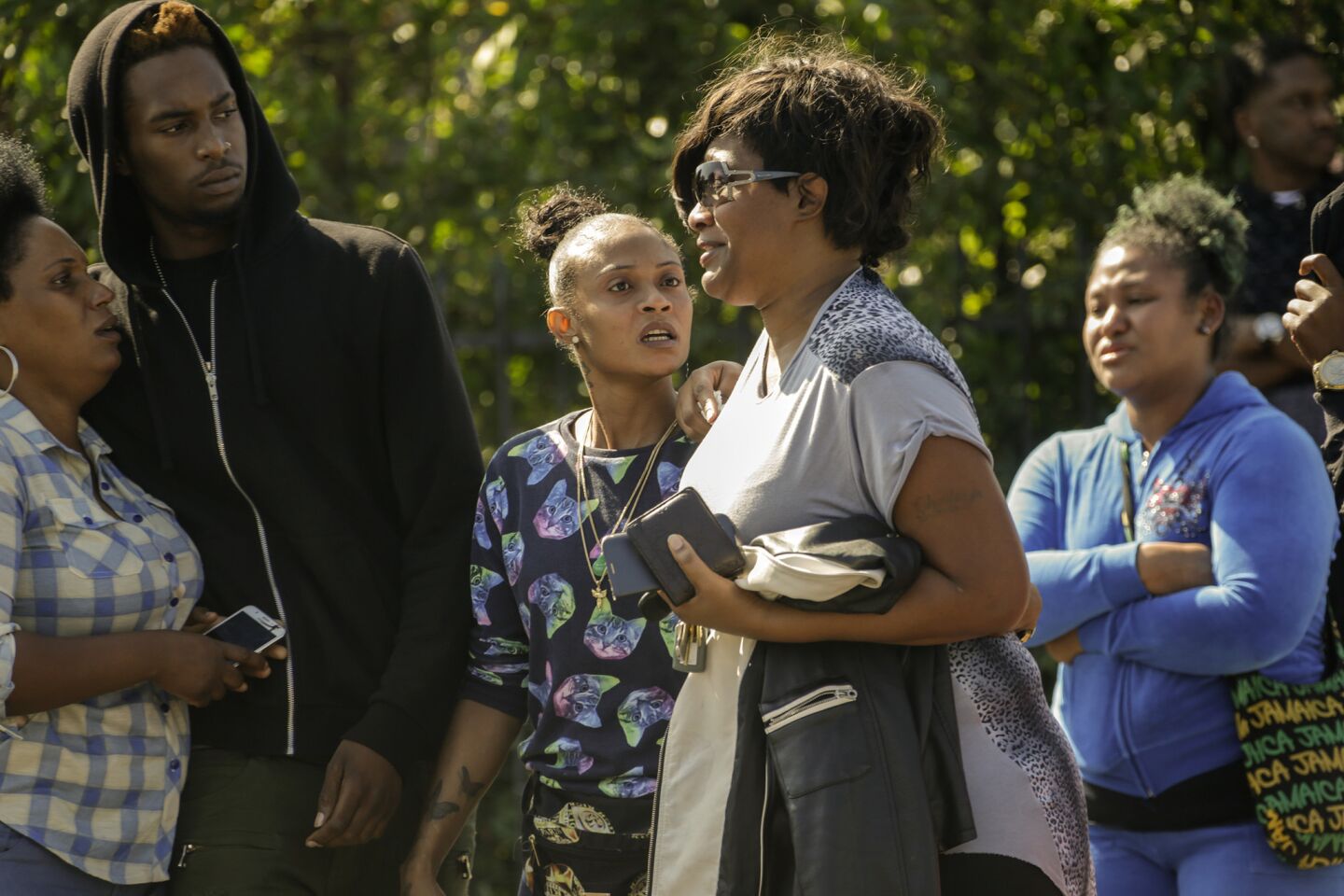 A woman, second from right, weeps after hearing her husband, 53, died in the shooting.
(Irfan Khan / Los Angeles Times)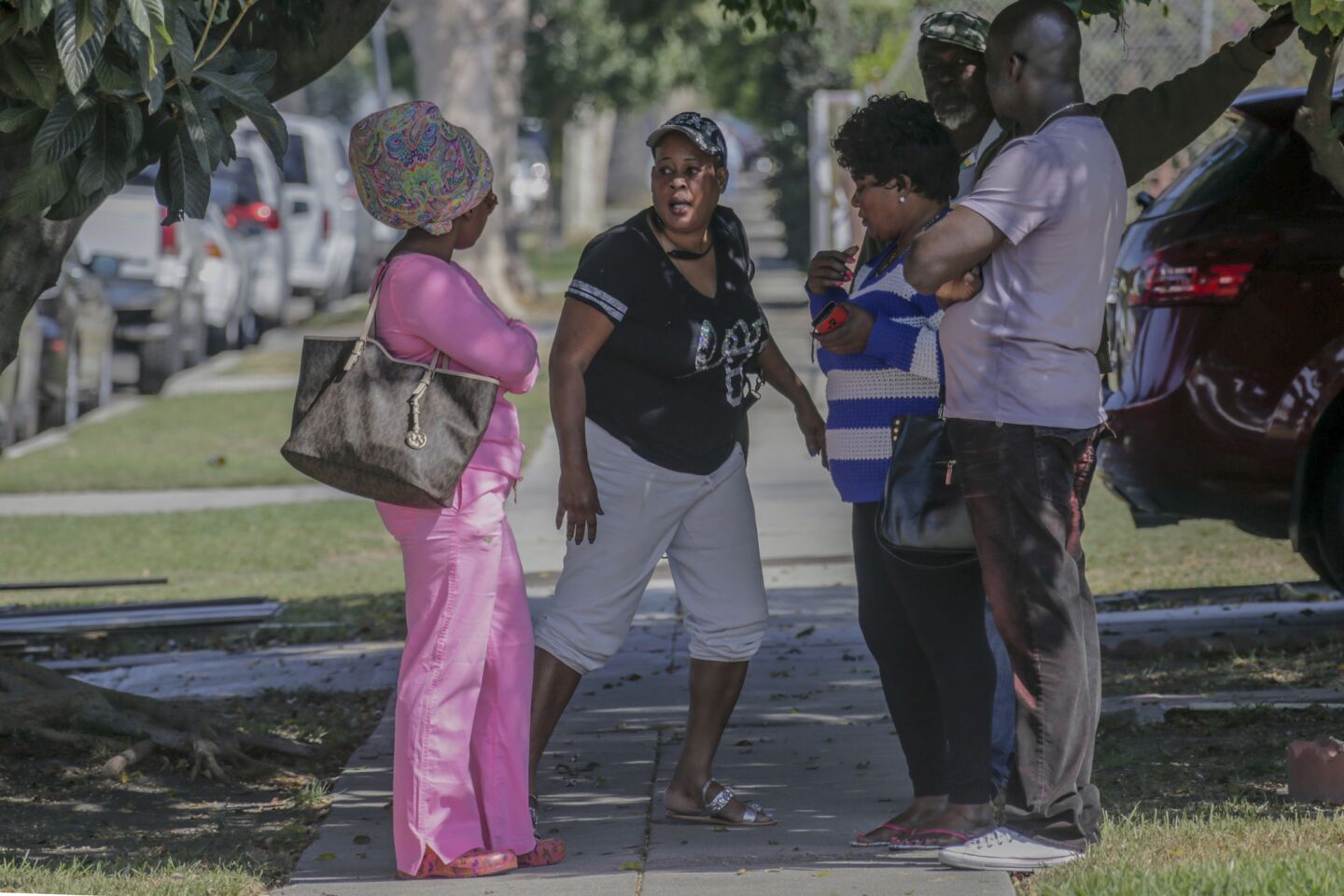 Residents and Jamaican community members gather near the shooting scene.
(Irfan Khan / Los Angeles Times)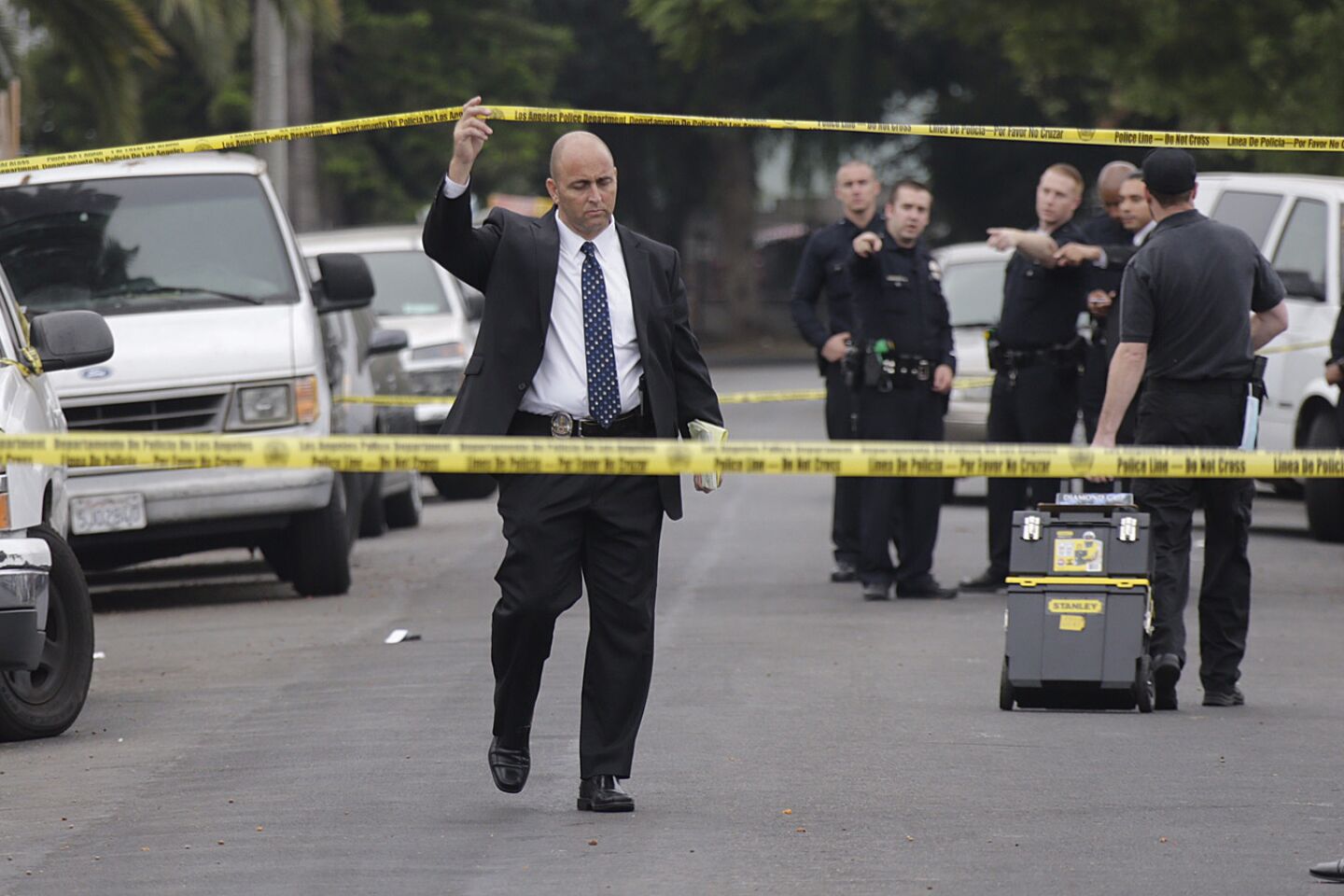 Police investigate the scene of a shooting at a West Adams restaurant on Oct. 15, 2016.
(Irfan Khan / Los Angeles Times)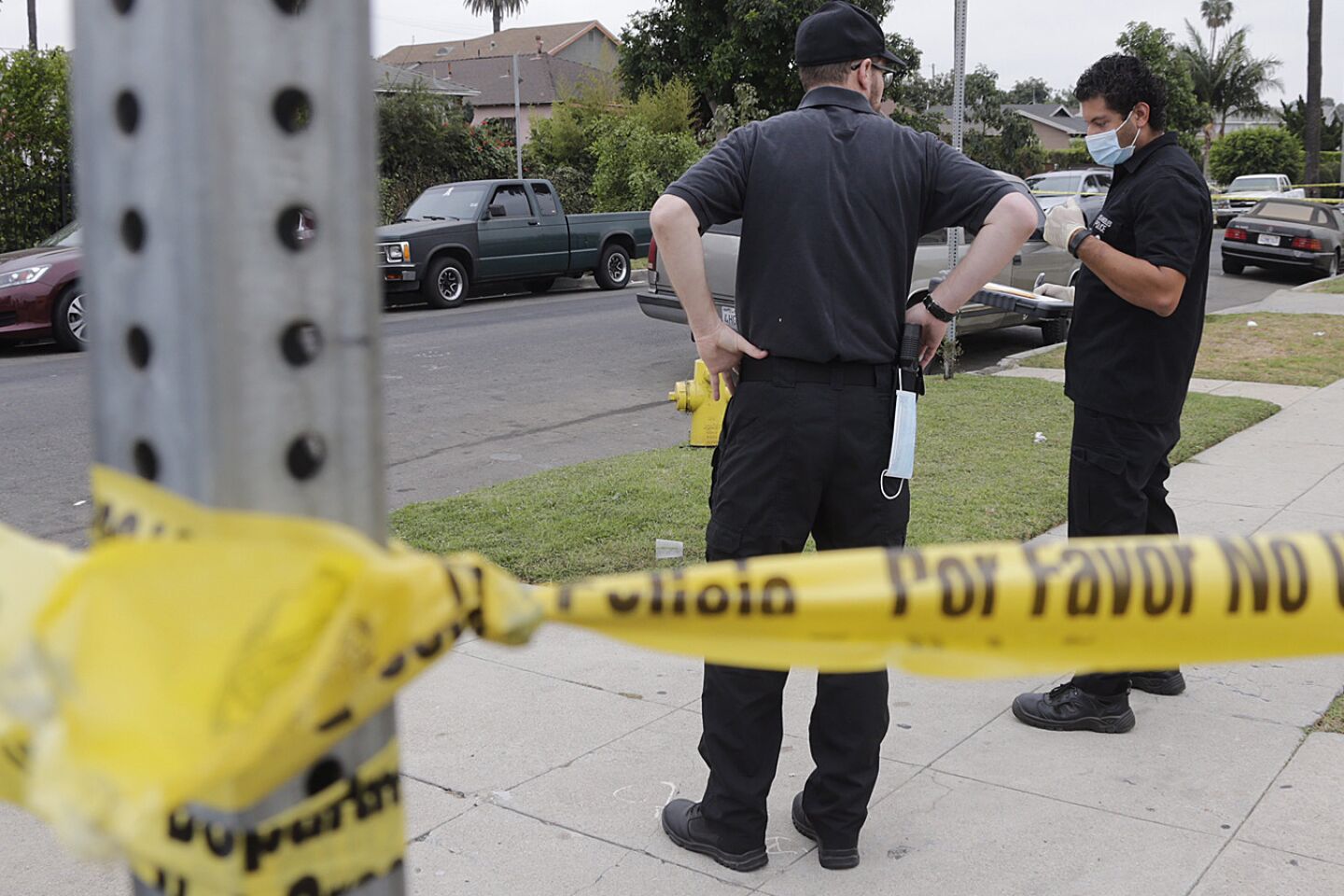 Officers cordon off the area near the West Adams restaurant where three people were shot to death early Saturday morning.
(Irfan Khan / Los Angeles Times)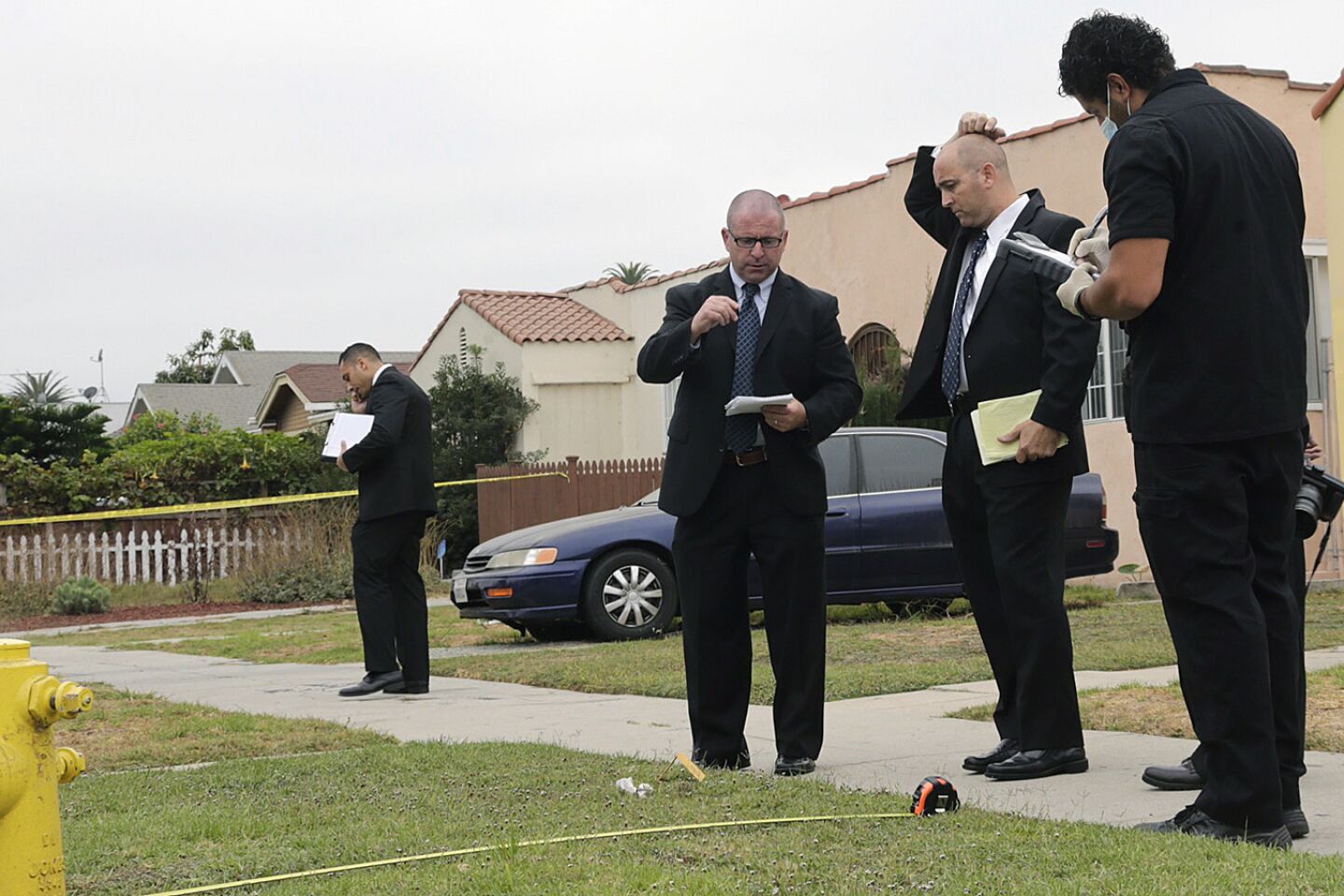 Investigators gather evidence after the shooting that left three dead and 12 wounded.
(Irfan Khan / Los Angeles Times)
The usual weekend crowd showed up for Jamaican food and music at a small stucco house in the West Adams district Friday, filling every parking space on the street and blocking driveways.
At about midnight, Paul Elen walked over to the house to ask the partygoers to move a car. A DJ was playing tunes and the house and frontyard were jammed with people.
Shortly after Elen returned to his brother's home, he heard gunfire.
"I heard about 15, 20 shots," he said. "First it was two shots, then they started firing again."
"My brother thought it was fireworks," Elen, 64, recalled Saturday. "I said, 'No, ain't no smoke in there. Them ain't fireworks, them gunshots.'" They were coming from the party.
When Los Angeles police arrived at the house in the 2900 block of South Rimpau Boulevard, they found a bloody, chaotic scene.
OnScene video shows police and paramedics tending to victims.
"There were three people dead and people running everywhere," said L.A. police Sgt. Frank Preciado. All of the dead were male.
Investigators are still trying to determine the chain of events and motive for the violence, which left 12 others wounded, some of them critically.
"This is real tragic," said Deputy Chief Bill Scott, head of the Los Angeles Police Department's South Bureau. "We have a lot of sorting out to do. When the shooting started, everyone scattered."
Police say a gunfight erupted when three men left the house after an argument, returned with weapons and began shooting. Others fired back and partygoers were caught in the crossfire as the gun battle spilled into the driveway.
On Saturday, authorities said they had identified two of the dead, recovered a gun from the scene and detained two persons of interest, a male and a female. The woman is among the wounded. But police had not identified the suspects.
"We have street names for these suspects but we don't know who the killers are yet. The people shot either don't know the killers or aren't telling us what they do know," said Capt. Peter Whittingham, the head of the South Bureau Criminal Gang Homicide unit. Detectives believe the shooters' main target died in the hail of bullets.
As to the motive, Whittingham said it may be more than a simple argument. "It may be a narcotics-related dispute … a dispute between parties over business transactions."
Detectives "need all the help we can get, especially from the Jamaican community," he added.
The house was a popular gathering spot in the Jamaican community and dozens were there Friday night for a birthday party.
The birthday cake was on a table in the frontyard and the mood was "real cool, real quiet, nice music. Everybody just chilling," said one man who was inside when the shooting began.
Then "chaos, chaos, chaos" broke out, said the man, who declined to give his name.
"For me, what was so scary was the magnitude of the explosion," he said. "I'm not a military expert, I'm not a handgun expert ... but the sounds, the explosions, those weren't no average handguns.
"And it was multiple guns involved. It wasn't one ... it was more than one."
The owner of the Jamaican eatery, who identified himself only as Dilly, said he has run a catering business out of his house since 2003 and served food on Saturdays. He said that he was hosting a birthday party Friday night but that he did not know what prompted the shooting.
"People come over and I cook food for them," said Dilly, 63, who moved to the U.S. from Kingston, Jamaica, 22 years ago.
Police say two groups exchanged gunfire inside and outside the restaurant, located in a converted home, in the West Adams district. Some diners were caught in the crossfire.
"There's no menu, just whatever he's cooking that day which is usually at least 7 different things," wrote one Internet reviewer.
This is not the first time gunfire has erupted at the house on a tree-lined block of modest bungalows and single-story homes in the gentrifying West Adams neighborhood.
In 2011, there was another fatal shooting that claimed a friend of his, said Dilly, who believes one of this weekend's dead was also a friend.
One neighborhood resident, who lives on nearby Westhaven Street but declined to give her name, said she heard "a series [of gunshots] first, like really fast, then a pause, almost like someone reloaded."
"It was specific, as if someone was pointing at people," she recalled.
From her window she watched people run by her house, screaming. Some held beer bottles. Many jumped in their cars and sped off, she said.
Within minutes, police helicopters were whirring overhead. Fire trucks and dozens of police cruisers swarmed into the neighborhood, blocking off nearby streets.
Blair Hamilton, 58, who lives on Westhaven a block from the shooting, said that when he came out of his house, he saw an older woman with a bloodied face, sitting on a curb next to two other women, one of whom also appeared to be injured. A girl lay on the curb, attended by another girl.
Some of the wounded were taken by ambulance to hospitals. Others drove themselves, authorities said.
The condition of the injured ranged "from as low as stable-but-serious to as high as critical condition," Officer Mike Lopez said Saturday.
We must take action against easy access to firearms and the thoughtless, indiscriminate, murderous use of them.
— Mayor Eric Garcetti
A neighbor, who identified herself only as Alice, said she has lived on the block for eight years. People start showing up at Dilly's in the early afternoon on Thursdays, Fridays and Saturdays, she said, and the street doesn't empty out until about 1 a.m.
"We can barely get in our neighborhood," she said. But she added the gatherings were not disruptive.
The shooting occurred in a year of rising crime in Los Angeles.
According to The Times' Crime L.A. database, the West Adams district has seen 109 violent crimes over the last six months, but no homicides until now.
Through July 16, overall crime rose 6.3% across the city compared with the same period last year, LAPD records show. Property crime was up 3.8%, and violent offenses climbed by 15.9%.
In a statement, Mayor Eric Garcetti said the West Adams shooting was "the latest example of a senseless gun violence epidemic that causes so much pain and sorrow in our city and across the nation."
"Our thoughts are with the families mourning or praying at bedsides today," Garcetti said. "We must take action against easy access to firearms and the thoughtless, indiscriminate, murderous use of them."
For Jamaicans, Dilly's was a place you can "feel at home because you're amongst people from your country that can relate to you," said the man who was inside the house when the shooting occurred.
If someone was planning a party or an event and didn't have a location, they could go to Dilly and ask if they could hold it there, he said.
"And he would accommodate you. That's the type of person he is," the man said. "He's well respected in our community, our Jamaican circles."
But this weekend's carnage was too much for Dilly.
He said he plans to sell the house and move back to Jamaica.
Times staff writers Bettina Boxall, Deborah Netburn, Anh Do and Angel Jennings contributed to this report.
MORE LOCAL NEWS
Fatal crash closes all lanes of the southbound 15 in Cajon Pass
4 die when car plunges off Coronado Bridge, hits crowd in park
San Francisco cop shot in head while responding to reports of a mentally disturbed person
The stories shaping California
Get up to speed with our Essential California newsletter, sent six days a week.
You may occasionally receive promotional content from the Los Angeles Times.