First West Nile virus death in L.A. County of 2018 season is confirmed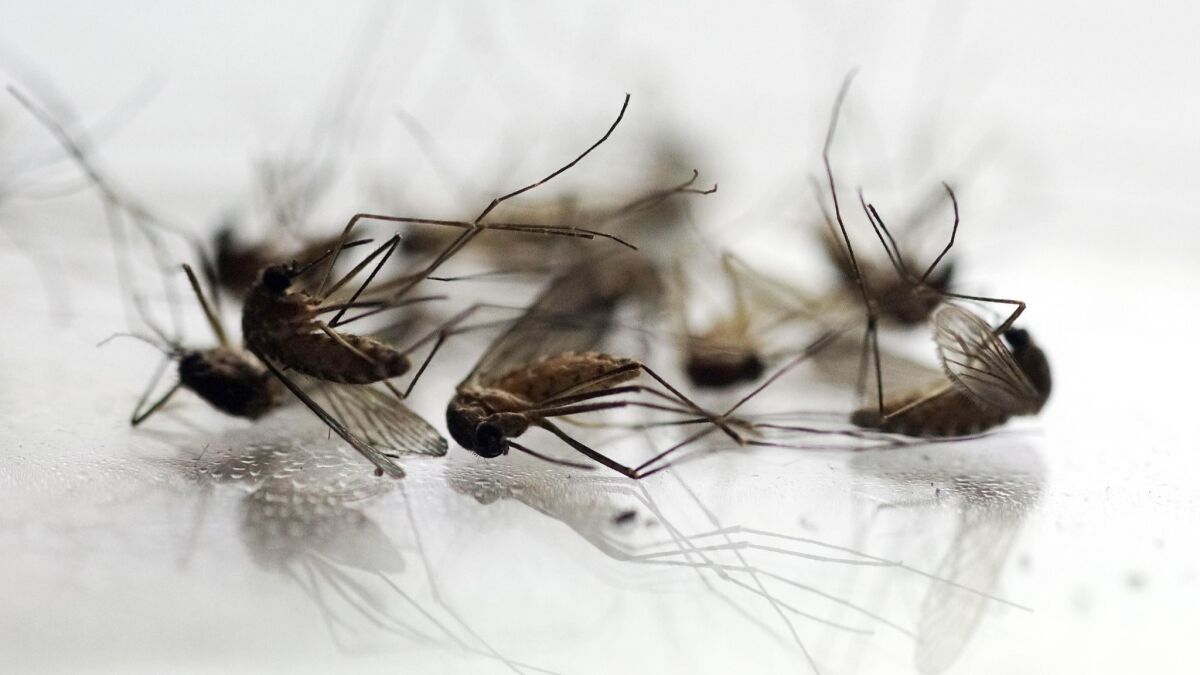 Los Angeles County health officials confirmed the first West Nile virus death on Wednesday, the latest in a handful of deaths related to the illness in the state this season.
The Los Angeles County Department of Public Health said the patient, a resident of the San Fernando Valley area, was hospitalized in early September and died from a neuro-invasive disease.
There have been 38 documented cases of West Nile virus among humans in Los Angeles County this year, officials said. That figure excludes Long Beach and Pasadena because cases in those cities are reported by their local health departments, authorities said.
"Our thoughts and prayers are with this person's family and friends during this sad time. This should remind all of us that West Nile virus is a serious disease," Muntu Davis, a county health officer, said in a statement.
Health officials recommend wearing insect repellent, long pants and long-sleeve shirts outdoors, especially at dawn and dusk, when mosquitoes are most active. They also recommend draining any standing water, such as in flowerpots or buckets, where mosquitoes can lay their eggs.
"Items that can hold water, even as small as a bottle cap, should be cleaned, covered or cleared out to stop mosquito breeding," Davis said.
The first 2018 West Nile deaths in the state were reported earlier this month in Glenn and Yuba counties, the officials said. Two other deaths occurred in Placer and Yolo counties.
West Nile season typically begins with warmer weather in the summer and continues into the fall. One hundred people from 25 California counties have tested positive for West Nile virus this year, authorities said.
The virus exists mostly in birds but can be transmitted to mosquitoes that bite infected foul. Humans — and horses — get the disease when they're bitten by those mosquitoes.
Most people who contract the virus don't notice any symptoms. But a very small number can develop encephalitis or meningitis that can be fatal. In 2017, mosquitoes infected at least 553 Californians with serious cases of West Nile virus, leading to more than 40 deaths. A record 27 deaths were documented among L.A. County's 268 cases last year.
People 50 and older, as well as those with chronic medical conditions such as cancer and diabetes, are at increased risk of "severe neuro-invasive disease" from West Nile, authorities said. In many cases, recovery can take as long as one year with ongoing physical and mental problems.
For more California news follow me on Twitter: @sarahparvini
---
Life is stressful. Our weekly mental wellness newsletter can help.
You may occasionally receive promotional content from the Los Angeles Times.