Early election results show development measure in Beverly Hills trailing; Santa Monica could follow suit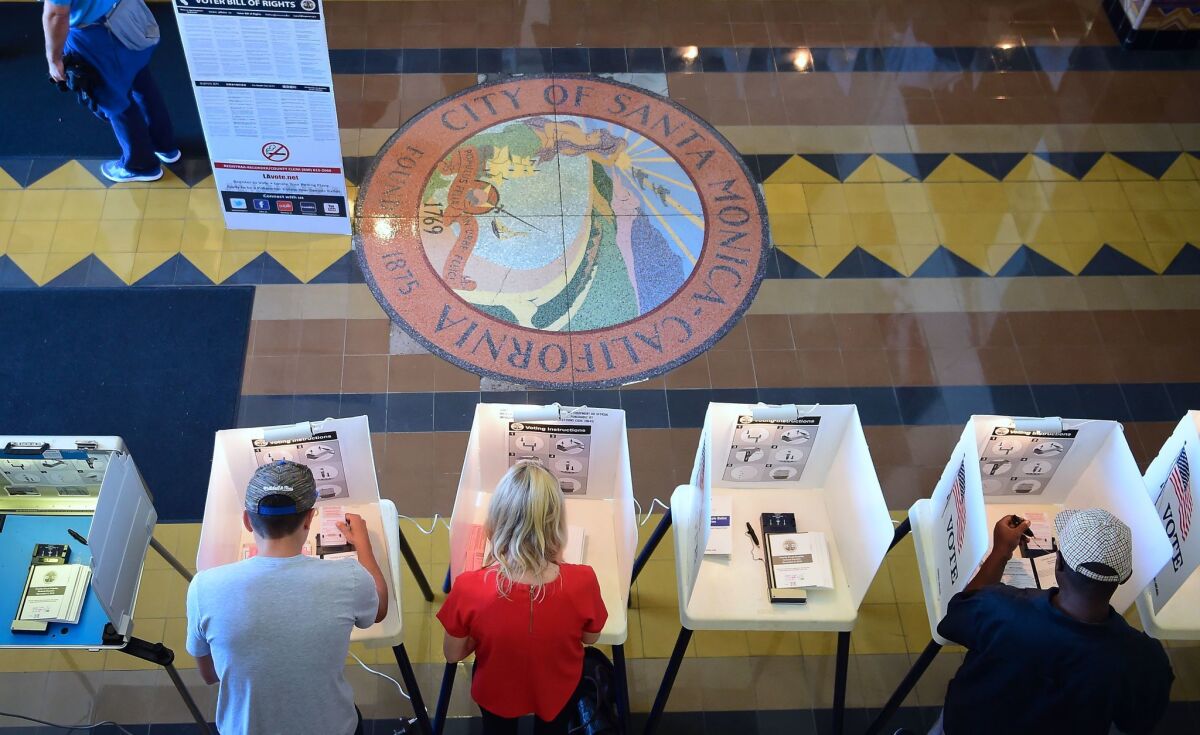 Voters on Los Angeles' Westside headed to the polls Tuesday to decide two controversial development initiatives, with Santa Monica considering strict slow-growth measures and Beverly Hills debating a contentious bid to erect the tallest building the city has ever seen.
The election comes as both cities consider how best to manage urban growth, a hot-button issue that Los Angeles and many other areas are grappling with as well. Santa Monica's Measure LV and Beverly Hills' Measure HH offer a preview of a much larger debate brewing in Los Angeles, where voters in March will consider growth limits.
In early results, Measure HH was trailing. About 42.57% of voters backed the measure, and 57.43% opposed it.
In Santa Monica, with very few ballots counted, Measure LV was lagging.
The Santa Monica measure would require elections for most development projects taller than 32 to 36 feet — a low bar covering many new apartment and condo developments as well as office and retail projects.
Measure LV comes as Santa Monica sees a boom in new projects, with developers seeking to take advantage of the new Expo Line and the city's bustling downtown area. Urban planners are increasingly favoring this kind of multiuse development to foster walkable neighborhoods and encourage residents to ride bikes or take mass transit rather than drive.
But in Santa Monica and elsewhere, the push has created a backlash.
Backers of the measure fear the influx of luxury developments could eventually price out Santa Monica's renters, who make up 70% of the city's 93,000 residents. They argue that the planning process at City Hall is rigged to favor deep-pocketed developers who promise a meager number of affordable housing units in order to build expensive mega-developments. The law would grant exemptions from public votes for some affordable-housing, moderate-income and senior-housing projects.
Slow-growth (and no-growth) forces stress the value of preservation and the need to protect residents from rapid gentrification. Pro-growth groups argue more development is needed to address the region's soaring rents and shortage of housing units.
If passed, the measure would become law for 20 years. No provision of the initiative could be amended or repealed, except by a majority of the voters in a special or general election.
In Beverly Hills, a $700-million project sparked a multimillion-dollar public relations battle over the Beverly Hilton's plans to build a 26-story, 375-foot-tall condominium tower adjacent to the landmark hotel at Wilshire and Santa Monica boulevards.
Plans call for stacking two previously approved condominium towers of eight and 18 stories each, while adding a Waldorf Astoria hotel and expanding a green space from 1.25 acre to 1.7 acre. If voters reject Measure HH, the project's developers, real estate investor Beny Alagem and his Oasis West Realty, may proceed with their previous plans for two smaller condo towers at the site.
The ballot initiative sparked political uproar in the wealthy enclave, not just because of the height of the proposed tower but also because Alagem chose to skirt the usual public review process by taking approval directly to voters instead of city planners and elected officials.
Mayor John Mirisch has been among the staunchest foes.
"This is a skyscraper initiative masquerading as a garden and open space initiative," he said in an interview, warning that the project would harm the small-town feel and architectural character of the city.
The contentious campaign sparked allegations of voter fraud, including that more than 300 Beverly Hills voters were registered illegally to post office boxes rather than their home addresses. The allegations were made by Beverly Hills Residents and Businesses to Preserve Our City, a committee sponsored by a competing developer, Chinese entertainment and real estate giant Wanda Group.
Los Angeles County Registrar-Recorder Dean Logan said late last week that the 300 challenged registrations had been placed in a "pending" status, with verification letters and emails sent to those voters seeking legitimate addresses.
--
Follow @sarahparvini and @kchristensenLAT on Twitter.
---
UPDATES:
8:50 p.m.: This article was updated with preliminary election results.
This article was originally published at 7:20 p.m.
The stories shaping California
Get up to speed with our Essential California newsletter, sent six days a week.
You may occasionally receive promotional content from the Los Angeles Times.