Another 2 or 3 years of drought? Report looks at what it might mean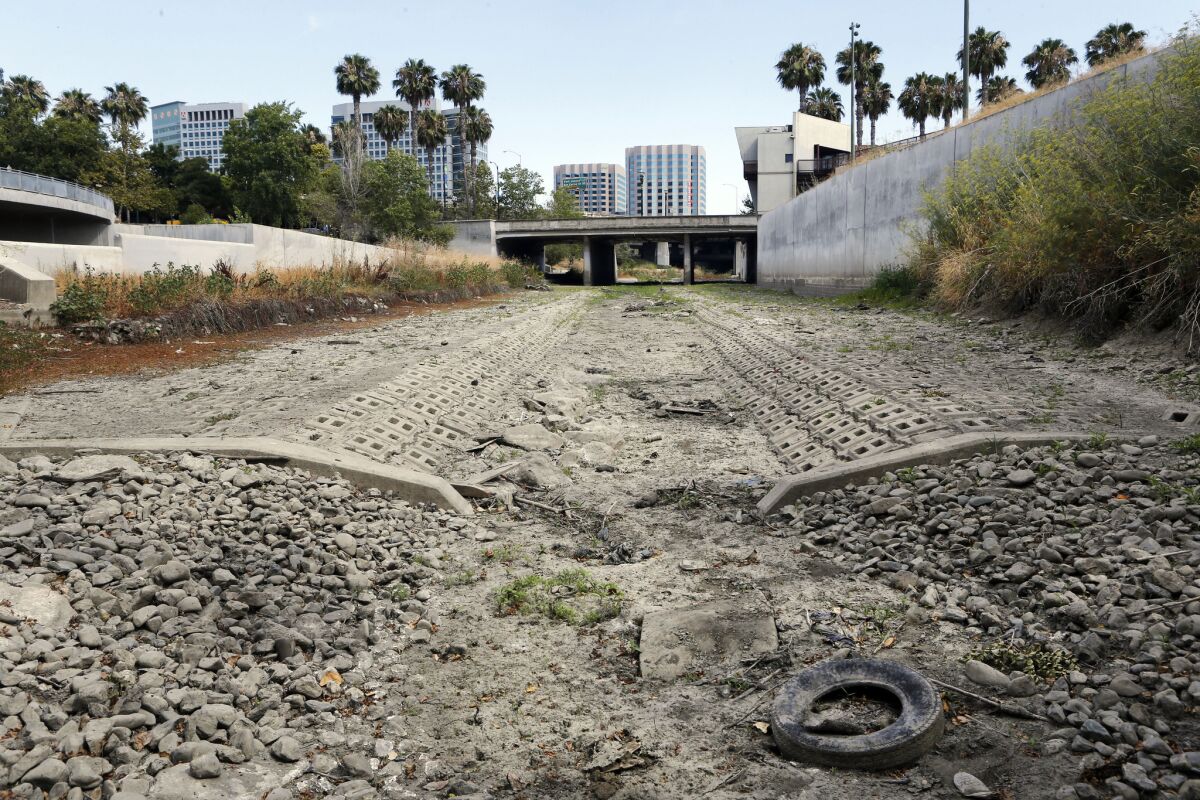 Reporting from San Francisco —
Should the current drought extend for another two or three years, most California cities and much of the state's agriculture would be able to manage, but the toll on small rural communities dependent on well-water and on wetlands and wildlife could be extensive.
That was the assessment of a new study from the Public Policy Institute of California, released late Tuesday.
Bearing the ominous title "What If California Drought Continues," the report cautions that "it would not be prudent to count on El Nino to end the drought."
Ellen Hanak, director of the PPIC Water Policy Center and a co-author of the study, said: "This drought is serving as a stress test for California's water management systems. Californians have worked hard to limit its impacts, but the experience has also revealed major gaps in our readiness to cope with the droughts we expect in the future."
Interested in the stories shaping California? Sign up for the free Essential California newsletter >>
While the drought's impacts have been felt across California, the study finds that, in general, urban regions — benefiting from improvements in efficiencies, conservation, water management practices and other by-products of previous droughts — stand out as a "bright spot."
"California's cities and suburbs — home to 95 percent of California's population and an even higher share of economic activity — have become," the study observes, "considerably more resilient since the 1987-92 drought, despite the addition of more than eight million residents since that time."
Compared to urban California, it says, "farmers are more vulnerable, but they are also adapting." With the fallowing of extensive acreage — land mainly used for field crops such as rice — and increased pumping of groundwater, the farm sector in general has managed to maintain productivity in the more lucrative tree and vine crops.
"The greatest vulnerabilities," the PPIC forecast suggests, "are in some low-income rural communities where wells are running dry and in California's wetlands, rivers, and forests, where the state's iconic biodiversity is under extreme threat."
Water and Power is The Times' guide to the drought. Sign up to get the free newsletter >>
An extended drought, according to the study, would threaten extinction in the wild for 18 native species of fish and higher rates of mortality among migratory waterfowl.
"California was unprepared for this environmental emergency," the report asserts, "and is now struggling to implement stopgap measures."
The study was funded by the California Water Foundation.
In addition to Hanak, the report lists several California scientists and analysts as co-authors.
Their collective analysis, they write, "is informed by wide-ranging data sources and by conversations with officials, business, and stakeholders on the frontlines of drought management."
Twitter: @peterhking
ALSO:
21 California groundwater basins in 'critical' condition, state panel says
Another toll of the drought: Land is sinking fast in San Joaquin Valley, study shows
LAPD report: Woman fatally shot last week had moved toward officer with knife
The stories shaping California
Get up to speed with our Essential California newsletter, sent six days a week.
You may occasionally receive promotional content from the Los Angeles Times.