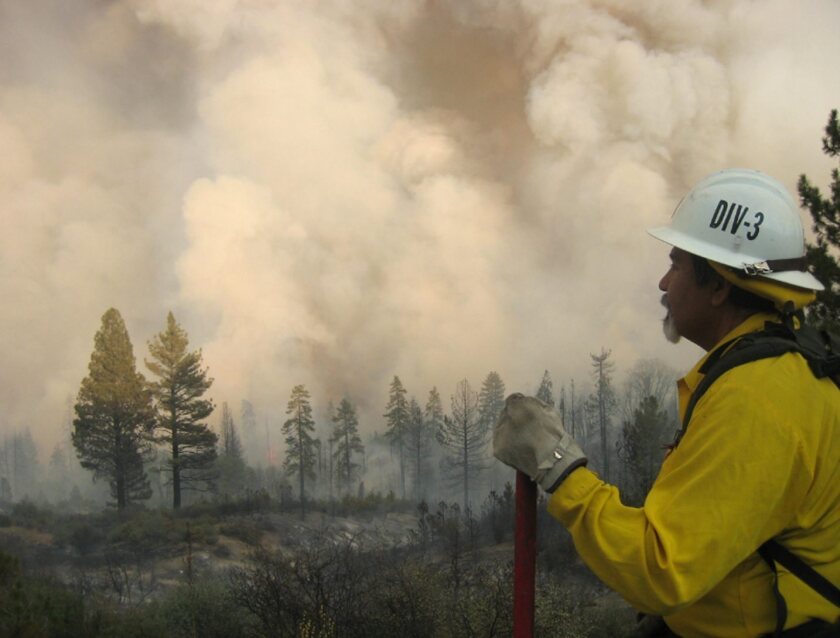 California's largest wildfire, a stubborn blaze in the Sierra Nevada that has forced officials to shut down camping in nearby Kings Canyon National Park, continued to grow Monday and forced Fresno County officials to impose mandatory evacuation orders.
The Rough fire, burning east of Fresno, spread to 95,183 acres, or nearly 149 square miles, according to the U.S. Forest Service. As of Monday evening, the fire was 31% contained, the agency said.
The nearly 2,000 firefighters who are deployed have contended with "extreme fire behavior" — including unpredictable winds, low humidity, high temperatures and rugged terrain — since the blaze was ignited July 31 by a lightning strike, said Jim Schwarber, a spokesman for the Rough fire from Alaska's Division of Forestry. The cost of the firefighting effort has exceeded $67 million, a Forest Service spokeswoman said.
On Monday, crews struggled to secure a containment line stretching from Kings River to Converse Basin — a sequoia grove in Giant Sequoia National Monument, Schwarber said. There, volatile conditions left a hotshot firefighter with burn injuries about 8 a.m., according to the Forest Service. The firefighter, whose identity was not released, was airlifted to the hospital and is listed in stable condition.
The precarious security of the fire line near Converse Basin, along the fire's southern flank, forced the Fresno County Sheriff's Office to evacuate residents in Crabtree, Cherry Gap, Dunlap and other surrounding areas. It's unclear how many residents were affected.
Officials were also concentrating on flames approaching Cedar Grove, a small development near California 180 on the fire's eastern edge.
Evacuations had not been ordered since Aug. 20, when campers, hikers and residents from Hume Lake Christian Camp and nearby areas were forced to leave. But the blaze has proved difficult to contain, chewing through bone-dry chaparral and timber as flames spread to the John Muir and Monarch wildernesses.
Favorable winds Sunday allowed firefighters to complete controlled burns on the southwestern edge of the fire, which removed some potential fuel and helped limit the blaze, said Kristen Miller, a Forest Service spokeswoman.
Heavy smoke continues to blanket the area, including Cedar Grove, Wishon Reservoir and Hoist Ridge. The threat of fire coupled with hazards from smoke have forced officials to close campgrounds in Kings Canyon National Park along with some cabins and campsites in the Sequoia National Forest.
Smoke has also complicated the firefighting effort, forcing officials to scale back aerial operations because of limited visibility. The blaze is expected to remain active this week, with temperatures forecast to rise as humidity falls.
For breaking news in California, follow @MattHjourno.
Interested in the stories shaping California? Sign up for the free Essential California newsletter >>
ALSO
Son of former 49ers CEO killed in boat crash off Catalina Island
Ice Age fossils unearthed at Carlsbad construction site
Man who died after confrontation with Long Beach police identified
---