Rain and low-elevation snow expected with cold winter storm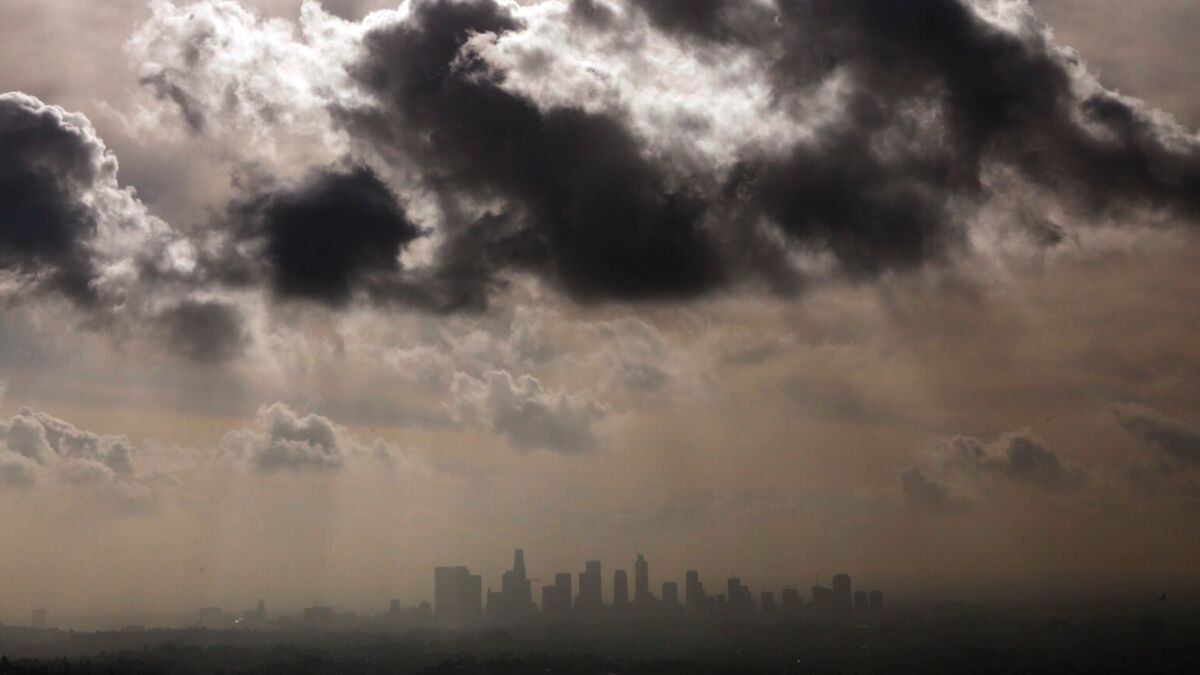 A cold winter storm is expected to bring light rain and low-elevation snowfall to Southern California beginning Monday evening, forecasters said.
The system is expected to bring only about a quarter-inch of rain or less to the region, but driving conditions in mountainous areas could be precarious with snow levels potentially dropping as low as 1,700 feet in some areas, said Andrew Rorke, a senior forecaster with the National Weather Service in Oxnard.
"The big story with this storm is the low snow levels," Rorke said. "Not only will all the mountain pass roads be affected by snow, but some areas in the foothills of the Santa Clarita Valley and San Fernando Valley could see snow."
Motorists driving along the 5 Freeway through the Grapevine on Tuesday "really need to stay abreast of current weather conditions," he said. That area could get up to two inches of snow, Rorke said.
A winter weather advisory is in effect for the Antelope and Cuyama valleys, as well as the mountains in Santa Barbara, Ventura and Los Angeles counties.
Icy roads could possibly affect travel along Highway 33 in Ventura County, Highways 14 and 138 in Los Angeles County and Highway 166 through Cuyama in Santa Barbara County, according to the Weather Service.
Most areas will see only 0.2 to 0.4 inch of rain, but there is a slight chance of thunderstorms that could result in debris flow and flooding to fire-ravaged portions of Santa Barbara, Ventura and Los Angeles counties, Rorke said.
"The chances are quite low, but there's a possibility for it," Rorke said.
Authorities are on alert. Residents who live below mountains burned by the Sherpa, Whittier, Thomas and Alamo fires were warned late Sunday to prepare in case they are ordered to evacuate Monday night.
Forecasters said rain will be the heaviest in the late morning and early afternoon hours on Tuesday.
In Santa Barbara County — which is still recovering from mudslides in Montecito last month that swept away homes and killed 21 people — officials advised residents to flee to higher ground if they feel threatened during the storm and prepared an interactive map showing which areas are most at risk.
"Do not wait for a notification," county officials said in an advisory issued Sunday night. "If an individual or family has access or functional needs, or has large animals to move, consider leaving well in advance."
The storm, which is coming from Canada without passing over warm Pacific Ocean water, will bring temperatures 12 to 15 degrees below normal, Rorke said. High temperatures "will struggle to even reach 60 degrees," he said.
A second, wetter storm is expected to move into Southern California on Thursday night and Friday morning that "will pack a little better punch," Rorke said. The storm could bring more rain and a higher chance for flooding and debris flow, forecasters said.
Twitter: @haileybranson
---
The stories shaping California
Get up to speed with our Essential California newsletter, sent six days a week.
You may occasionally receive promotional content from the Los Angeles Times.