What you need to know about the Women's March in L.A.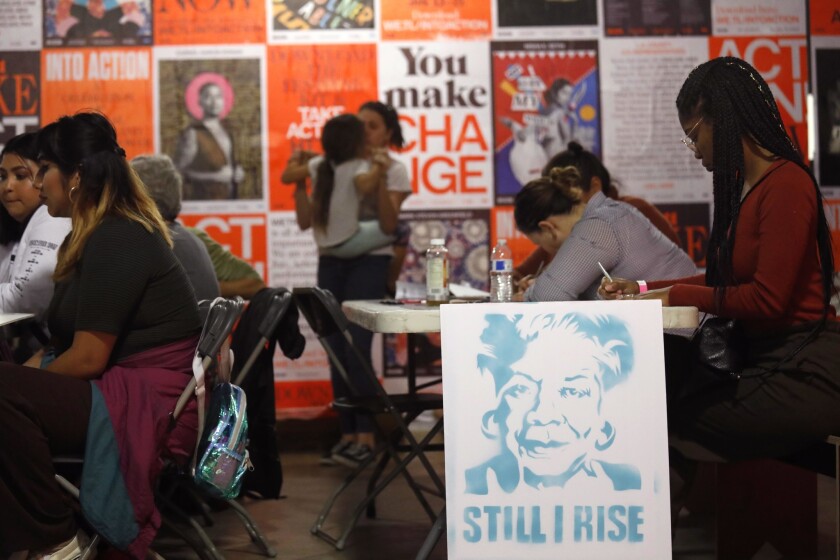 Thousands of people plan to hit the streets of downtown Los Angeles on Saturday for the second Women's March in L.A. Here's everything you need to know about it:
What's the plan?
The Los Angeles event starts at 8:30 a.m. Saturday in Pershing Square. Attendees will begin to march at 10 a.m. to reach Grand Park and City Hall by 11 a.m., where a very long list of politicians and activists are scheduled to talk until 3 p.m. There will also be plenty of Hollywood "special guests," including actresses Laverne Cox, Scarlett Johansson and Olivia Munn.
For those Southern Californians who want to march but can't get to L.A., other marches will be held in the South Bay, Orange County, Riverside County, Kern County, Bakersfield and Santa Barbara.
How crowded will it be?
Last year, hundreds of thousands of people converged along the short Los Angeles march route, bringing it to a standstill.
Organizers of the Los Angeles march expect around 200,000 attendees on Saturday, according to their website. The Los Angeles Police Department does not provide crowd estimates, said Officer Norma Eisenman, a spokeswoman.
Road closures will affect Broadway, as well as Spring, Olive and Hill streets from 6th Street to City Hall.
Another march that starts at noon, OneLife L.A., will prompt road closures from La Placita Olvera to North Spring Street.
Police suggest staying away from downtown if you're not planning on participating in the march, because traffic will already be heavy, Eisenman said.
How do I get there?
There are parking lots throughout downtown L.A., including one under Pershing Square, but nobody recommends driving to the march. Organizers and police are suggesting that people keep the roads as clear as possible because traffic will already be affected.
If you're going to use Lyft or Uber, organizers recommend getting dropped off to the intersection of 7th and Olive streets in downtown.
Metropolitan Transportation Authority will run enhanced service on Metro lines from 6 a.m. to 7 p.m. to handle the anticipated rider increase, and buses will be operating in downtown L.A., though they'll have detours because of the road closures. West Hollywood is also offering a shuttle service to the Red Line.
Metro also recommends that you get a TAP card before you go.
What's the goal?
Last year's marches were, for many, a response to Donald Trump's election, and a show of force and resistance the day after his inauguration.
Nationally, the organization's principles include "ending violence, protection of reproductive rights, LGBTQIA rights, workers' rights, civil rights, disability rights, immigrant rights, Indigenous people's rights and environmental justice."
Is it going to be cold?
Saturday should be kind of a perfect day to be outside with thousands of other people. Expect a sunny, dry day with a high of 64 degrees in downtown, said National Weather Service meteorologist Rich Thompson.
It will be a "very typical kind of winter day," Thompson said. (Typical winter for Los Angeles, at least).
Still, stay hydrated, Eisenman warned.
Any other safety tips?
There are no specific security threats or concerns for this year's march, Eisenman said. LAPD doesn't release security plans, she added, but the event will be well-staffed.
"If [attendees] see something they're not comfortable with, flag an officer down...it's better to be safe than sorry," she said.
Please consider subscribing today to support stories like this one. Get full access to our signature journalism for just 99 cents for the first four weeks. Already a subscriber? Your support makes our work possible. Thank you.
---
The stories shaping California
Get up to speed with our Essential California newsletter, sent six days a week.
You may occasionally receive promotional content from the Los Angeles Times.