Third body found among wreckage of Woolsey fire as residents blast officials about emergency response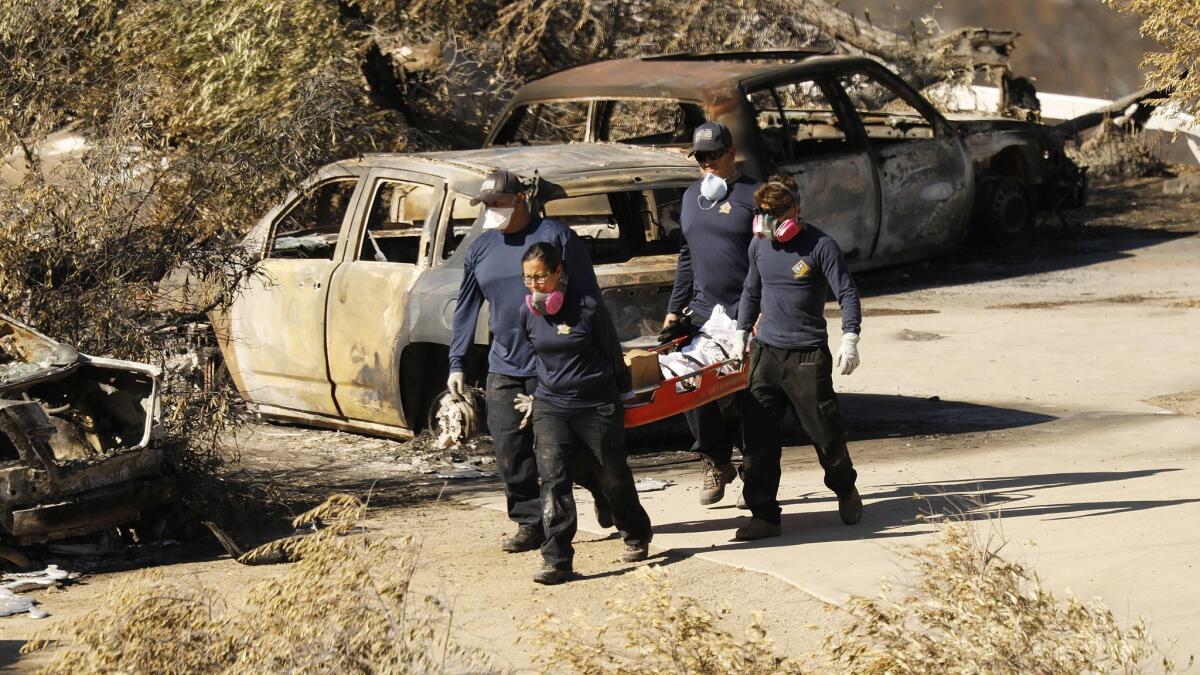 As a third body was discovered among the ashes of a home in Agoura Hills, residents in nearby Malibu questioned fire officials about the division of resources and rushed evacuation notices during the Woolsey fire's devastating march through Los Angeles and Ventura counties.
The body, which has not been identified, was found by a cadaver dog searching a burned-out home in the 32000 block of Lobo Canyon Road with law enforcement Tuesday. The remains were found on an enclosed patio or what could have been a bedroom, Los Angeles County Sheriff's Lt. Derrick Alfred of the Homicide Bureau said.
The block is on a winding road nestled among charred hillsides directly in the path of the fire as it burned southwest across Paramount Ranch and down the hills that surround Kanan Road.
Alfred said deputies from the Lost Hills station along with Malibu Search and Rescue conducted an extensive search of the home Tuesday but initially didn't find the body amid the ruins. That's when authorities called in a dog to search.
"It was virtually impossible for any deputy to find those remains," he said.
The home belonged to a 70-year-old man who lived alone and has been reported missing by relatives, according to authorities.
The remains of two other bodies considered fire-related deaths were found in a charred car on Mulholland Highway in Malibu last week.
As more residents in Malibu and Calabasas were allowed to return home Wednesday and firefighters continued making progress — the fire was 52% contained — questions remain over how authorities responded to the blaze.
At a town hall Tuesday night, Malibu residents pressed officials for answers about why some homes weren't saved and chastised them for wasting time with platitudes instead of updating residents.
"Could we please have some information?" one resident repeatedly shouted. "No more cheerleading. Information!"
Firefighters knew they were in for a tough battle early Friday as the fast-moving blaze jumped the 101 Freeway and tore through dense brush toward Malibu with 70 mph winds bearing down. The fire stretched 14 miles on its front as it entered Liberty Canyon at Agoura Road, cresting the mountains and chewing up fuel as it sped toward the sea.
Track key details of the California wildfires »
The inferno quickly swept through the coastal city, leaving a path of destruction in its wake. People fled along congested Pacific Coast Highway as flames engulfed home after home, leaving nothing but rubble and a few charred remnants of normalcy.
The fire, which had burned 98,362 acres as of Wednesday night, has destroyed an estimated 504 structures — a number that is expected to grow in the coming days as crews continue to assess damage.
Richard Bloom, a state assemblyman who represents Malibu and neighboring communities, said that in every major fire, questions arise about the deployment of resources.
"Why were they here and not here? These are important questions. They deserve answers. The responses are never quite perfect," Bloom said. "What you're looking for is coverage everywhere, which is virtually impossible given the limitations of resources."
L.A. County Deputy Fire Chief Dave Richardson told residents that the agency had resources in place as the fire broke out, with more than 300 county firefighters and over a dozen strike teams, but the speed of the flames quickly made the fire a life-safety issue. They decided to evacuate residents, but some who were trapped in their homes by the raging conflagration called 911 seeking help.
"Life is our No. 1 priority," Richardson said. "We divert resources from protecting your structures to go get people out."
In response to questions about the deployment of resources and why there weren't more fire engines defending homes, Richardson pointed to historical data mapping. He said the blaze is larger and more destructive than recent fires in the area.
"I've been in the business for over 32 years. I have never … seen fire activity and the fire spread that we've seen. That's the reality. Our firefighters were out there putting their life on the line to protect you and the communities," Richardson said.
But he said resources for the Woolsey fire also have been limited.
"With the wind, the dry fuel, the vegetation and due to competing needs … due to the fires in Northern California and northern Ventura County, it tasked us," he said. "It was quite the challenge."
Citing the loss of lives, destruction of property and widespread evacuations caused by the Woolsey fire, the county Board of Supervisors voted Tuesday to proclaim an emergency in Los Angeles County and asked Gov. Jerry Brown to do the same. They also declared a local health emergency and ordered that no debris be removed without a hazardous materials inspection.
The ordinarily humdrum government proceedings were punctuated by the appearance of celebrity residents, who appeared to ask for food, water, gas and shelter in the aftermath of the fire, as well as assistance in rebuilding.
"I have witnessed many fires in my community and experienced the devastation … but none as catastrophic as the events that have taken place in our community these last five days and nights," actor Pierce Brosnan said. "We beseech you to do everything in your power to save our community."
Several residents complained about not getting timely notices to evacuate and instead heard about evacuation orders from friends across the county. Others said there were not enough firefighting resources, leaving Malibu residents to fend for themselves.
"The Fire Department has been depleted. They are not fully resourced — and that's on you guys," Paul Morra said. "We lost 19 homes in Corral Canyon. Not one engine was up there, and we had no water. No water. And that needs to be investigated."
Times staff writers Nina Agrawal and Sonali Kohli contributed to this report.
---
UPDATES:
6:30 p.m.: This article was updated with current statistics about the size and containment of the fire.
4:20 p.m.: This article has been updated with additional details on the third fire victim.
1:30 p.m.: This article was updated with information about a third victim of the fire.
This article was originally published at 9:50 a.m.
Sign up for Essential California for news, features and recommendations from the L.A. Times and beyond in your inbox six days a week.
You may occasionally receive promotional content from the Los Angeles Times.