YWCA ends foster youth program in Hollywood as it prepares to open shelter for homeless women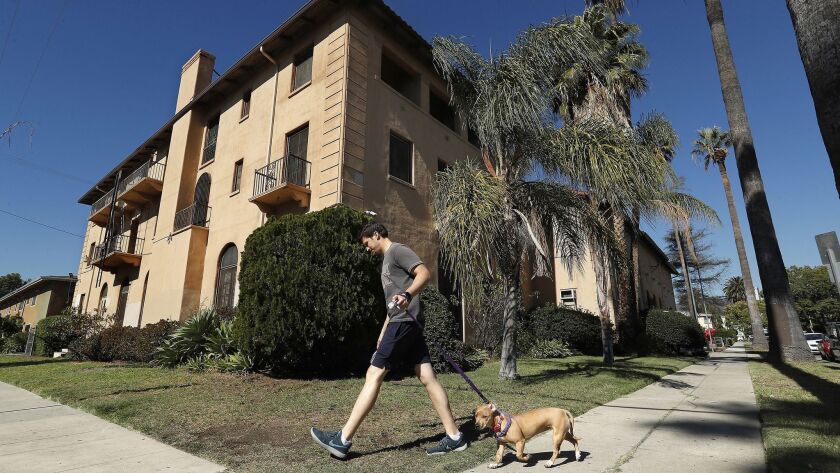 A YWCA program that has provided shelter and services to foster youths in a historic Hollywood building is shutting its doors Wednesday, leaving several of the young adults scrambling for a place to live.
The charitable organization plans to open temporary housing for homeless women at the Hollywood Studio Club — an L.A. landmark that opened nearly a century ago as a residence for women aspiring to work in the fledgling movie industry.
The unexpected closure of the foster care program has sparked criticism that Los Angeles County is putting resources behind one group of needy people instead of another, highlighting an inherent conflict as the county seeks to reduce widespread homelessness.
"I don't think you get to say that you are making all of these strides in solving homelessness when you are swapping one vulnerable community for another," said Milinda Kakani, a supervising attorney at Public Counsel, a public interest law firm that is assisting the youths.
County and YWCA officials said the foster program was a pilot that each party had the option to discontinue as the contract term neared its end. They said providing stable housing for foster youths remains a priority.
"The YWCA is not kicking youth on the street," said Faye Washington, chief executive of the YWCA Greater Los Angeles. "That never is and never has been part of our mission."
Mayor Eric Garcetti's office backed the women's shelter, which is set to open later this month on the club's vacant third floor, as part of the mayor's "A Bridge Home" program.
Garcetti aides said they were not aware until last week that the foster youth program, run on the second floor, would be closing.
"Under no circumstances would we establish a new program at the expense of foster kids," said Matt Szabo, Garcetti's deputy chief of staff.
The program at the YWCA began in 2016 in response to state legislation that allowed young people to stay in foster care until age 21.
The county Department of Children and Family Services has struggled to provide adequate housing and services for so-called transition-age youths, who still need adult guidance but also seek independence.
The YWCA's dormitory setup and emphasis on job readiness were meant to offer a hybrid of independent living and support. Program providers put money for each participant into a savings account every month, with the money accessible to participants when they turned 21 or left the program.
"The intent behind that was to learn economic self-sufficiency, and also to have money for first and last months' rent" when they left, Washington said.
Children and Family Services officials have been satisfied with the program, according to the department. They renewed their contract with the YWCA after one year and planned to do so again this year.
But the YWCA's Washington said the program never operated at full capacity.
Under the agencies' contract, Children and Family Services paid the YWCA $3,500 a month for every enrolled client, up to a maximum of 30 clients and $1.26 million per year. The money came from the state, and the YWCA would not have received the maximum allotted amount if the program was not full.
Under the new arrangement, the YWCA will lease space in its building to PATH, a homeless services provider.
PATH will contract with the Los Angeles Homeless Services Authority to provide short-term shelter and services at the site for up to 64 women, including transgender women. A total of $974,280, funded through the Measure H sales tax, has been allocated for eight months.
Kakani, of Public Counsel, said the homeless authority and Children and Family Services appear to be competing.
"Presumably there will be more Measure H money and the concern is that other providers will also find this money more attractive," she said.
But under Measure H, transition-age youths have also been identified as a priority.
Washington said her motives were not financial.
She said the building, which was designed by Hearst Castle architect Julia Morgan and appears on the National Register of Historic Places, was underused.
"A building of that size, you've got to operate ... at maximum in order to keep it functioning," she said.
Moreover, Washington said, opening the bridge housing program would enable the YWCA to serve more people.
"That is the heartbeat of the YWCA, to provide residential support to the community," she said. "To use this building as we are doing is precisely the reason that Mrs. Cecil B. DeMille intended in the first place."
Constance Adams, wife of the famed director, helped establish the studio club to provide young women aspiring to make it in Hollywood a decent place to live.
Alize Hogan, 20, had been living at the studio club since January. After learning the program would close, he went to stay with his sister in the Crenshaw district, where he said he has been "sleeping on the floor with the roaches."
Hogan said he plans to save money from his job at Jimmy John's to move into a place of his own, perhaps in Lancaster or the Mojave Desert. He would prefer that to another transitional program, he said.
"I don't want to be in the same situation again," he said.
Hogan said he received little to no help from YWCA staff or his Children and Family Services social worker.
Kakani said that has been a consistent complaint among the seven people Public Counsel is assisting. At least five, she said, have not found a new home.
The Children's Law Center, which represents all children in dependency court, confirmed that some of its clients will be without fixed housing.
"From a landlord's perspective they're not the most attractive tenants," said Leslie Heimov, the center's executive director. "When they can't find permanent housing they end up on skid row, in adult homeless shelters or worse."
Children and Family Services said its staff members are making sure affected individuals have access to their savings accounts and are matched to an appropriate living situation.
Washington said her employees have been helping youths come up with "deliberate" transition plans, though she declined to provide details. She added that the YWCA continues to serve young people, including 400 at a housing program downtown.
As the last young people remaining at the Hollywood Studio Club pack up their belongings, the YWCA prepares to welcome its newest residents on Nov. 15.
Szabo, Garcetti's deputy, said the site was appealing because it offered vacant space in the heart of Hollywood, where there are many homeless people.
But there was never any discussion of displacing young people, he said.
"We would like to see if there's any way this program can be continued either on site or at another location," Szabo said.
Twitter: @AgrawalNina
---
The stories shaping California
Get up to speed with our Essential California newsletter, sent six days a week.
You may occasionally receive promotional content from the Los Angeles Times.