Federal government needs more authority to properly manage nation's forests, Trump Cabinet members say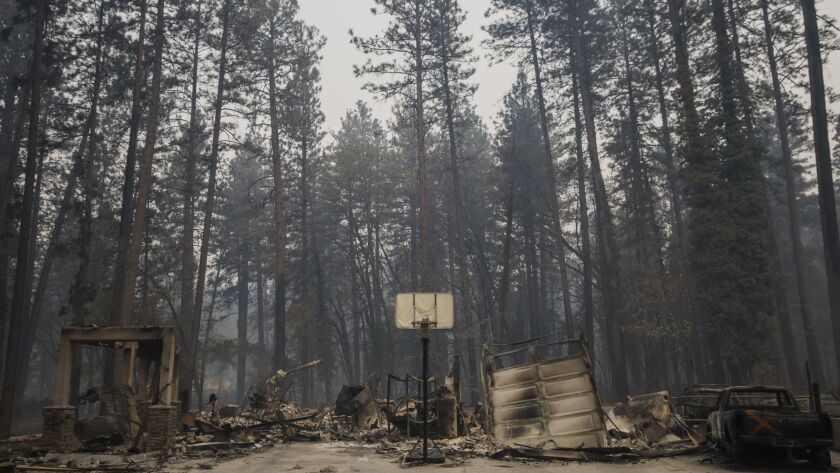 Federal agencies need more authority to choose how and where to cut down trees, remove dying vegetation and where to ignite prescribed burns if communities in the wildland-urban interface want to avoid another catastrophic disaster like the Camp fire, two of President Trump's Cabinet secretaries said Tuesday.
For at least a century, the U.S. Forest Service took an aggressive stance against wildfires that called for them to be knocked down as soon as possible. That policy began after a blaze in the early 20th century killed more than 80 people and scorched more than 3 million acres in the upper Midwest.
But according to experts, the effects of that strategy in California – amplified by years of drought, a warming climate and a bark beetle infestation – have come back to haunt residents who live in or along the rim of the forest.
"This goes back years, it's not one administration," said Interior Secretary Ryan Zinke. "It's a failure to manage our public lands and it is absolutely a situation that can be mitigated."
Zinke and Agriculture Secretary Sonny Perdue spoke with reporters via teleconference Tuesday, where Zinke blamed "radical environmentalists" for holding up forest management efforts through litigation and Perdue said the government needed to increase partnerships with local agencies to manage their forests through the Good Neighbor Authority program.
"Every time there's a thinning project, who's suing? Everyone should recognize the density of dead and dying is higher, the density of the trees is higher, and there are active management principles we should utilize," Zinke said. "They would rather burn down the entire forest rather than cut a single tree."
Much of the criticism against the current administration's push for forest management hinges on the idea that it is a gift to the logging industry and the suspicion that large areas will be clear cut. Since the Camp fire started on Nov. 8, Trump has blamed California lawmakers and their forest management policies for the fire's deadly toll in Paradise and other Sierra communities. But experts pointed out the fire that claimed so many lives was essentially a city fire, not a forest one.
"It started out as a vegetation fire," said Jonathan Pangburn, a fire behavior analyst with the California Department of Forestry and Fire Protection, in an interview last week. "When it reached the incorporated area, which is definitely a lot more urban and developed of an area, it turned into a building-to-building fire."
Zinke also called for better coordination among the federal agencies that manage much of California's forests – the National Park Service, the Forest Service and Bureau of Land Management – and said decisions on where to launch prescribed burns and harvest trees should be made on the local level, not by policies decided in Washington.
Agencies also need more leeway to remove dead or dying trees more quickly following a fire, he said. They also need to have money set aside for that purpose, Zinke said. The Forest Service has to take money out of its operational budget – used for fire prevention efforts – to extinguish the blazes. It has cost the agency hundreds of millions of dollars, if not billions, in the last couple of years, officials said.
"We're way behind the curve," said Secretary Perdue. "This is generational, honestly. Millions of acres have been neglected for years.
"We're not talking about clear-cutting. We're talking about good forest management for homes that beautify the forests," he added.
The officials said they'd like the government to prioritize managing forests in areas where they could build more escape routes for residents, firebreaks for firefighters and infrastructure for residents.
For breaking California news, follow @JosephSerna on Twitter.
---
The perils of parenting through a pandemic
What's going on with school? What do kids need? Get 8 to 3, a newsletter dedicated to the questions that keep California families up at night.
You may occasionally receive promotional content from the Los Angeles Times.