L.A. Zoo puts snakes in the mood for love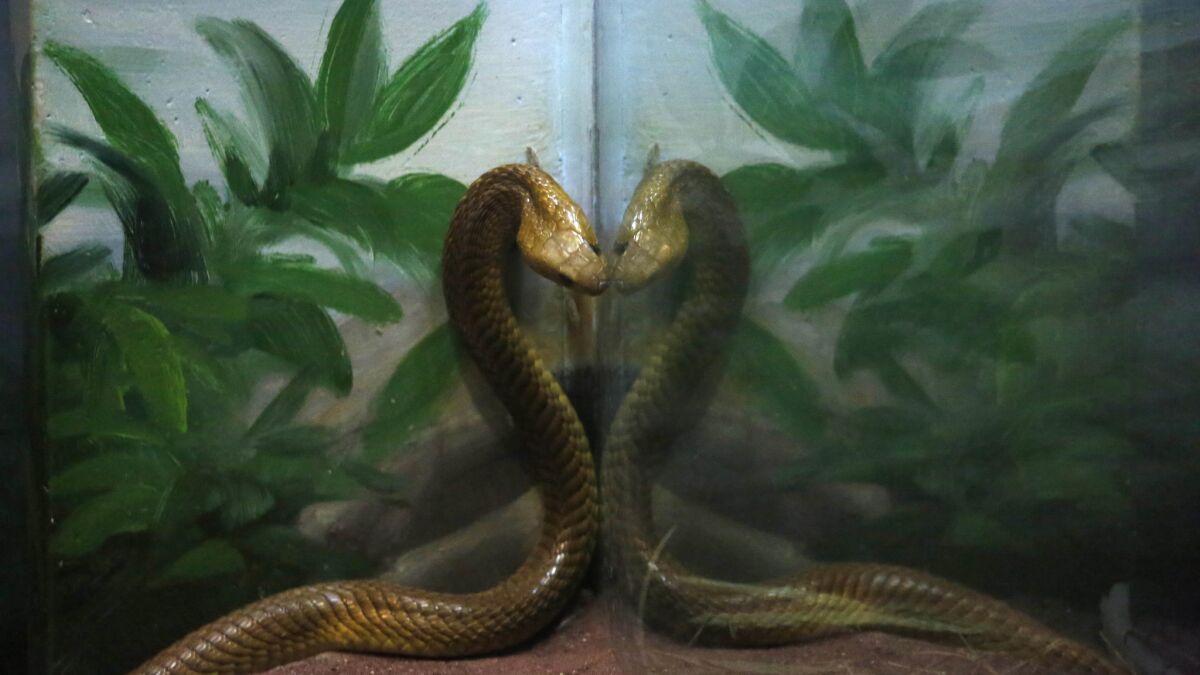 Slithering in their small glass cases, the baby snakes curled into corners, rounded over planks of wood and bobbed their heads as they surveyed their new homes.
Born just four months ago, the endangered serpents are among 50 newborns now in the Los Angeles Zoo's care.
The serpentine baby boom is a rarity for the zoo, said Ian Recchio, the facility's curator of reptiles and amphibians.
"The preparation in cooling the animals down ... manipulating their light cycles to replicate the particular snake's natural environment, is time consuming and meticulous," Recchio said. "When everything is done just right, then rare snakes breed. We really nailed it this year."
Among the six rare and endangered snake species represented in the group are Armenian vipers, black-tailed horn vipers and several types of rattlesnakes.
"The baby boom we are experiencing now is the result of years of observation, tinkering with new breeding tactics and doing our best to mimic a snake's natural habitat in the wild," Recchio said.
The hibernaculum room behind the exhibits is about the size of a small office, stacked wall to wall with sleeping snakes. The zoo staff cycles adult snakes into brumation — a hibernation-like state reptiles experience — and brings the room's temperature to about 55 degrees. Some snakes require near-freezing temperatures.
The zoo then warms up the room in the spring so the snakes can breed. The process is meant to replicate the snake's natural environment and breeding cycle.
In the reptile and amphibian exhibit outside the hibernaculum on Tuesday, a yellow-and-brown cobra slithered down the side of a rock and flicked its tongue to track potential prey. Two vipers huddled for warmth in the display across the room.
The Cape cobra and Ethiopian mountain vipers — both deadly African snakes — are also new to the zoo. They are now on display for the first time after high demand from visitors.
One of the most dangerous species in Africa, the Cape cobra's neurotoxic venom is the strongest of any cobra on the continent. When bitten, victims need immediate hospitalization and treatment. Because they also eat other snakes, the two new cobras are displayed separately.
Little is known about the Ethiopian vipers beyond the fact that they are highly venomous, Recchio said.
For more California news follow me on Twitter: @sarahparvini
---
The stories shaping California
Get up to speed with our Essential California newsletter, sent six days a week.
You may occasionally receive promotional content from the Los Angeles Times.