Los Alamitos gives final approval to exempt itself from state's 'sanctuary' laws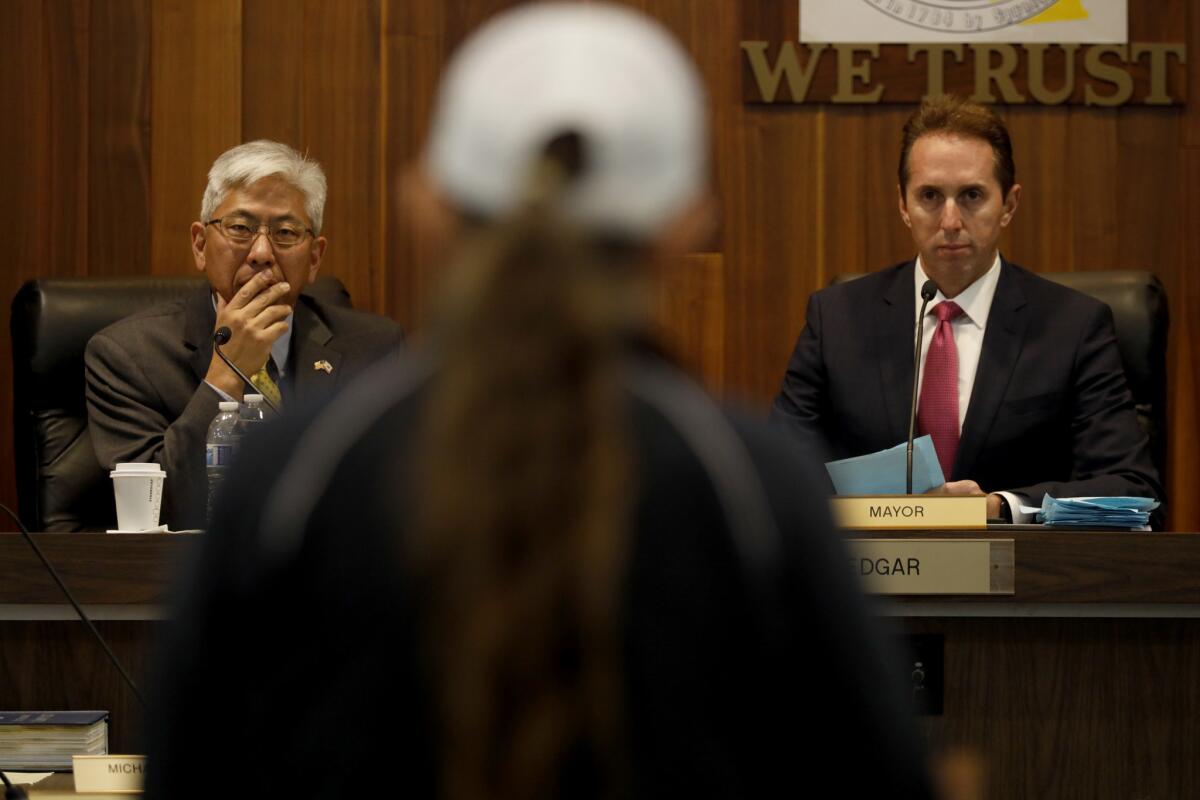 The American flags, cumbia music and empty pizza boxes in front of Los Alamitos City Hall earlier this week might have suggested a rowdy festival.
But the scene was miles away from anything feel-good.
Inside and outside of the council chambers, protesters accused each other of harassment and hurled slurs at each other.
They used megaphones and signs and words dripping with anger to tear each other apart in a small Orange County city that started a movement against California's "sanctuary state" law.
Late Monday, just before midnight and after five hours of public comment, the Los Alamitos City Council voted to give final approval to an ordinance to exempt the city from the state's laws designed to protect immigrants in the country illegally.
Los Alamitos made national headlines last month when leaders approved an ordinance that exempts the Orange County municipality from Senate Bill 54, a law that took effect Jan. 1 and limits local law enforcement's cooperation with federal immigration authorities.
The move sparked an anti-sanctuary movement, prompting at least nine other Orange County cities and the Board of Supervisors to voice similar grievances and pass similar resolutions.
Some of the more than 200 people who showed up at Los Alamitos City Hall were residents but many others were part of outside activist groups.
Gerri Mejia, a former Los Alamitos mayor, encouraged the council to stay on course with its anti-sanctuary measure.
"Stand strong. I think that you have done what you are called to do and protect this community," she said. "Know that we are here and behind you."
Councilman Mark A. Chirco was the sole dissenter on the eventual vote, criticizing the ordinance as "divisive, ineffective, flawed and risky." He said it eventually could "bankrupt the city."
"What's the long-term plan with this ordinance? How far will we go to defend it? How many millions of dollars are we willing to spend?" said Chirco, a practicing attorney for more than 13 years.
Chirco asked Los Alamitos Police Chief Eric Nuñez when the last time Immigration and Customs Enforcement officials had conducted a raid in the city. They had not in at least 10 years, the chief replied. Chirco pointed out that neither Nuñez, the city attorney, or any other city staff had been consulted by the council before putting it on the council agenda.
Mayor Troy Edgar said that the council should follow through with its ordinance despite the risks.
"You can't just keep polishing the cannonball. You got to shoot it," he said.
His comment was met with a strong reaction by some of the protesters outside, who chanted: "Shame, shame, shame!"
Councilman Richard D. Murphy unsuccessfully tried to table the item until it could be further studied by staff. Ultimately, he voted for the measure.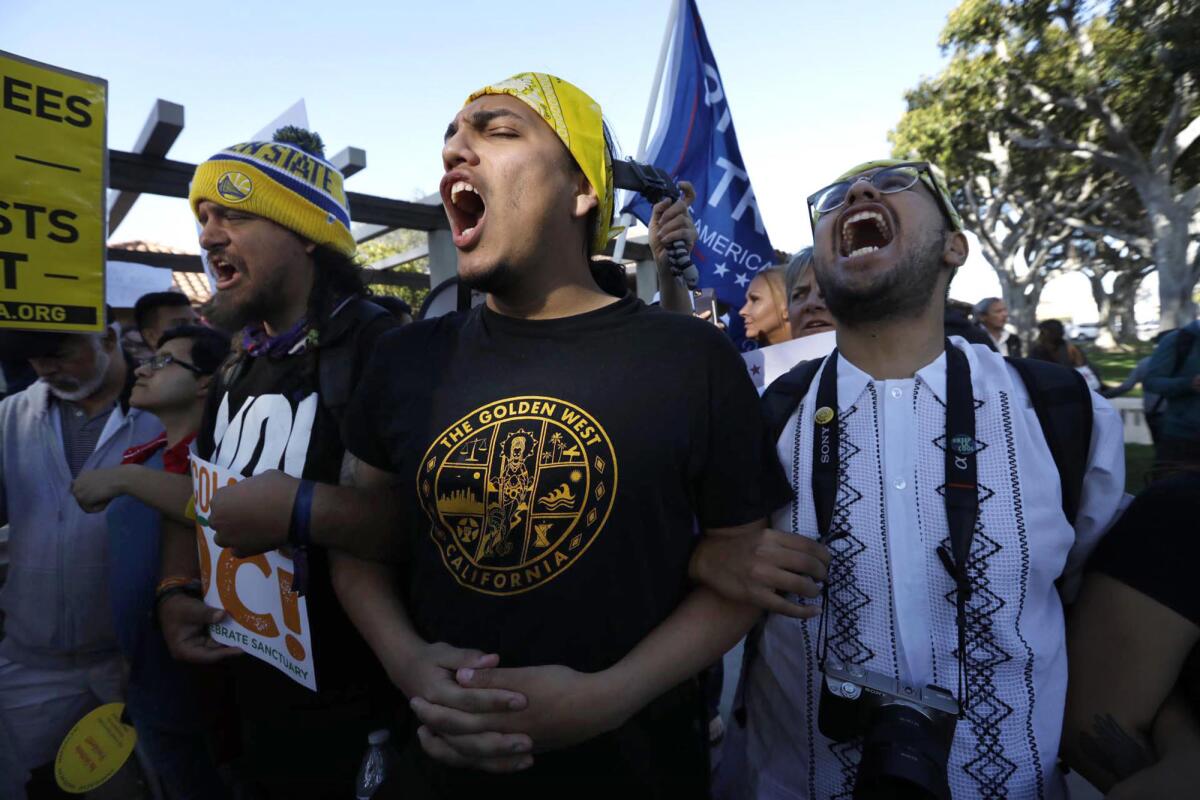 Mayor Pro Tem Warren Kusumoto, who proposed the initiative that thrust the city into the center of a rebellion against California's "sanctuary" policies, remained silent. In earlier interviews and meetings, Kusumoto said he was compelled to introduce the measure because he said he believed the state's sanctuary laws are in violation of the U.S. Constitution.
In an interview with The Times, Kusumoto said that he didn't consult with the city attorney, city manager, police chief or any other member of his staff before introducing the ordinance.
Kusumoto and other Los Alamitos city leaders take issue with SB 54, which Gov. Jerry Brown signed after the Legislature passed it last year. It prohibits state and local police agencies from notifying federal officials in many cases when immigrants who potentially are subject to deportation are about to be released from custody.
The initiative is in addition to sanctuary city laws passed by numerous communities and other state laws that protect those without legal residency, including one that makes it a crime for business owners who have been notified of a workplace audit to voluntarily help federal agents find and detain unauthorized workers without having given employees prior notification.
The Trump administration has gone to federal court to invalidate the state laws, claiming they blatantly obstruct federal immigration law and violate the Constitution's supremacy clause, which gives federal law precedence over state measures. That case is pending. Los Alamitos leaders also voted to file an amicus brief to the Justice Department's lawsuit.
Some Orange County cities have filed an amicus brief in support of the federal lawsuit against the state's sanctuary laws. Orange County voted to join as a plaintiff in the suit.
Among those who showed up Monday to address the Los Alamitos City Council was Jessica Riegert, who teaches at Los Alamitos High School. Riegert said last month's vote by the council has directly impacted her students, emboldening some to target their peers who are legal immigrants and others who are here without legal status.
"I'm here to speak for my students who are too afraid to be here today," she said. "This vote has allowed for the most heinous people to say the most heinous things toward them, in their classroom, at lunch, at their churches. … They are afraid they are no longer welcome, and they are being met with hatred. That, as a teacher, breaks my heart."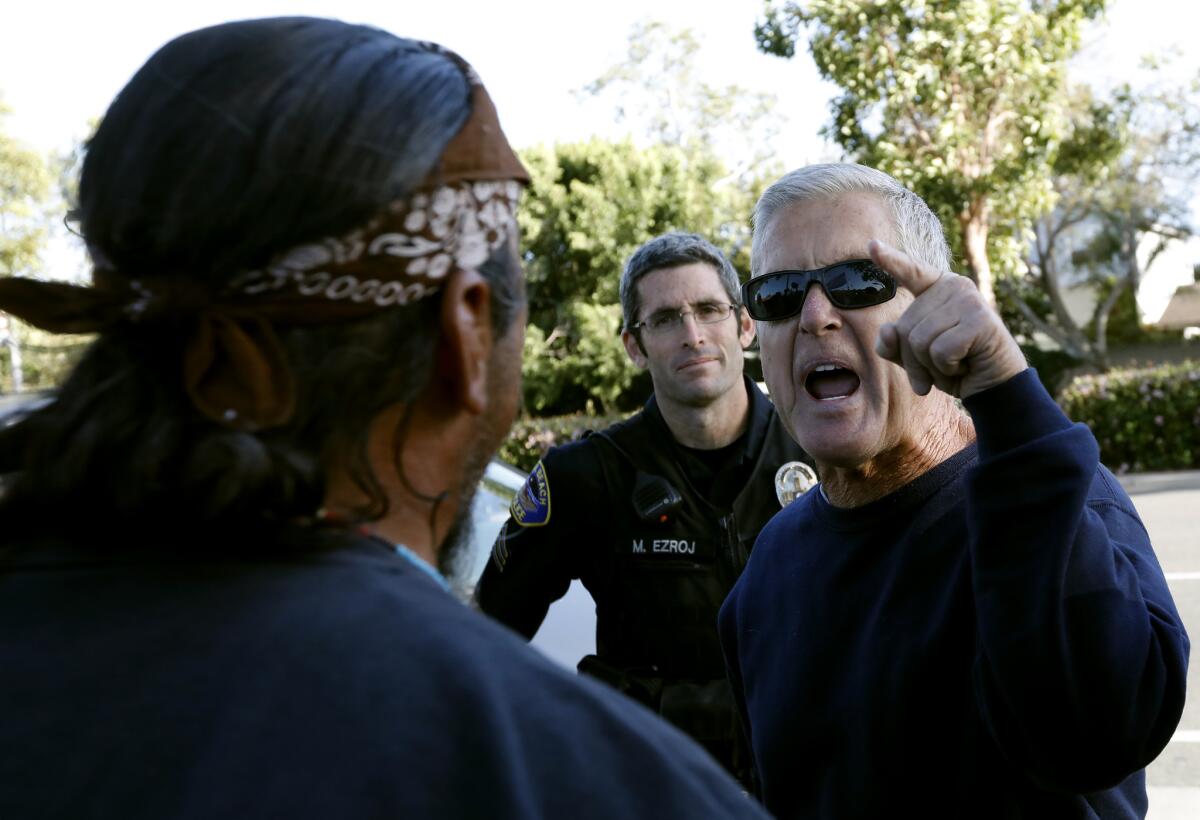 The sanctuary issue has drawn groups favoring tough enforcement against illegal immigration to show up in force at city council and county supervisor meetings throughout the state.
Some residents have complained about these groups, stating that they make disrespectful and racially-charged remarks at the meetings.
Before opening the meeting to the public, council members met in closed session to discuss litigation threatened by the American Civil Liberties Union of Southern California. The organization has said it will launch a lawsuit against the city if Los Alamitos went forward with anti-sanctuary ordinance.
Follow Cindy Carcamo on Twitter @thecindycarcamo
---
UPDATES:
1:50 p.m.: This story was updated with additional comments and details from the council meeting.
This story was originally published at 9:40 a.m.
Sign up for Essential California for news, features and recommendations from the L.A. Times and beyond in your inbox six days a week.
You may occasionally receive promotional content from the Los Angeles Times.