Take the No. 5 train to Santa Monica? L.A. Metro may rename its rail lines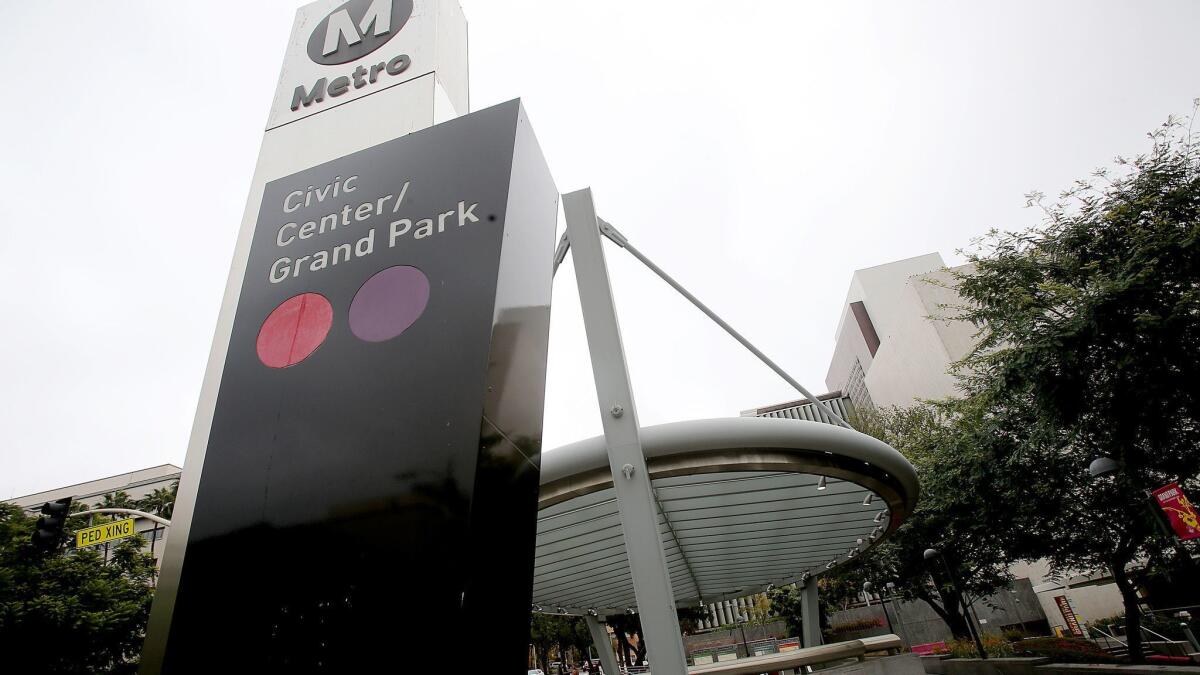 Instead of taking the Blue Line to Long Beach, how about the A Train? Or how about catching the No. 5 line to Santa Monica Pier?
With an unprecedented number of rail and bus projects planned — and a dwindling number of hues to choose from — Metropolitan Transportation Authority officials are considering an overhaul of the transit map that would replace the system's color names with letters or numbers.
Metro officials hope to cut the ribbon on eight major bus and rail projects over the next decade, including an extension of the Gold Line to Montclair by 2026, a San Fernando Valley rail line by 2027 and a 20-mile light-rail route between downtown and Artesia by 2028. They all will need names.
But those names pose a challenge, officials say, because their palette of unused colors is looking pretty thin, with remaining hues too closely resembling other lines. On a sun-bleached transit map, would a tourist be able to tell the difference between lines that are green and lime, or red and pink?
Other lines will require new names after the opening of the $1.75-billion Regional Connector project, which will reconfigure the downtown rail network. Twin tunnels will knit together the Expo, Blue and Gold lines, creating a line between Santa Monica and East L.A., and a route from Long Beach to the San Gabriel Valley.
"If we want to change the names, now is a great time," Metro spokeswoman Pauletta Tonilas said.
Under a new naming scheme, most lines would keep their current hues. Although the Red Line subway from downtown to North Hollywood could be known as the No. 2 Line or the B Train, for example, the route would still be shown in red on the map.
"All the lines are going to always have a color," Tonilas said. "But a letter or number can come in handy. If rose and red look similar, or blue and aqua, then you'll be able to tell that you need the A Line, or the No. 1 Line."
A switch to a numbered or lettered system would make L.A.'s growing rail system more closely resemble — at least on paper — the subway systems in other world capitals, including New York and Paris.
Metro's board of directors will hear the naming proposals later this week. The agency plans to return to the board in December with a cost estimate for changing thousands of signs at 93 rail stations and creating a countywide public awareness campaign.
The problems with the current system are evident at rail stations where the Blue and Expo lines overlap, said Jessica Meaney, executive director of the advocacy group Investing in Place. Both lines have blue hues and run on the same tracks for portions of the route, confusing newcomers.
"We need to figure out a way to make it easier," Meaney said. "But Metro really needs to ask themselves: What can we do to improve the experience for bus riders, too? Knowing where the high-quality transit is, and where the bus competes with cars for travel time, is really important."
Ideally, a map could show riders the quality of service overall, such as whether they are boarding a local bus, a rapid bus that makes fewer stops or a dedicated bus way such as the Orange Line, she said.
"It's good that there's a lot of thought going into this, because the information part of transit is often neglected," said Jon Orcutt, a spokesman for TransitCenter, a national transportation advocacy group. "Check out an L.A. bus stop somewhere in the middle of nowhere, and you know what I'm talking about."
But, he added: "One of the raps with Metro is that they're obsessed with their rail lines and neglect their bus lines. So I'd like to see what they're planning on the bus side of things."
The renaming plan does not call for changes to the bus network, which carries about 70% of Metro riders. But agency officials are in the midst of studying how to overhaul the bus network to improve ridership, which last year plunged to the lowest level in more than a decade.
Focus groups conducted in August found that a numbered system was most popular among Korean-speaking residents, and could be the best way to make the system understandable for those who speak languages with other alphabets.
But a numbered system could also create confusion for riders transferring to two of the region's highest-ridership buses: Line 2, which runs on Sunset Boulevard, and Line 4 on Santa Monica Boulevard.
Metro's Tonilas said some participants were also confused by a lettering system, because some letters connote landmarks: an H for hospital, or N for a line that runs north.
Discussions on whether to scrap L.A.'s color-based naming system have surfaced regularly for more than a decade as Metro has pursued sales tax increases to fund more rail construction.
In the mid-2000s, Metro directors publicly disagreed over what to call the light-rail route that was being planned between Santa Monica and downtown. The agency had already cut the ribbon on the Blue, Green, Red, Purple and Gold rail lines, and on the Orange and Silver express bus routes.
Local transit advocates dubbed the route the Aqua Line, because it would run to the ocean. One Metro director favored the Cardinal Line in a nod to one of USC's school colors, because the train ran past the University Park campus.
Transportation officials eventually bucked the color-naming convention and called it the Expo Line, referring to its route along Exposition Boulevard.
That name will most likely persist for many residents, despite whatever new naming convention Metro picks, Orcutt said — much like old-time Manhattan residents still describe some lines as the IND, referring to one of the private companies that built and operated New York subway lines in the first half of the 20th century.
"People will still say, 'I'm taking the Expo Line in Santa Monica' for years to come," Orcutt said. "That's OK. Change is hard, and there will be some confusion, but people will adjust."
For more transportation news, follow @laura_nelson on Twitter.
Sign up for Essential California for news, features and recommendations from the L.A. Times and beyond in your inbox six days a week.
You may occasionally receive promotional content from the Los Angeles Times.