Beset by utility problems, Metro's downtown subway project will open a year late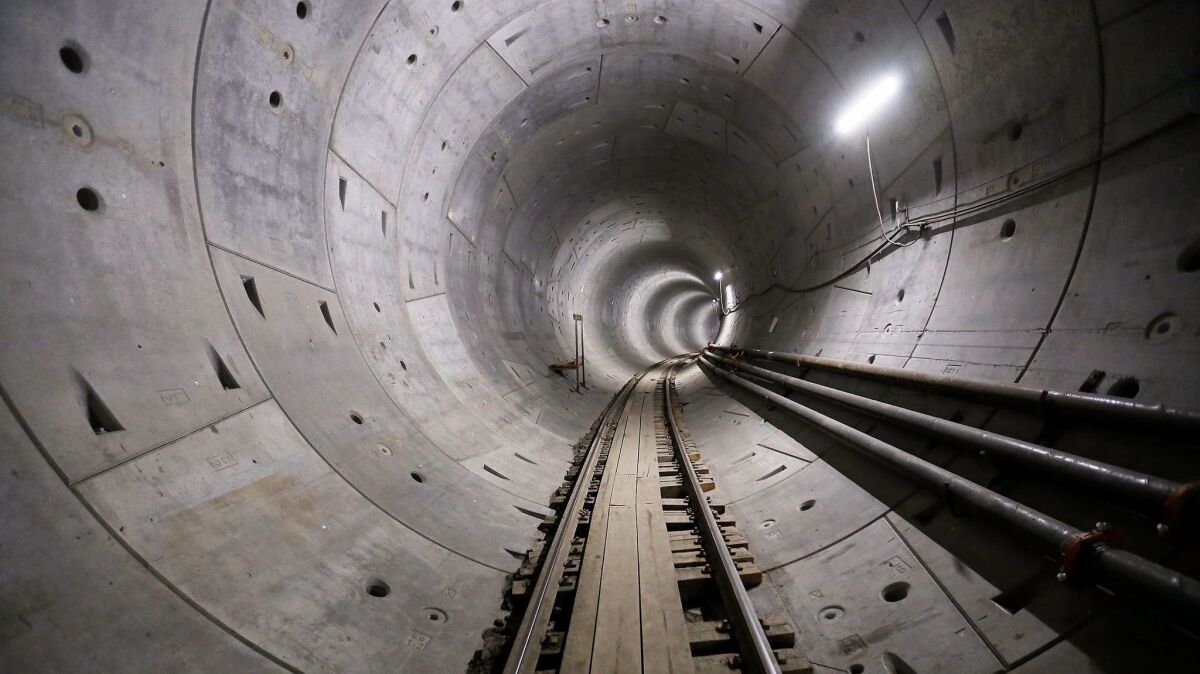 A complicated subway project designed to seamlessly connect three rail lines in downtown Los Angeles will open a year later than expected, despite efforts to make up for time lost during construction, L.A. County Metropolitan Transportation Authority officials said Tuesday.
The new opening date for the Regional Connector is December 2021, six months after the deadline established by federal officials and a year after the agency's target date of December 2020. The schedule change will not jeopardize $830 million in federal funding for the project, Metro officials said.
"We still have four years to go," project manager Gary Baker said, adding that work should reach the halfway point early next year. "But I'm confident that we'll be able to successfully meet our schedule."
The delay follows months of setbacks beneath the streets of downtown Los Angeles, home to some of Southern California's oldest infrastructure. Aging water pipes and fragile utility lines required reinforcement before crews could safely dig beneath them, officials said.
Cost overruns for utility work, consultants, land acquisition and legal fees have twice prompted Metro's board of directors to approve budget increases. The Regional Connector's $1.75-billion budget is 28% higher than originally forecast.
The 1.9-mile Regional Connector project calls for two light-rail tunnels between Union Station and the 7th Street/Metro Center stop in the Financial District. When the link opens, the Blue, Gold and Expo lines will be converted to two routes that will allow passengers to ride from Santa Monica to East Los Angeles, and from Azusa to Long Beach, without transferring.
Federal transit officials see the project as a linchpin in the region's expanding rail network. The tunnels are expected to boost rail ridership by 17,000 trips a day and shave as much as 20 minutes from some journeys.
Metro accepted a $670-million federal grant and a $160-million loan for the Regional Connector in 2014, and agreed to open the project to passengers by May 29, 2021.
Metro's new deadline of December 2021 will not jeopardize the project's funds, Baker said, because the agreement includes provisions for "unforeseen conditions," which includes deteriorated utilities.
Federal officials "know that sometimes, projects encounter these issues," Baker said. "They want to make sure there's a mechanism to have a new look at the completion date and to revise it if needed."
In a prepared statement, a Federal Transit Administration spokesperson said the agency is "not aware of any implications to other Los Angeles projects."
Near the site of all three future stations — at 1st Street and Central Avenue, 2nd Street and Broadway, and 2nd and Hope streets — crews have discovered 100-year-old water pipes and electrical vaults made of materials that are more fragile than today's equivalents, Baker said.
One aging water pipe in Little Tokyo was made of riveted steel. In the Financial District, workers found several electrical vaults made of masonry. Replacing deteriorated electrical lines in the Civic Center cost more than $27 million.
The structures were not a danger to the public but needed to be reinforced before crews could excavate, Baker said. Metro has paid to upgrade those structures, rather than the utility companies, he said.
Climb inside the massive tunnel 60 feet below downtown L.A. »
This fall, the Regional Connector's 1,000-ton tunneling machine struck a steel structure beneath 2nd Street, delaying progress for about a month as crews did repairs. The steel may have been piles abandoned after the construction of Los Angeles Police Department headquarters a decade ago.
The damage from striking the steel structure, and the cost of the resulting delay, will cost between $5 million and $7 million, Baker said. But, he said, crews may be able to make up for lost time as they dig the second tunnel.
Twitter: @laura_nelson
ALSO
Many L.A. roads go more than a year without being cleaned. Here's why
Street vendors could be banned near Hollywood Boulevard, Staples Center and other areas
Westside parking lot operator charged with bilking VA out of $11 million
---
The stories shaping California
Get up to speed with our Essential California newsletter, sent six days a week.
You may occasionally receive promotional content from the Los Angeles Times.