Michael Avenatti arrested and charged with embezzlement and attempt to extort Nike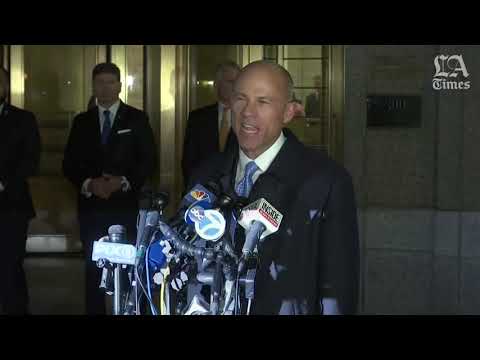 Los Angeles attorney Michael Avenatti was arrested on federal charges of embezzling money from a client, defrauding a bank and attempting to extort millions of dollars from Nike in separate criminal cases filed in New York and Santa Ana.
On Monday morning, attorney Michael Avenatti surfaced on Twitter promising to uncover a blockbuster scandal involving Nike and some of the biggest names in college basketball.
Less than an hour later, federal prosecutors in New York announced that Avenatti was under arrest for allegedly trying to extort millions from the sports-gear giant — part of a web of criminal charges that, if proven, could send the 48-year-old lawyer to prison for decades.
Even as events in Manhattan were unfolding, Avenatti was accused in Santa Ana of embezzling from a client's $1.6-million legal settlement to cover personal expenses and buttress his troubled coffee business, a sideline that operated Tully's outlets in California and Washington state.
Avenatti also stands accused of bank fraud in the California case. Prosecutors say he gave a Mississippi bank fictitious personal tax returns to secure more than $4 million in business loans. The high-profile attorney has been in financial peril for some time. A former law partner won a $4.85-million personal judgment against him last year after Avenatti's firm failed to pay a debt.
Together, the legal travails and Avenatti's sudden arrest marked a precipitous fall for the flamboyant legal counsel, who gained celebrity representing adult film actress Stormy Daniels in a hush-money case stemming from her alleged 2006 sexual encounter with Donald Trump.
Avenatti used the media exposure to secure clients in high-profile cases tied to Brett M. Kavanaugh's Supreme Court confirmation hearings, President Trump's separation of immigrant families on the U.S.-Mexico border and the sexual abuse charges against singer R. Kelly — even as he fought a raft of litigation accusing him of financial misdeeds.
It was just a few months ago that Avenatti was campaigning across the country — having transformed himself into a combative fixture on cable TV — nurturing a dream, however far-fetched, of winning the 2020 Democratic nomination and replacing Trump in the White House.
If convicted of all charges, Avenatti could face up to 97 years in prison. He was released Monday on $300,000 bond.
Speaking to reporters as he left the Manhattan courthouse, Avenatti denied wrongdoing. "I am highly confident that when all of the evidence is laid bare in connection with these cases... that I will be fully exonerated and justice will be done," he said.
During a Los Angeles news conference, U.S. Atty. Nick Hanna contrasted Avenatti's actions with his self-depiction on Twitter: "Attorney, Advocate, Fighter for Good."
"The allegations in this case describe something different," Hanna said. "A corrupt lawyer who instead fights for his own selfish interests by misappropriating close to $1 million that rightfully belonged to one of his clients."
Here are key takeaways from the criminal complaints against Michael Avenatti »
Geoffrey S. Berman, the U.S. attorney in Manhattan, offered his own scathing assessment. "A suit and tie does not mask the fact that, at its core, this was an old-fashioned shakedown," Berman told reporters.
Court documents in New York referred to an "un-indicted co-conspirator" in the Nike case, and a source familiar with the investigation identified him as Mark Geragos, a Los Angeles attorney who has represented a stable of celebrity clients. Geragos' lawyer Benjamin Brafman said he hoped prosecutors "will conclude that Mr. Geragos did not violate the law in any manner."
Daniels, who is no longer represented by Avenatti, said she was "saddened but not shocked" by his arrest. "I made the decision more than a month ago to terminate Michael's services after discovering he had dealt with me extremely dishonestly, and there will be more announcements to come," Daniels said in a tweet.
Avenatti's foes gleefully took to social media to savor his downfall. The president's son, Donald Trump Jr., seized on the MAGA acronym — Make America Great Again — and gave it a sarcastic and topical twist: "Michael Avenatti Getting Arrested!!!"
It soon became a rallying cry of pro-Trump forces.
Trump meets his match: Stormy Daniels' combative lawyer Michael Avenatti »
Avenatti was accused of "attempting to extract more than $20 million" from Nike. He allegedly threatened to hold a news conference if Nike didn't pay his client, an Amateur Athletic Union coach in California who alleged the company was paying families of high school basketball prospects, and hire Avenatti for an internal investigation.
The coach is Gary Franklin Sr. of the California Supreme, according to two people familiar with the matter who spoke on the condition they not be identified. The program has developed a national reputation for producing top-flight players, including Deandre Ayton, last year's No. 1 NBA draft pick.
After Avenatti and Nike's attorneys met on March 19, federal investigators launched a sting operation and began monitoring all contacts between the lawyer and the sports company, Berman said. They recorded a call on Friday, during which Avenatti allegedly threatened to take $10 billion off Nike's market capitalization by holding a news conference if his demands were not met.
"You guys know enough now to know you've got a serious problem," Avenatti said, according to prosecutors.
Avenatti's arrest came hours after what Berman termed a "final meeting" with Nike. During the encounter, Berman said, Avenatti made it clear to Nike's representatives that the company must "cede to [his] demands or suffer the consequences."
The events Monday capped months of legal and personal drama for the once-obscure plaintiff's attorney.
Avenatti was arrested on suspicion of felony domestic violence on Nov. 14 after a former girlfriend lodged a complaint in Los Angeles. The city attorney's office decided to settle the matter through an informal hearing.
Earlier this month, his law firm, Eagan Avenatti, filed for federal bankruptcy, marking the second time in two years it sought court protection from creditors. The petition, swiftly rejected by a judge, came three weeks after a former lawyer at the firm filed papers accusing Avenatti of hiding millions of dollars from the court that oversaw its previous bankruptcy.
He has since abandoned his White House dreams. In December, after other more credible candidates began ramping up efforts, Avenatti issued a statement taking himself out of the running for president. He cited family obligations.
Times staff writers Nathan Fenno, Melanie Mason and Richard Winton contributed to this report.
Sign up for Essential California for news, features and recommendations from the L.A. Times and beyond in your inbox six days a week.
You may occasionally receive promotional content from the Los Angeles Times.