What you need to know about Los Angeles' $15 minimum wage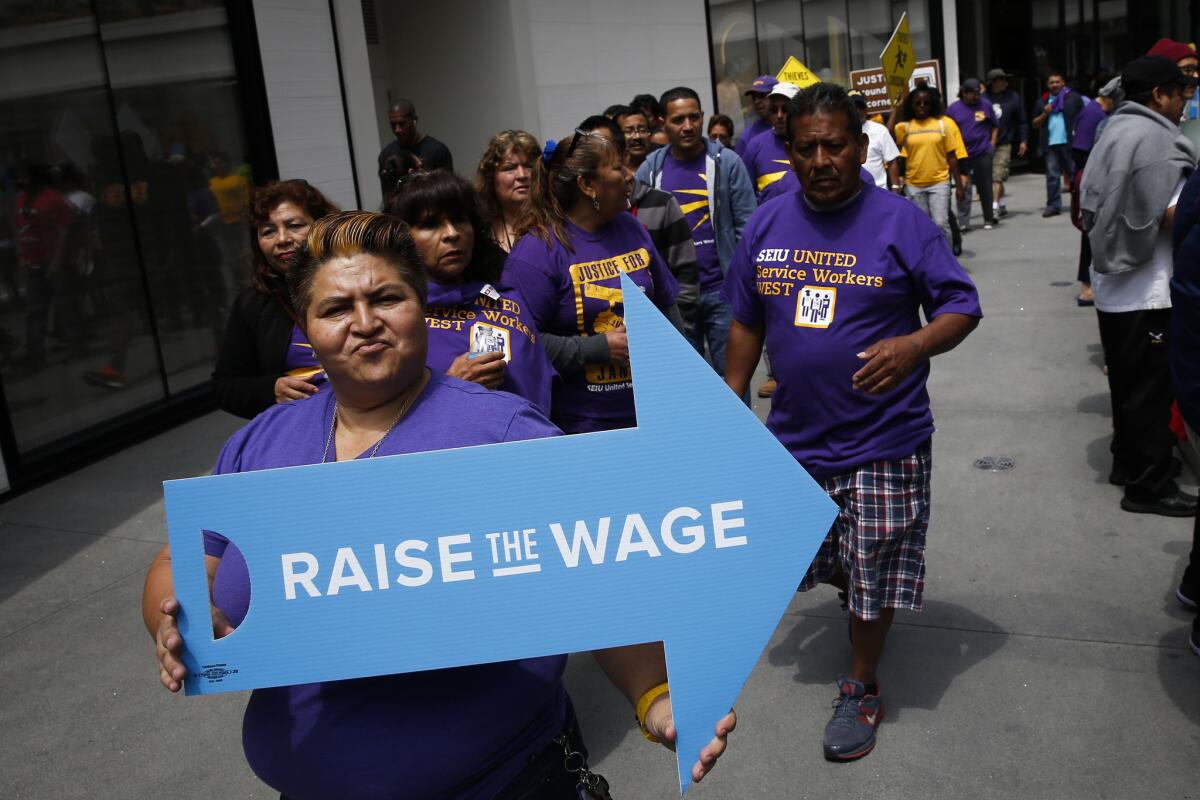 The Los Angeles City Council Tuesday morning agreed to increase the city's minimum wage. The city attorney's office will now draft an ordinance and bring it back to the council for a second vote. Here is what you need to know about the proposal:
How much will wages increase?
The Economic Development Committee wants the city's minimum wage to be $15 per hour by July 1, 2020. Wages would gradually increase beginning next year:
July 1, 2016: $10.50
July 1, 2017: $12.00
July 1, 2018: $13.25
July 1, 2019: $14.25
July 1, 2020: $15
I'm a small-business owner. Will I have to increase wages for my employees?
Yes, though businesses with 25 or fewer employees will have an additional year to comply with the wage increase.
Are nonprofits included in this proposal?
Nonprofits are included in the proposal but representatives can apply for a waiver if they meet a set of criteria. Only those nonprofits where the top executive earns less than eight times the wage of the lowest-paid employee may apply for a waiver. Also, they must have transitional employees or be primarily funded by state or federal reimbursements.
My 16-year-old has a part-time job. Will he be affected by the wage increase?
State law already says that employees who are between the ages of 14 and 17 should be paid 85% of the minimum wage for the first 160 hours they work. That would remain the same under this proposal.
I am a waitress who receives tips as part of my job. Will my hourly wages change?
Yes. In California, tipped employees cannot make less than minimum wage. The wage proposal would not exempt tipped employees from the new wage structure.
If wages increase, will I get paid sick leave or vacation days?
Maybe. During a committee debate last week, Councilman Curren Price said he wants the ordinance to have a leave policy that mirrors the one already included in L.A.'s living wage ordinance. That provides city contractors with 12 compensated days if they are ill or on vacation. However, other council members and Mayor Eric Garcetti have said they want to see the policy studied before they take a vote.
What happens to wages after 2020?
Beginning in 2022, Los Angeles' minimum wage would continue to increase annually based on the Consumer Price Index averaged over the previous 20 years.
When will the L.A. City Council vote?
The council will meet at City Hall at 10 a.m. to debate. A vote Tuesday would direct the city attorney to write an ordinance that would, if approved, increase the minimum wage.
Sign up for Essential California for news, features and recommendations from the L.A. Times and beyond in your inbox six days a week.
You may occasionally receive promotional content from the Los Angeles Times.