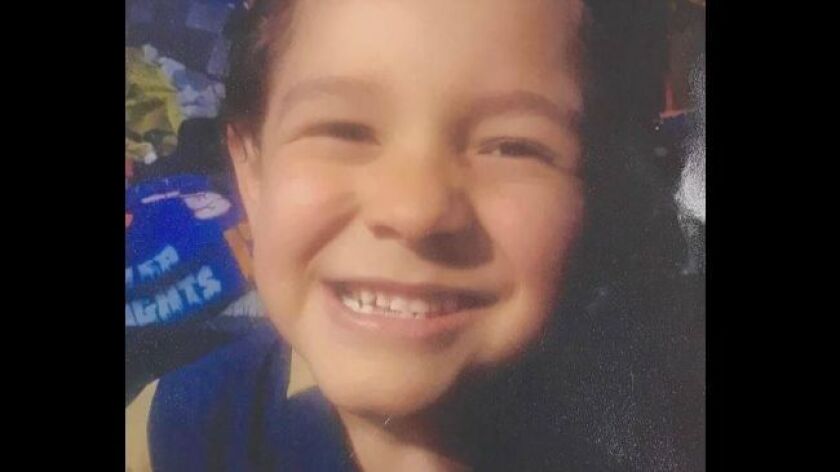 Homicide detectives will continue the search Tuesday for a missing 6-year-old boy whose body is believed to be in a landfill in Victorville.
Duke Flores had been missing for two weeks, his mother, Jackee Contreras, told deputies with the Apple Valley Police Department on Thursday after a family member requested a welfare check.
On Monday, the San Bernardino County district attorney's office filed charges against Contreras, 29, and the boy's aunt, Jennifer Contreras, also 29, of one count each of murder.
The boy's mother was initially booked into the High Desert Detention Center on suspicion of child neglect after her delay in reporting that her son was missing. She and the boy's aunt were arrested on suspicion of murder after detectives from the Specialized Investigations Division and homicide detail responded to the 22000 block of Cherokee Avenue for further investigation.
Detectives believe, based off investigative leads, that Duke was placed in a trash bin, authorities said Monday.
Dozens of people — including homicide detectives, 36 San Bernardino County Sheriff's Department volunteers, 17 additional Sheriff's Department personnel and landfill staff — and three dogs from K-9 units searched the landfill Monday for Duke.
The search area is an estimated 4,900 feet square and 10 feet deep, which is about 600 tons of material.
The investigation is ongoing, and both women are being held without bail.
Authorities ask that anyone with information contact Det. Narcie Sousa or Sgt. AJ Gibilterra at (909) 387-3589.
The two women will be arraigned on Tuesday at the Victorville Superior Court.
Times staff writer Jaclyn Cosgrove contributed to this report.
Twitter: @cshalby
---