Aliso Canyon gas leak prompts new proposed state regulations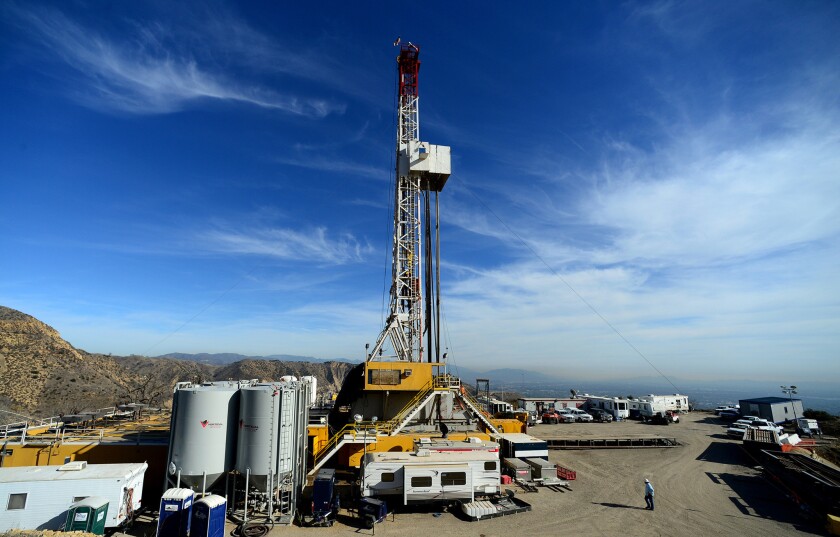 The natural gas leak in Aliso Canyon continues to reverberate in Sacramento, where air pollution officials are proposing new rules to reduce greenhouse gas emissions from oil and gas facilities.
The state Air Resources Board is considering rules establishing new monitoring requirements for natural gas storage sites, quarterly inspections for leaks and needed repairs and a prohibition on venting and flaring.
The rules revision has been underway since 2014, though it has received renewed attention after the Southern California Gas Co. well began leaking near Porter Ranch. The well has released 80,000 metric tons of methane since Oct. 23, and the amount continues to grow.
FULL COVERAGE: Porter Ranch gas leak>>
The leak prompted the temporary relocation of thousands of households in Porter Ranch and the surrounding communities. People have complained of headaches, nausea, dizziness and nosebleeds, symptoms that probabbly are caused by the odorants added to the methane.
The purpose of the new regulations is "being able to detect these emissions in an early phase so we know as soon as possible that they're happening and if something does happen, there is a responsibility to look at the emission reduction side of it as well," said Elizabeth Scheehle, branch chief of the Oil and Gas and GHG Mitigation Branch.
The Air Resources Board could take up the draft proposal as soon as May.
The gas leak is also leading a new effort to reform the state Public Utilities Commission. Assemblyman Mike Gatto (D-Los Angeles), chairman of the Utilities and Commerce Committee, said he is proposing a constitutional amendment to reorganize the PUC.
"The people of California are deeply concerned by the CPUC's failures in recent years," he said in a statement. "You have folks in the Bay Area justifiably concerned after a pipeline explosion, Orange County worried about nuclear waste, Sacramento and the Central Valley on edge with oil trains, and of course, Angelenos deeply concerned after a gas leak."
An amendment would require approval by two-thirds of the state Assembly and Senate, and the issue would then go to California voters.
See the most-read stories this hour >>
Twitter: @TheCityMaven
MORE ON THE PORTER RANCH GAS LEAK
L.A. County files criminal charges over Porter Ranch gas leak
No, the gas leak hasn't turned Porter Ranch into a ghost town
Feinstein, Boxer to call for federal review of Porter Ranch-area gas leak
---
The stories shaping California
Get up to speed with our Essential California newsletter, sent six days a week.
You may occasionally receive promotional content from the Los Angeles Times.