Q&A: A new misery for Camp fire survivors as a norovirus outbreak hits a shelter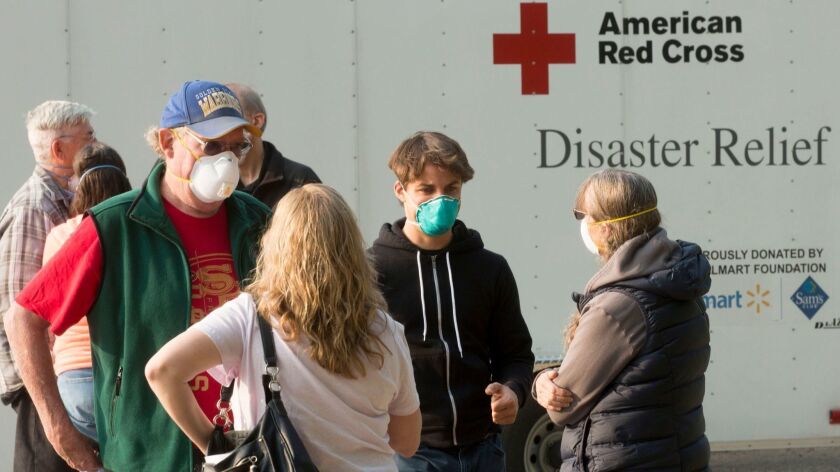 The misery for people who lost everything in the Camp fire in Butte County seems neverto end.
On Wednesday, a norovirus outbreak was reported at an evacuation center for fire victims in Chico, the main city near Paradise.
Where did the outbreak occur?
Lisa Almaguer, the public information officer for the Butte County Department of Public Health, said that norovirus was confirmed at Neighborhood Church, a Chico shelter where about 200 evacuees are staying.
Almaguer did not know how many people had fallen ill, but she said the sick have been separated from the healthy.
Such outbreaks are not uncommon in relatively small spaces where lots of people are living, she said.
What is the disease?
Norovirus is a very infectious bug that causes symptoms such as diarrhea, nausea, muscle pain and vomiting, according to an earlier Times story. It's more common in winter but can be seen any time of year. Symptoms usually appear one to two days after infection and typically last for two to three more days.
How does it spread?
Norovirus is spread by contaminated water and food, although it can be transmitted if people touch dirty surfaces or are in close contact with people already sickened by the disease. Previous large outbreaks have been reported in restaurants, on cruise ships and in building complexes where people share a common water source. It also spreads quickly in public places, including hospitals, schools and nursing homes. Frequent hand-washing and cleaning of surfaces can help curb the spread of the bug.
How is it treated?
There is no specific medical treatment for norovirus; most medical professionals advise patients with symptoms not to come into a hospital to avoid spreading the virus.
Doctors suggest drinking plenty of fluids to avoid dehydration. Adults can take drugs to treat diarrhea and nausea, but doctors or pharmacists should be consulted before such medicines are given to children.
Anyone with signs of severe dehydration, such as persistent dizziness, or who doesn't improve within a few days, should seek medical attention.
---
For reporting and exclusive analysis from bureau chief John Myers, get our California Politics newsletter.
You may occasionally receive promotional content from the Los Angeles Times.