North Korean refugees in L.A. on the canceled U.S.-North Korea summit: We never got our hopes up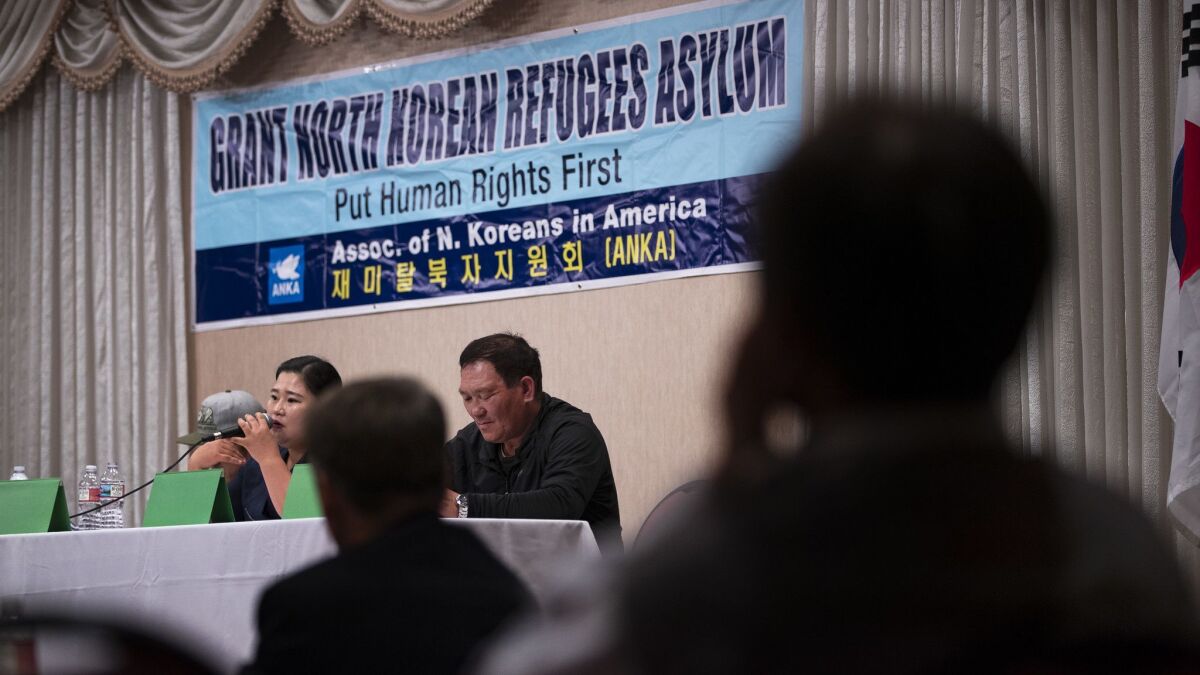 When the 34-year-old woman saw the news Thursday morning, she couldn't help but smirk.
The world had been holding its breath for the unprecedented summit between a sitting U.S. president and North Korea's leader, but she knew better than to get her hopes up. Many were caught off guard when President Trump abruptly called off the meeting early Thursday, citing hostile comments from North Korea — but she knew from the start, she said, the North Korean regime wasn't to be trusted.
When you're a refugee who has twice escaped North Korea, now seeking asylum in the U.S., skepticism becomes second nature.
"I knew this was going to happen," said the woman, Jo, who asked to be identified by her last name only because of family members still living in North Korea. "The true intention of the North Korea I know is to get the eyes and ears of the world on them, and get out from under the sanctions."
Jo joined two other North Korean refugees at a Koreatown hotel ballroom Thursday evening for what was supposed to be a discussion in advance of the historic U.S.-North Korea summit, organized by a group advocating for asylum for North Koreans. With the summit abruptly called off less than three weeks before it was set to take place, all three said they had put little stock in the meeting or any results that might have come out of it.
A wild dog cannot turn into a sheep ... The world is dancing to a show North Korea is putting on.
— Jo, North Korean escapee
The three are among an estimated 400 North Koreans currently in the U.S., many of them awaiting asylum under the North Korean Human Rights Act of 2004. Advocates say about 100 have settled in Southern California.
Here, they are a waitress, an industrial technician and a security guard. In North Korea they were a laborer, a civil servant, a truck driver — regular, everyday people far from the center of power and influence in Pyongyang. They sat with placards with their names facing away from the audience, out of concern for the safety of their families in North Korea if it becomes known they are seeking asylum in the nation they were taught to hate.
The negotiation points such as sanctions, nuclear tensions and human rights bandied about by diplomats and policy experts are real, practical matters that they have lived through and that will affect the lives of their loved ones.
Thawing of relations with the U.S. and easing of sanctions could have eventually meant a better economic future for their hometowns and potential reunification with family — but the refugees, who left North Korea between 1997 and 2008, said they had little expectation the summit would have yielded results.
"The outside world has been fooled over and over again," said Jack Lee, the technician, who now lives in Orange County and asked to be identified by his adopted English nickname. "What Trump did is correct."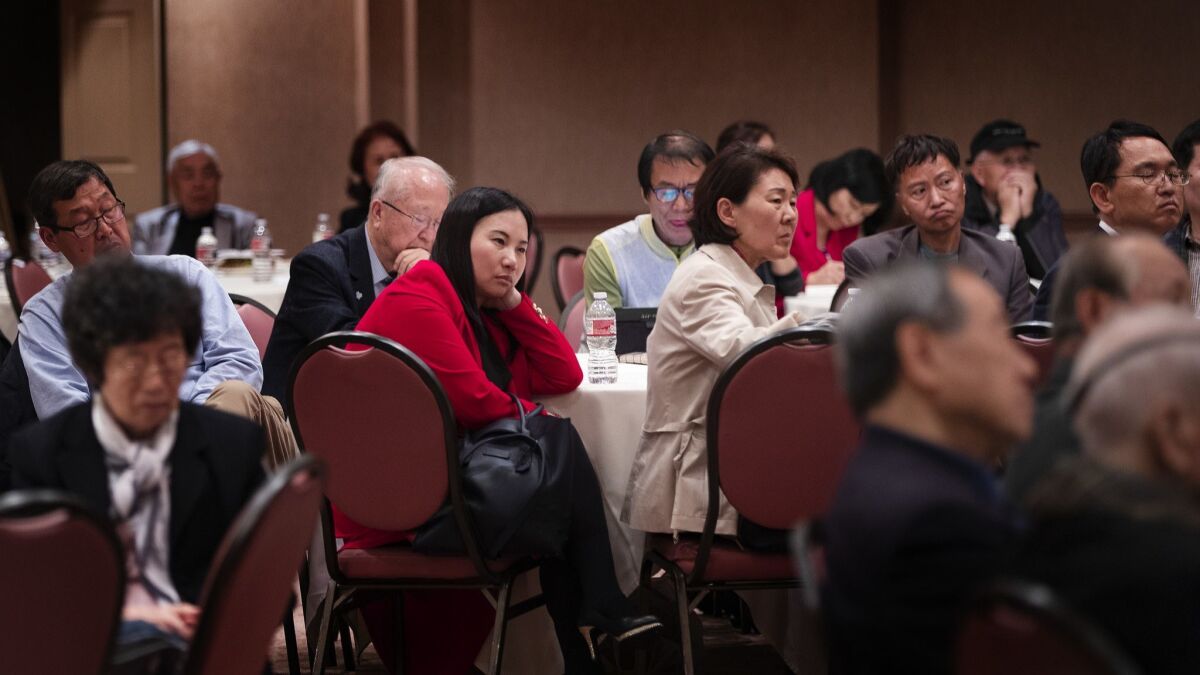 Jo said her hometown in North Hamgyong Province was near the Punggye-ri nuclear test site, where North Korea this week blew up tunnels with foreign journalists watching, and that her brother worked there. The destruction of the site, she said, was just theatrics, masking the fact that North Korea will not easily give up its nuclear ambitions.
She said even as North Korea was putting on a charm offensive toward the outside world, it remained brutal to its own people, cracking down on those who view South Korean content or communicate with people outside North Korea.
"A wild dog cannot turn into a sheep," she said. "The world is dancing to a show North Korea is putting on."
Jo first fled in 2004 but was caught by Chinese authorities and sent back to the North, before escaping once more in 2008.
"I'm someone who can never trust North Korea," she said.
Ho Lee, the truck driver-turned-security guard who asked to be identified by part of his name, left North Korea in 1997 amid a severe famine there, during which hundreds of thousands starved to death. A regime that would invest in developing nuclear weapons while its own people go hungry is not one that should be treated seriously, he said.
"How is a nation that can't even supply soap making nukes?" he said.
Roberto Hong, an immigration attorney and founder of the support group Assn. of North Koreans in America, urged the community to keep an open mind about the future of U.S.-North Korea relations.
"It's what happens going forward that's important," he said. "We have to get our expectations in check, get our hearts ready."
For more California news, follow me on Twitter @vicjkim
---
The stories shaping California
Get up to speed with our Essential California newsletter, sent six days a week.
You may occasionally receive promotional content from the Los Angeles Times.